Description
Travel to Seville from the safety of your home and explore one of the most famous attractions of Spain, the magnificent Seville Cathedral! Take a virtual tour with street and satellite view and listen to riveting stories by visiting just a link from your browser. Don't let coronavirus affect your desire to explore the cultural wonders of the world, embark on a virtual trip with us today!
Experience Seville's cathedral with an engaging virtual tour while enjoying the safety of your home. Add the link you'll receive via email to your desktop's or smartphone's browser, sign up and get ready for a journey back in time from the comfort of your sofa.
Access the tour easily, put on your headphones and discover the history and the legends of Seville's cathedral as if you were there through the power of storytelling and with street/ satellite view. 
Travel virtually to Seville's Cathedral and explore the bell tower called La Giralda, the symbol of Seville and the tallest building of the town, that owes its name to the sculpture on its top used as a weathervane. Continue your virtual journey at  the Christopher Columbus's tomb where his remains are, after being brought from the New World, and Goya's painting Saint Justa and Rufina of 1817, ordered especially for the cathedral and executed during a difficult period for the painter. 
This virtual tour consists of audio narration, real images, satellite/street views of the cathedral and its surroundings. In most points of interest you can move forward and backwards, turn towards any direction and see what you would really see as if you were there. In that sense, a virtual tour resembles a remote visit from wherever you are!
Learn important historical facts, discover unknown stories and listen to interesting tales and amaze your family and friends. The tour's content is the result of in-depth research, squeezed into brief intriguing stories that will make your virtual visit both engaging and informative. The tour is only available online and you can access it repeatedly and anytime.
This is an unmissable opportunity to learn the history of one of the most remarkable monuments of Spanish cultural heritage, to admire its complex gothic architecture through a remote visit, and relate to your surroundings in an entirely original way.
Preview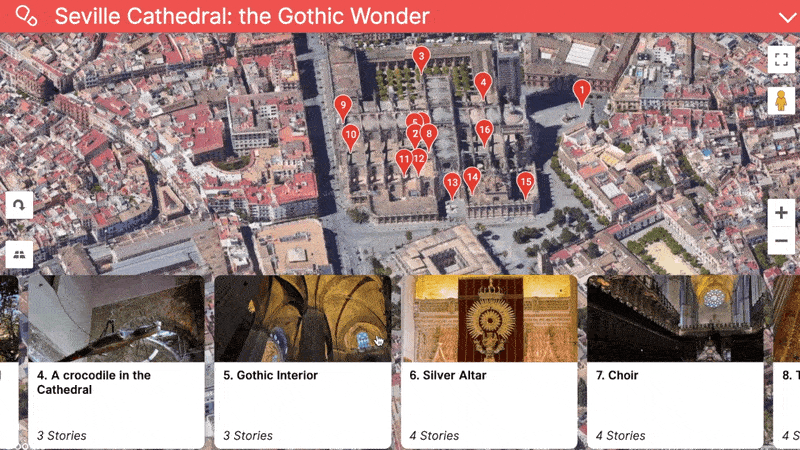 Audio Preview
El Giraldillo, the Rotating Sculpture
The bell tower was also crowned with the erection of a monumental sculpture on top, a finishing touch that would foreground the vigor of Christian faith. The almost 4m sculpture – 7m with the pedestal- was cast in 1568 by Bartolomé Morel according to the principles of Humanism, reconciling Christianity with the Classical tradition. To this end, the figure, which is a representation of faith, is portrayed with a hybrid visual idiom, carrying a cross and a palm of martyrdom as typical Christian signifiers and wearing, at the same time, the helmet and clothes of the ancient goddess Minerva. Apart from being a kindly reminder of the vanquishment of the Moors, the statue serves as a weather vane that turns according to the direction of the wind. Thus, the weathervane earned the name el Giraldillo and the bell tower became known as Giralda, "the one that turns", from the Spanish verb girar, meaning turn.
Details
Starting point
There is no meeting point. The virtual tour doesn't require a visit to the site and it is designed to start at the first point of interest of the Cathedral. (Avenida de la Constitución, s/n.41001 Sevilla).
Inclusions
Virtual Tour to Seville's Cathedral

Remote visit to the attraction

Audio narration

Real images 

Satellite and street views of the palace and the surroundings

Engaging original stories in English
Exclusions
Live Guide

Headphones

Offline access

Transportation
Know before you book
This is a virtual tour to Seville's Cathedral, that you can take from the safety of your home 

To fully enjoy the tour you need a steady internet connection. The tour is available only online.
The virtual tour doesn't require a visit to the site.

No live guide or meeting point required

You will receive an email from Clio Muse Tours with instructions on how to access your tour via a link. Check your spam folder as well

No special equipment is needed (i.e. special glasses)

Access your virtual tour easily, online by clicking on the provided link
Subscribe and get full access on the tour through your browser
Ensure that you have your earphones/headphones on to enjoy the full experience
You can cancel any time and get a full refund (Non refundable once activated)
In case you need any assistance, please contact us at support@cliomuseapp.com
Areas
Discover the symbol of Seville, the bell tower called La Giralda. Visit virtually with street or satellite view, Christopher Columbus's tomb where his remains are, after being brought from the New World. Marvel at Goya's painting "Saint Justa and Rufina" 1817, ordered especially for the cathedral.
Mandatory Items
Desktop, Laptop or smartphone device, headphones
Only logged in customers who have purchased this product may leave a review.
Why take a self-guided tour?
This is a self-guided tour based on the award-winning storytelling concept developed by Clio Muse and the fascinating narratives prepared by our handpicked destination experts.
You can enjoy each multilingual tour by using your smartphone or tablet at your own pace even if you are offline. The interactive map on your screen will guide you step-by-step as you explore all points of interest along your route. Each stop comes with a selection of our signature stories allowing you to tailor the tour experience to your personal interests and schedule.
After downloading Clio Muse app, you can access this tour and activate it any moment you wish and also repeat it any time. To best enjoy our multimedia self-guided tour (comprising maps, video, audio and text) we recommend the use of headphones.