Explore
Castelldefels
Castelldefels is a charming coastal town located in the province of Barcelona, Catalonia, Spain. Situated along the Mediterranean Sea, it offers a perfect blend of stunning natural beauty and modern amenities.
With its long sandy beaches, clear blue waters, and picturesque landscapes, Castelldefels attracts visitors seeking relaxation and outdoor activities.
The town is renowned for its iconic Castle of Castelldefels, a medieval fortress that offers panoramic views of the surroundings. Exploring the castle's history and architecture is a must for history enthusiasts.
Additionally, Castelldefels boasts a vibrant waterfront promenade lined with palm trees, where visitors can stroll, cycle, or simply unwind while enjoying the pleasant sea breeze.
Explore Castelldefels with Clio Muse Tours.
The best time to visit Castelldefels is during the spring (April to June) and autumn (September to October) seasons. During these periods, the weather is generally pleasant with mild temperatures and less crowded beaches compared to the peak summer months.
1. Explore Castell de Castelldefels: Visit the historic Castle of Castelldefels, a medieval fortress with panoramic views of the town and coastline. Explore its architectural features and learn about its fascinating history.
2. Go to Garraf Natural Park: Go on a hiking or biking adventure in the nearby Garraf Natural Park. Discover its rugged cliffs, Mediterranean vegetation, and diverse wildlife. The park offers scenic trails that are perfect for outdoor enthusiasts.
3. Visit Barcelona: Take advantage of Castelldefels' proximity to Barcelona, which is just a short drive or train ride away. Explore the cosmopolitan attractions of the city, including architectural marvels like the Sagrada Familia, Park Güell, and the Gothic Quarter."
1. Beach Relaxation: Castelldefels is known for its beautiful sandy beaches. Spend a day soaking up the sun, swimming in the clear blue waters, or indulging in beachside activities like volleyball and paddleboarding.
2. Water Sports: Take advantage of the favorable winds and calm waters by engaging in various water sports such as windsurfing, sailing, paddleboarding, or kayaking. Rental facilities and schools are available for both beginners and experienced enthusiasts.
3. Nightlife: Enjoy the vibrant nightlife scene in Castelldefels, with a variety of bars, clubs, and live music venues where you can socialize and dance the night away."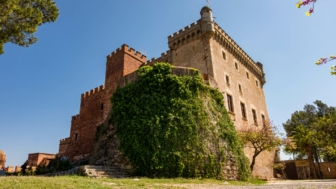 Duration:

2 hours

Skip-the-line tickets

Audio available in

1 language
From per person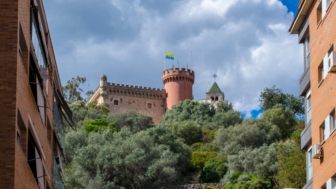 Duration:

2 hours

Audio available in

1 language
per person