Explore
Bucharest
Bucharest, the Cultural Gem of Eastern Europe, is a captivating and vibrant destination that epitomizes history, art, and modern charm. This enchanting city is adorned with a rich tapestry of architectural wonders, from the majestic Palace of the Parliament to the elegant Romanian Athenaeum. Immerse yourself in the city's compelling history as you wander through the historic Lipscani District or admire the stunning Orthodox churches with ornate facades. Bucharest's thriving arts scene beckons with numerous galleries, theaters, and music festivals, providing a cultural feast for the senses. From its leafy parks to its bustling nightlife, The city offers a blend of old-world charm and contemporary energy, making it an unforgettable destination for travelers seeking a unique European experience.
Discover the magic of Bucharest with Clio Muse Tours.
The best time to visit Bucharest is from late spring to early autumn, from May to September. The weather is mild and pleasant during this period, making it ideal for exploring the city's attractions and enjoying outdoor activities comfortably. The town experiences fewer crowds in May and September, providing a more relaxed and authentic experience.
From June to August, summer is the peak tourist season, with lively festivals, cultural events, and vibrant nightlife. While the city buzzes with energy, temperatures can be warmer, so be prepared for the heat and stay hydrated.
Alternatively, visiting during the shoulder seasons of spring and autumn offers a perfect balance of pleasant weather and fewer tourists, allowing you to savor the charm and cultural treasures of Bucharest at your own pace.
Explore the Palace of the Parliament: Discover the grandeur of the world's second-largest administrative building and a symbol of Romania's communist past. Take a guided tour to marvel at its opulent interiors, vast halls, and impressive architecture.
Wander through the Old Town (Lipscani): Admire the well-preserved medieval buildings, enjoy local cuisine at traditional restaurants, and experience the lively atmosphere of cafes and bars.
Visit the Village Museum (Muzeul Satului): This open-air museum showcases traditional houses and structures from different country regions, providing insights into rural life and culture.
Admire the Romanian Athenaeum: Attend a concert or marvel at the neoclassical beauty of the Romanian Athenaeum. This iconic concert hall is renowned for its exceptional acoustics and hosts a variety of musical performances and events.
Relax at Herastrau Park: Enjoy a stroll along the lake, rent a boat, or picnic amid lush greenery. The park also features restaurants, playgrounds, and a serene Japanese Garden.
Try Traditional Romanian Cuisine: Don't miss iconic dishes like sarmale (cabbage rolls), mămăligă (cornmeal porridge), and mici (grilled sausages). Pair your meal with Romanian wine or palinca (plum brandy) for an authentic culinary experience.
Discover Art and History Museums: Bucharest boasts an array of art galleries and history museums. Visit the National Museum of Art of Romania to view an extensive collection of Romanian art, and explore the National Museum of History to delve into the country's past and heritage.
Visit Therme Bucharest: Unwind and relax at Therme Bucharest, one of the largest thermal spas in Europe. This indoor tropical paradise offers a variety of pools, saunas, and wellness facilities, providing a rejuvenating escape from city sightseeing.
Experience Bucharest's Nightlife: Embrace the city's vibrant nightlife by exploring its trendy bars, pubs, and clubs. Head to the Lipscani district for a lively atmosphere, or visit chic rooftop bars for panoramic views of Bucharest's skyline.
Learn Basic Romanian Phrases: While many people in Bucharest speak English, learning a few basic Romanian phrases such as "hello" (bună ziua) and "thank you" (mulțumesc) can go a long way in showing respect and connecting with locals.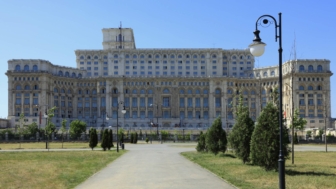 Duration:

2 hours

Audio available in

1 language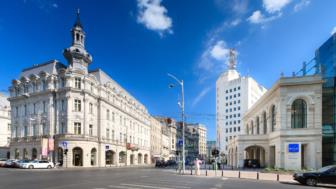 Duration:

2h 10min

Audio available in

1 language