Explore
Epidaurus
Epidaurus is a captivating destination where ancient history, stunning landscapes, and cultural richness converge. This UNESCO World Heritage Site is famous for its well-preserved ancient theater, which draws visitors worldwide. Βeyond the theater, Epidaurus is a treasure trove of archaeological and cultural wonders, such as the Sanctuary of Asklepios and the Museum of Epidaurus, which offer a glimpse into the impressive achievements of the ancient Greeks.
Nature lovers will also find much to explore in Epidaurus, with its serene olive groves, rugged hills, and pristine beaches. Take a leisurely stroll along the coastal paths or hike the nearby mountains for a closer look at the region's rich flora and fauna.
Explore Epidaurus with Clio Muse Tours.
For those who want to avoid the crowds and enjoy pleasant weather, the ideal time to visit Epidaurus is spring and fall, from March to May and September to November. The temperatures are warm, and humidity levels are lower, making it perfect for outdoor activities such as exploring ancient sites and hiking.
If you're a cultural enthusiast and want to experience Epidaurus's rich history and traditions, the summer months from June to August are the best time to visit. This is when the Epidaurus Festival takes place, featuring ancient Greek theater performances and other cultural events. The festival is a must-see for cultural lovers, and the ancient theater of Epidaurus is the main venue for the performances.
It's essential to keep in mind that the summer months can be quite hot and crowded, and prices can be higher due to the peak tourist season. Therefore, it's best to plan and book your accommodations and tickets in advance to fully enjoy your trip. Whether you prefer a quiet or lively atmosphere, Epidaurus offers something year-round.
Visit the Ancient Theatre of Epidaurus: This is the most famous attraction in the area and a UNESCO World Heritage Site. The well-preserved theater was built in the 4th century BC and is known for its exceptional acoustics. It's a must-visit for anyone interested in ancient Greek history and theater.
Explore the Sanctuary of Asklepios: This is another significant archaeological site in Epidaurus that was dedicated to the god of medicine. The sanctuary is home to several temples, buildings, and monuments that offer a glimpse into ancient Greek culture and architecture.
Discover the Epidaurus Archaeological Museum: The museum houses a vast collection of artifacts, sculptures, and pottery from the ancient Greek era, providing visitors with a better understanding of the daily life, customs, and traditions of the ancient Greeks.
Take a walk in the natural surroundings: Epidaurus is surrounded by stunning landscapes that are worth exploring. The area is home to beautiful olive groves, rugged hills, and pristine beaches. Take a stroll along the coastal paths or hike the trails that lead to the nearby mountains to enjoy the beautiful nature.
Attend the Epidaurus Festival: If you're visiting during the summer months, don't miss the Epidaurus Festival. This cultural event features a series of ancient Greek theater performances, concerts, and other cultural events. It's an excellent opportunity to immerse yourself in the local culture and history.
Arrive early to avoid crowds: Epidaurus is a popular tourist destination, and its sites can get crowded quickly. Arriving early in the day can help you beat the crowds and have a more peaceful experience. Plus, you'll have better lighting for taking photos.
Wear comfortable shoes: Exploring Epidaurus requires a lot of walking, especially if you plan to visit the Sanctuary of Asklepios and other nearby archaeological sites. Make sure to wear comfortable shoes that can handle uneven terrain and inclines.
Bring sunscreen and water: Epidaurus can get quite hot and sunny during the summer months, so it's essential to bring sunscreen and plenty of water to stay hydrated. Don't forget to reapply sunscreen throughout the day.
Attend a performance at the Epidaurus Theater: The ancient theater at Epidaurus is still in use today, and attending a performance during the summer months can be a magical experience. Check the schedule ahead of time and book your tickets in advance.
Take a self-guided audio tour: While there are guided tours available at Epidaurus, taking a self-guided audio tour can be a more flexible and affordable option. Clio Muse Tours offers a great audio tour that allows you to explore the site at your own pace and learn about its history and culture.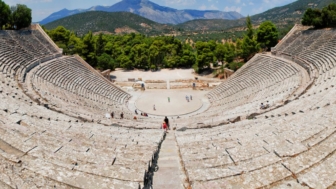 Duration:

2h 30min

Audio available in

1 language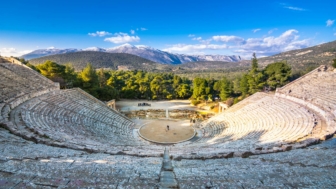 Duration:

2h 30min

Skip-the-line tickets

Audio available in

1 language
From per person