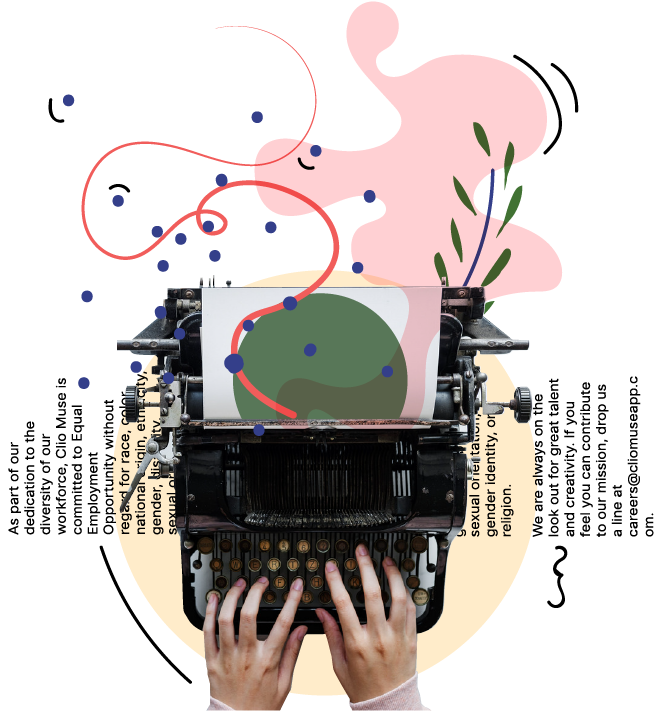 Join our team!
Last updated: 01/12/2021
As part of our dedication to the diversity of our workforce, Clio Muse is committed to Equal Employment Opportunity without regard for race, color, national origin, ethnicity, gender, disability, sexual orientation, gender identity, or religion.
We are always on the look out for great talent and creativity. If you feel you can contribute to our mission, drop us a line at careers@cliomuseapp.com.
Marketing Manager (hybrid) (Open)
Reports to: COO
Brief Description of the position
We are looking for a talented Marketing Manager to develop and execute marketing strategies and creative campaigns that can make a difference for our company's success according to trends and customer requirements. Attention to detail, strong work ethics, and a willingness to learn and thrive in an exciting, fast-paced environment are prerequisites!
The ideal candidate is a native English speaker, passionate for the "art" of marketing with an abundance of realistic ideas for building efficient strategies. He/she must bring forth a strong arsenal of techniques and methods to promote our products, services and public image.
The goal is to reach out to the culture & tourism market and cultivate the B2B and B2C customers' interest in our products and services in ways that strengthen our reputation and facilitate our continuous growth.
A few words on our company
The idea of Clio Muse came to life when our three co-founders first met in 2012. Despite coming from different academic backgrounds, they all had a special place in their hearts for Culture. They founded the company in 2014 and since then, their hard work, complementary personalities, taste and skills transformed the small start-up to a successful and growing business that right now employs 14 people. Each member of our team has been selected for their unique personality, creativity and positive attitude. And apart from each position's requirements, these are the traits that we are looking for in a colleague.
Duties
As the marketing manager of Clio Muse Tours you will need to implement:
Content & marketing strategies
Conceive, develop, and monitor efficient and intuitive marketing and content strategies. Clear, attractive, and original copies are needed for all marketing collateral (brochures, banners, tour kits, press releases, brand messages, headlines, descriptions, etc). Content will be delivered in a variety of formats (social media, email marketing, web copy, blogs, infographics, guides, videos, etc.). Handle & update the company's social media accounts. Ensure all content is consistent in terms of style, quality, and tone of voice, and optimized for search and user experience for all channels
Campaigns
Monitor progress of campaigns using various metrics and submit reports of performance. Conduct market research and analysis to evaluate trends, brand awareness and competition ventures. Research for new trends and competitive practices. Generate new ideas around industry-related topics to reach the department's and company's goals. Initiate and control surveys to assess customer requirements and dedication
Communication & administration tasks
Deal with department queries, communicate with press & partners, assist in delivering monthly reports, organize and attend company's or industry's events. Maintain relationships with media vendors and publishers to ensure collaboration in promotional activities. Collaborate with managers in preparing budgets and monitoring expenses. Prepare briefs and specs for mutual projects with other departments
Requirements
Proven 2 year + experience in a similar role preferably in the tourism industry
Thorough understanding of marketing elements (including traditional and digital marketing such as SEO/Social media etc.), market research methods, data analysis and statistics methods.
Solid computer skills, marketing software (Adobe Creative Suite & CRM) and applications (Web analytics, Google Adwords etc.)
Experience with SEO/SEM campaigns
Excellent communication and presentation skills
Strong organizational and time-management abilities
Creativity and commercial awareness
BSc/BA in marketing, business administration or relevant discipline
Proficiency in English
Why you should apply
You love traveling, culture, and writing.
You embrace change and you feel comfortable with it.
You have a strong ethic that will be appreciated by your employers.
You enjoy the flexibility of a small business where you can have a big impact that will reward you while keeping your work-life balance.
You're looking for a steady career path. We need motivated people to turn our business into a global success.
If you would like to be a part of our company, send us an email at careers@cliomuseapp.com. Make sure that you include the job position in the subject and don't forget to attach your CV. 😉 Also, we would love to learn some things about you, so feel free to present yourself in your email.
Junior Android Developer (Open)
Reports to: CTO / Product Owner

Description
We are looking for an Android developer who will be responsible for the development and maintenance of the Clio Muse Tours application. Your code will be written in a timely and scalable way all while ensuring strong optimization. You'll also unit-test your code for robustness including edge cases, usability, and general reliability. You'll work closely alongside other engineers and developers working on different layers of the infrastructure.

Responsibilities
Translate designs and wireframes into high-quality code
Design, build, and maintain high performance and reliable Kotlin code
Ensure the best possible performance, quality, and responsiveness of the application
Identify and correct bottlenecks and fix bugs
Help maintain code quality, organization, and automatization
Unit-test code for robustness, including edge cases, usability, and general reliability
Continuous Integration for the deployment of the application
Skills
You've published one or more Android apps.
You are an experienced developer in Kotlin.
You know how to work with remote data via REST APIs.
You have a solid understanding of the Android platform.
You are capable of making use of standard libraries and APIs.
You have a working knowledge of the general mobile landscape, architectures, trends, and emerging technologies.
You know what the full mobile development lifecycle involves.
You're analytical and good at time management.
You have great communication and problem-solving skills.
You're curious about new technologies and you're excited to find ways to implement them in your work.
You have a big appetite to learn and improve your Android skills
Why you should apply for this position
You love writing code and building android applications
You enjoy the flexibility of a medium-sized business where you can have a big impact that will reward you
Looking for a steady career path. We need motivated people to turn our business into a global success
Join a diverse and friendly work environment
Looking to work along with experienced front-end and back-end developers that will help you hone your programming skills
Interested? Apply now at careers@cliomusetours.com mentioning the position name.
Learn more about us. If there are no job openings, but you feel like creating a tour or sending us feedback, please do so and help us improve our services.