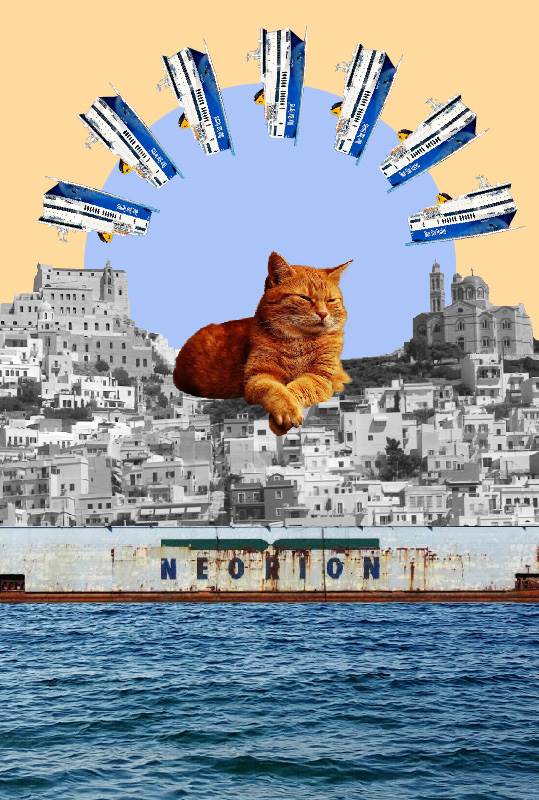 Syros
Syros, the "Hidden Gem of the Cyclades," beckons with its captivating blend of beauty, culture, and authenticity. Stepping onto this enchanting Greek island, visitors are welcomed by its neoclassical architecture, cobblestone streets, and lively harbor promenade. Syros boasts a rich history and cultural heritage evident in its well-preserved architecture and museums. Explore the charming capital of Ermoupoli, where elegant mansions and vibrant squares await discovery. Syros's beaches offer serene coastal escapes, while its inland villages, such as Ano Syros, exude old-world charm and breathtaking vistas.
Discover the magic of Syros with Clio Muse Tours.
The summer months, from June to August, are the peak tourist season in Syros. During this time, the island comes alive with a vibrant atmosphere, bustling markets, and various events and festivals. Summer in Syros offers the perfect opportunity to enjoy its beautiful beaches and crystal-clear waters, making it an excellent destination for beach lovers and water enthusiasts.
However, it's essential to remember that due to summer's popularity, Syros can become crowded, especially in July and August. If you prefer a more tranquil experience, consider visiting in late spring or early autumn when the weather is still pleasant and the island is less crowded. Nonetheless, if you love summer's lively and vibrant atmosphere, this is the perfect time to visit Syros.
Explore Ermoupoli: Wander through the charming streets of Ermoupoli, the island's capital, to admire its neoclassical architecture, colorful facades, and bustling harbor. Visit Miaoulis Square, Town Hall, and the Apollo Theater to glimpse Syros's rich cultural heritage.
Relax at Galissas Beach: Head to Galissas Beach, one of Syros's most popular sandy shores, ideal for swimming and sunbathing. Enjoy the tranquil atmosphere and clear blue waters surrounded by beautiful landscapes.
Visit Ano Syros: Explore the medieval town of Ano Syros, perched atop a hill. Wander through its narrow alleys, stone houses, and charming squares. Take advantage of the stunning panoramic views of Ermoupoli and the Aegean Sea from the hilltop.
Discover Delightful Villages: Take a journey to traditional villages like Kini, Finikas, and Possidonia. Experience authentic island life, indulge in local cuisine at tavernas, and witness the warm hospitality of the locals.
Explore Archaeological Sites: Visit the Archaeological Museum of Syros to uncover the island's history and ancient artifacts. Take advantage of the impressive Saint George Cathedral and the nearby Jesuit Monastery steeped in cultural and religious significance.
Island Hopping: Syros is well-connected to other Cyclades islands, making it an excellent base for island hopping. Consider taking day trips to nearby islands like Mykonos, Tinos, or Paros for a diverse experience of the Cyclades archipelago.
Sunset at Ano Syros: Witness breathtaking sunsets from Ano Syros, the island's highest point. Grab a spot at one of the charming cafes or tavernas with outdoor terraces to enjoy the panoramic views while sipping on a refreshing drink.
Culinary Exploration: Delight in the island's culinary offerings by trying local specialties such as "Loukoumi" (a sweet treat), "San Michali" cheese, and fresh seafood. Explore local markets and sample homemade products, olive oil, and local wines.
Water Sports: Engage in various water activities like windsurfing, paddleboarding, or snorkeling at the island's beautiful beaches. Syros offers excellent conditions for water sports enthusiasts of all levels.
Cultural Events: Check out the cultural calendar for festivals, concerts, and events during your visit. Syros is renowned for its vibrant arts scene, and you might have the chance to attend a traditional music performance or art exhibition.