After successfully completing 250 tours for exhibitions, city walks and cultural events in Greece, Italy, Austria, Spain, Turkey, the Netherlands, and the US, serving 50,000 travelers in 2019 and seeing the company's revenue increase by tenfold, Clio Muse Tours recently launched 23 self-guided virtual tour experiences to attractions in five countries around the world.
Why are they called virtual tour experiences and what makes them stand out from the dozens of virtual tours that popped up during COVID-19 lockdown? Well, you'll have to scroll down the page to find out, but what we can say is that with Clio Muse virtual tour experiences you have your own award-winning personal tour guide by your side.
What are Clio Muse self-guided virtual tour experiences?
Based on the award-winning storytelling methodology developed by Clio Muse Tours, each one of the self-guided virtual tour experiences is complemented with the fascinating narratives curated by handpicked authors, tour guides, destination experts and historians. The combination of real satellite and street view images and our exceptional audio content brings to life on your screen acclaimed sites and museums.
In that way, Clio Muse Tours' self-guided virtual tour experiences take you on an informative and entertaining journey to the world's top destinations. If you're looking for the best way to sate your wanderlust while at home, gain insight into the world-class monuments or take a first taste from the sites you're planning to visit on your next trip, Clio Muse virtual tour experiences will definitely do the trick.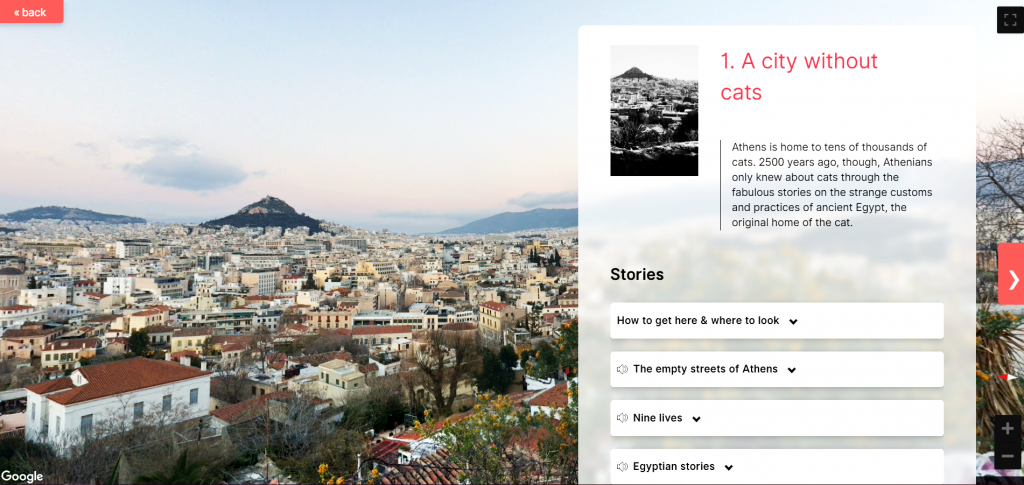 How do Clio Muse self-guided virtual tour experiences work?
Clio Muse self-guided virtual tour experiences consist of a number of stops and each one of the stops includes a wide range of stories that introduce visitors to the landmarks' history. Users are able to follow our designated virtual tour path or pursue their own at any point along the way by skipping a stop or returning later. Well, that's why we call them self-guided after all. During each virtual tour experience, Clio Muse narratives guide you from one point to another while our 360° photos allow you to see a landmark from up close.
Where will I travel with Clio Muse self-guided virtual tour experiences?
At the moment, Clio Muse Tours offers 23 virtual tour experiences to landmarks in Greece, Italy, Spain, Turkey and the Netherlands. Aiming to provide intriguing content for all types of travelers, our virtual tour experiences span a wide range. From the halls of the Vatican Museums in Rome and the Alhambra Palace in Granada to the streets of Plaka in Athens and the Amsterdam's Red Light district, Clio Muse self-guided virtual tour experiences are perfect for history buffs, culture enthusiasts and alternative travelers seeking to explore the cities' lesser-known sides. Here you can find all 23 self-guided virtual tour experiences.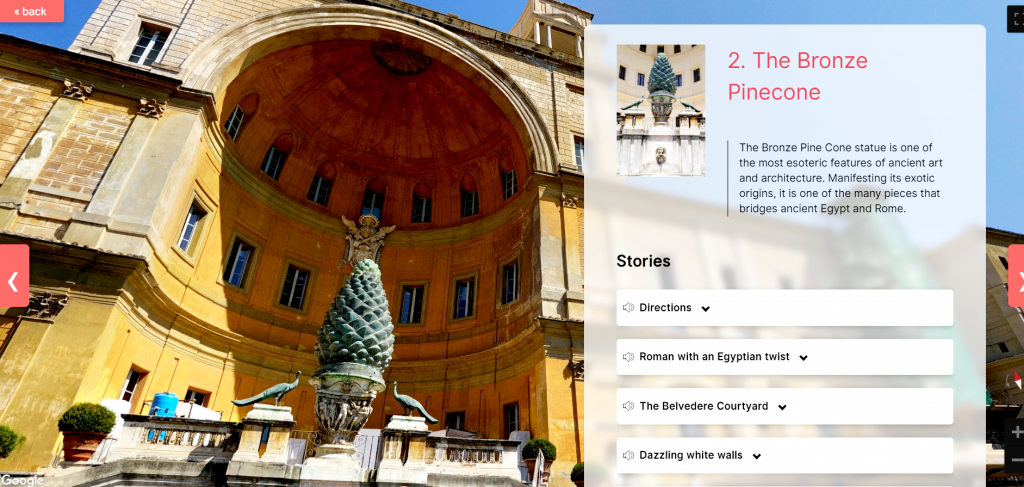 How are Clio Muse virtual tour experiences different from any other virtual tour?
In every Clio Muse tour, you'll find an intriguing scenario. You don't just see 360° images but actually learn the stories that make these places, landmarks and archaeological sites part of our cultural heritage. All points of interest are interconnected and the tour is based on a designated route we'd recommend you follow if you were physically visiting a place.
For every point of interest, you'll find a handful of short stories approximately 1 to 2 paragraphs long. Our catchy titles will give you an idea of what to expect to hear once you choose to unravel the text hidden below each headline. Pick the title that got your attention or skip the ones that leave you indifferent. Some stories are funny, some consist of pure historical facts, some are shorter and others are longer. In fact, it's like having 5 different guides presenting a landmark to you from their own unique point of view.
Who writes these stories?
Our narratives are intriguing, funky and quirky immersing travelers of all backgrounds. But most importantly, each one of them consists of verified and historically accurate content. The reason we stand out from the crowd is that we take historical facts and lesser-known information and craft them in a way that can appeal to modern ears attracting every type of listener.
The people behind these stories are either our in-house archaeologists, historians and tour guides or our external partners who are professionals with years of experience in the tourism industry and the culture sector. We provide the opportunity to experienced tour guides to create their own tour and promote it through our platform and our network of collaborators or simply create it and distribute it through their own online platforms.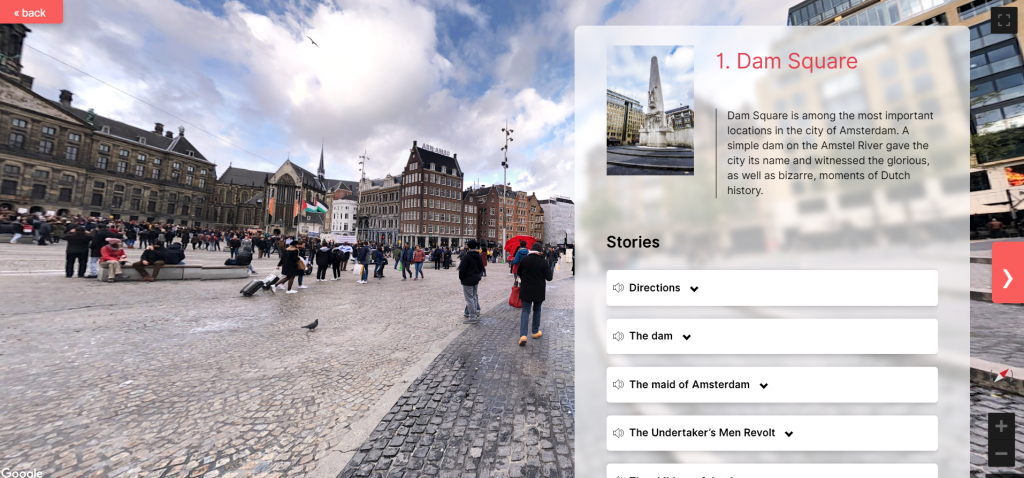 Once I buy a virtual tour experience do I own it forever?
Yes, you do. You can hit the 'start button' as many times as you like and rummage museums' artworks', scenic squares and imposing buildings over and over again. Once you buy a virtual tour experience, you can leave it on your PC or mobile phone for days, months or years and start the tour once you're on the plane on your way to the country that captivated your interest. Hopefully, our virtual tour experience will have played a role in your decision to book a ticket to your desired destination.
Will the virtual tour experiences remain available after the Covid-19 isolation period is over?
Yes, they will definitely do. We don't see virtual tours as a necessary solution during the coronavirus lockdown but as an alternative way of traveling. It's a great way for people that are affected by disabilities or mental disorders to explore our world's wonders. They're a window to the world for all those travel enthusiasts who for any reason aren't able to physically visit a place.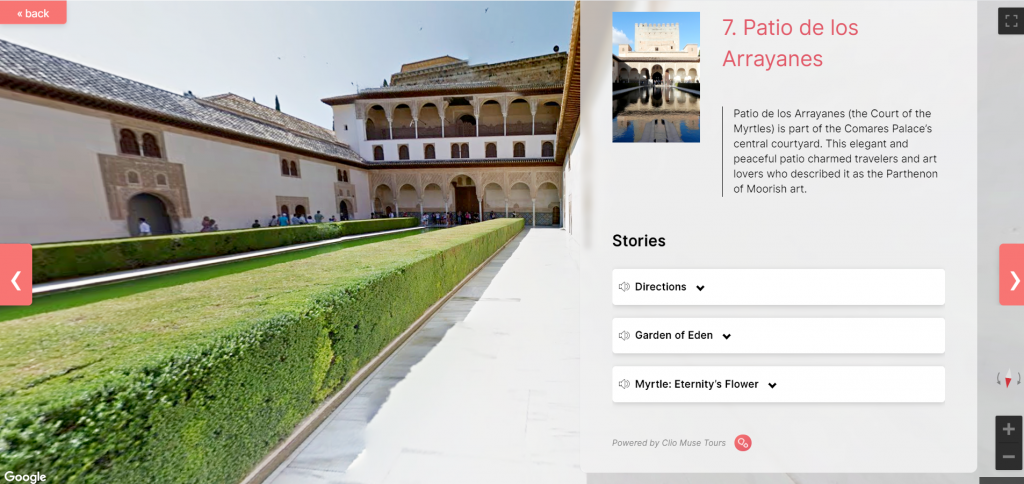 What will follow next?
Clio Muse Tours was founded six years ago in Athens with the vision to generate universal cultural awareness and guide people in every part of the world, utilizing pioneering technology. The trust we have gained over these 6 years from travelers all over the world, has inspired us and motivated our collaborators to help us expand in 4 other countries. And we can't wait to discover where our next stop will be. We could say that sky is the limit but since we have already created the first Moon Tour, it would be an understatement.