Looking to explore the great city of Athens but don't know where to start? Let us guide you to the best Athenian neighborhoods. From museums to historical sites, restaurants to wine bars, the Greek capital has it all. You only have to choose which area fits your style and budget best. This guide to the most beautiful neighborhoods in Athens lists the top things to do and see in each one of them.
Roam the scenic alleys of Plaka
Visit Plaka the oldest section of Athens and learn about the city's past. Home to the worldwide-known Acropolis as well as numerous museums and archaeological sites, this area attracts tourists and locals. Learn about Greek life and culture in the Museum of Greek Folk Art. Here you can see exhibits explaining the history and traditions of the Greek people. As you roam the neighborhood's quaint alleys you'll come across plenty of cute souvenir shops. From leather handbags and sandals to vintage clothes, to knick-knacks. Traditional Greek tavernas, as well as modern tiny bars and winery spots, are scattered in the area. Whether you're looking for a relaxed lunch or a night out, there are plenty of choices.
Shop in the high-end Kolonaki
Eager to explore the more high-end side of Athens? Look no further. Kolonaki is a beautiful neighborhood with a variety of restaurants, bars and luxurious shops. Walk down Voukourestiou Street for shopping and mingle with locals at the bars and cafes in Milioni street. If you're looking for cultural exploration, visit the Byzantine And Christian Museum. This museum is dedicated to historical artifacts of Byzantine and later historical time periods spanning over all of Greece. Nature-lovers should definitely add Mount Lycabettus to their list. Here you can get away from the city hustle and bustle and see the city from above from the top of the hill. From shopping and dining to nightlife, Kolonaki is the perfect neighborhood for day and night.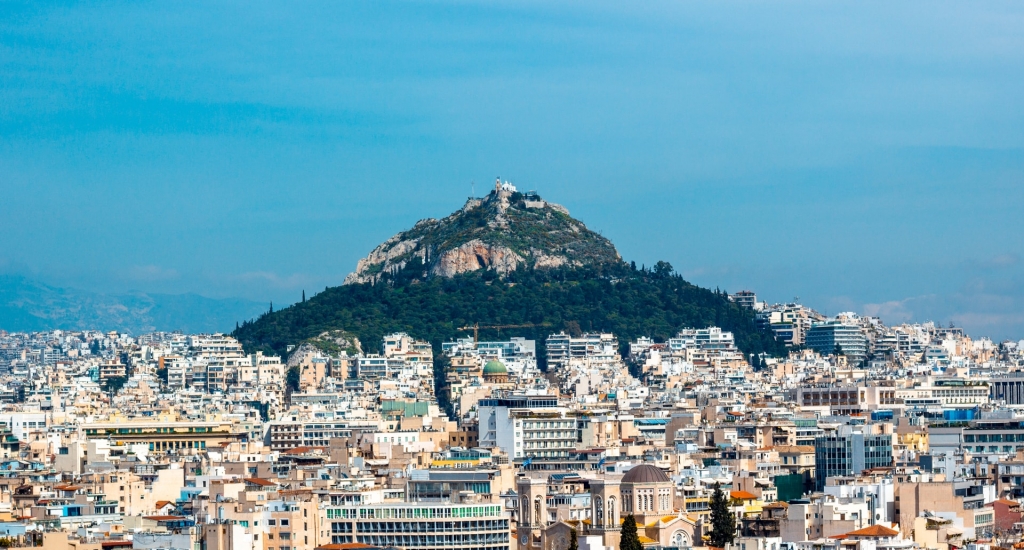 Discover the historic area of Syntagma
Home to the Greek Parliament, Syntagma Square has a great historical significance and is the country's most popular square. It is located in the heart of the city center and is adjacent to the National Garden and Zappeion. Every Sunday morning at 11 am, the members of the military unit that stand in front of the parliament (Evzones) wear their official uniform for the Changing of the Guards ceremony. Visitors can watch this ceremony for free in front of the 19th-century Old Royal Palace.
Syntagma square is surrounded by hotels, bars and restaurants. If you want to be in the heart of Athenian life, this is a great neighborhood to stay in during your trip to Athens. Plus, Ermou, the country's largest shopping street is just a stone's throw away. Some museums to visit while in this neighborhood include the Numismatic Museum and the National Historical Museum. The Numismatic Museum exhibits many coins and medals from history. The National Historical Museum allows people to look at documents and learn about the recent history of Greece. At Syntagma you'll find plenty of choices for a fancy meal or takeaway food.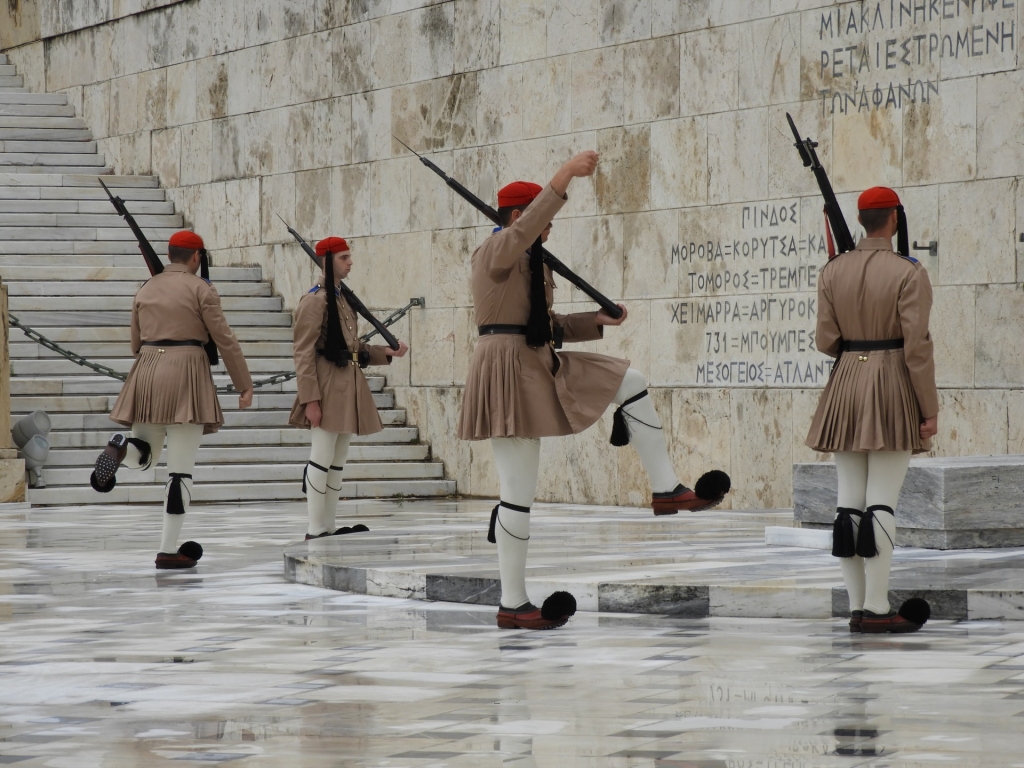 Explore the flea market in Monastiraki
Monastiraki is known mostly for its second-hand shops and the flea market put on every Sunday. It is located opposite Psyrri, close to Plaka and Thisio neighborhoods and is only a 10-minute walk from Syntagma square. Here you can find from pottery items, artworks and furniture to vinyl and books. Boasting a vibrant atmosphere, this scenic neighborhood attracts locals and tourists of all ages. It is jampacked both in the day and at night as it features bars, cafes and nightclubs of all styles. Walk down Ifaistoy street and head to Avissinias square to discover vintage stores and get a glimpse of how Sunday mornings feel in Athens.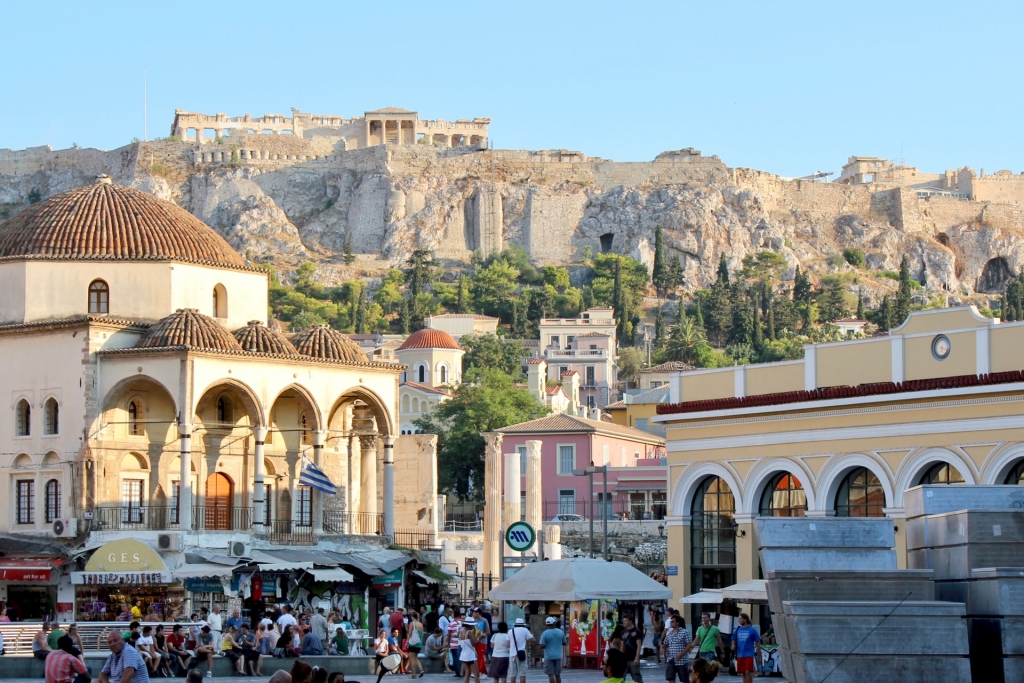 Experience nightlife in Psyrri
One of the trendiest neighborhoods in Athens, Psyrri is quite popular among young people. Here the nightlife is intense and bohemian scattered in with small bars and entertainment. If you're not looking for an intense night of clubbing and dancing, don't worry. Psyrri has plenty to offer. There are traditional eateries, taverns with live music performances and international-cuisine restaurants. There are also live music venues and stylish bars. Go to Protogenous street to see where the city's hipster crowd hang out and to enjoy a drink at night or a coffee in the morning.
Have brunch in Koukaki
Nestled at the feet of Acropolis hills, lies the urban neighborhood of Koukaki. This area brims taverns and more exclusive restaurants for high-end dining. It is in a great location because you can walk to Plaka and Syntagma from here. While in Koukaki, you should definitely visit the National Museum of Contemporary Art. This museum focuses on Greek and artists from around the world. Finally, if you are looking to step away from all the people and tourists, go visit Filopappou Hill. This is a natural green area where you can just relax and enjoy the environment.
Visit the ancient ruins in Thissio
In walking distance from Plaka is a worthwhile stop on your visit to Athens. Explore The Temple of Hephaestus and the Museum of Ancient Agora to find more bout life in antiquity. Walk on Ermou street and discover Kerameikos cemetery where you can see parts of the Themistoclean Wall and the Sacred Gate. Thissio is also full of street vendors and shops to wander through, as well as restaurants to taste the traditional Greek cuisine. If you're looking for a fun night of bar hopping, make your way down to Herakleidon and Akamantos streets.
If you're looking to explore the lesser-known streets of Athens' city center, follow our Invisible Routes digital tour. It is designed and created by people who are or were homeless.