On the prowl: the cats of Athens tour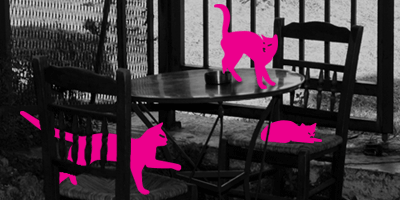 Self-guided audio tour

Follow the story at your own pace

English, Ελληνικά, Deutsch, Español, Français, Italiano

For both audio and stories included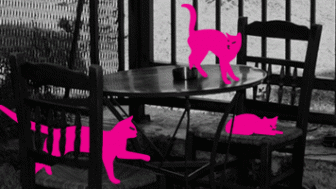 On the prowl: the cats of Athens tour
Add to cart
Overview
30

stories

0.67km

distance

5

stops
A fascinating self-guided walking audio tour for Athens' cats with credible & original stories written by top local professionals. Take your tour now & enjoy it instantly on your smartphone device.
There are many guidebooks and tours available on Athens, covering many known and unknown aspects of the city's history and culture. On the prowl – The cats of Athens presents something unique: a tour based on, and dedicated to, the beautiful cats of Athens. Regal or common, spotless or scruffy, friendly or haughty, Athenian cats form an indispensable part of the urban environment and proudly occupy all the local monuments. In contrast to most traditional guided tours that tend to focus on the ancient temples, the medieval churches and the neoclassical jewels of this city, the tour "On the prowl – The cats of Athens" focuses on these felines and highlights the almost mythical stories of their arrival and gradual domination in Athens.
This trip down memory lane begins at one of Athens' most picturesque spots. Anafiotika is an island in the heart of Athens with narrow lanes and tiny whitewashed houses clinging to the rocks. Ancient Athenian households and markets were full of dogs, grasshoppers, crickets, hedgehogs or monkeys who served as pets. You were more likely to come across a cheetah than a cat in downtown Athens.
As you make your way through the Plaka district, take time and introduce yourself to the city's adventurous feline residents who enjoy a bird's-eye view of the Ancient Agora. Was Aristotle right when he claimed that cats are particularly lascivious because they instigate the sexual act by inviting the male? The answer may lie among the ruins of the Roman Agora, frequented by "Little Cats" and "Kittens" (Felicla, Felicula, and Cattula were popular female names back in the Roman days). The remains of the Byzantine church, visible beneath the foundations of the mosque in the Roman Agora, reverberate with the calls of Mechlempe's descendants. He was the imperial Byzantine cat and lived a life of luxury as he ate from gold plates. During the Ottoman period, cats were the subjects of as much adoration as in the time of the pharaohs. The ruins of the madrasa remain a favorite feline haunt in memory of that relationship.
Audio Preview
Not your average cat
Some aristocratic homes in ancient Athens were not satisfied with a regular cat as a pet. The scions of the wealthier families demonstrated rather exotic preferences and some young men walked the streets of Athens holding a small leopard or even a cheetah. The detailed depictions on ancient pottery prove almost beyond doubt that the artists had seen these felines up close. It would not have been impossible since the cheetah is considered the easiest of the wild cats to tame. Once tamed, a person can approach the cheetah and pet it; the usual reaction is either complete indifference or a loud purr.
Inclusions

and

Exclusions
Inclusions
Self-guided audio tour in English for your smartphone (Android & iOS)

An activation link to access your audio tour

Offline content with an offline interactive map to avoid roaming charges
Exclusions
Live Guide

Smartphone or headphones

App not compatible with Windows phones

Food and drinks

Hotel pick-up and drop-off
Mandatory items
Charged smartphone
Headphones
The
location
Starting point
Gate Medrese, Pelopida, Athens
Important

information
Opening hours
Anytime. Please note, thought, that cats tend to be more active as night approaches. We also recommend you bring a nice treat with you, to entice the more hesitant ones to approach and share their stories with you.
Know before you
book
This is a downloadable self-guided audio tour for your smartphone. No live guide will accompany you. No VR / AR is included

After booking, you will receive an email with further instructions on how to access your audio tour. Please check your email spam folder as well

An Android (version 5.0 and later) or iOS (version 15.0 and later) smartphone is required. The audio tour is not compatible with Windows Phones, iPhone 6/6 Plus or older, iPod Touch 6th generation or older, iPad 4th generation or older, iPad Air 1st generation, iPad Mini 3rd generation or older.

Please ensure you have enough storage space (100-150 MB) 

Book per device to be used, not per participant

Non refundable once activated.
Know before you
go
Internet access might be unavailable & mobile signal may be weak. So please download the audio tour on your smartphone prior to your visit in order to enjoy it offline

Use your headphones to best enjoy it

Ensure that your smartphone is fully charged prior to your visit