For most of us living in a big city, the beauty around us goes usually unnoticed as we rush about keeping up with our daily routine. City life can be overwhelming, at times chaotic, but if once in a while you get into the right mood, you can see everything with fresh eyes and fall in love with it once again. That's what I did on a quiet Sunday morning; I woke up early and took a leisurely walk downtown while Athens was still sound asleep.
Syntagma square, the pulsating heart of the city, is usually bustling with people and noise from the cars and buses whizzing around. If you come early on a Sunday morning, though, you are most likely to see no other sign of life than the pigeons walking in circles under the shade of the trees. Opposite the square, the parliament building, which was once home to the royal palace, sits imposingly in its light ochre colour.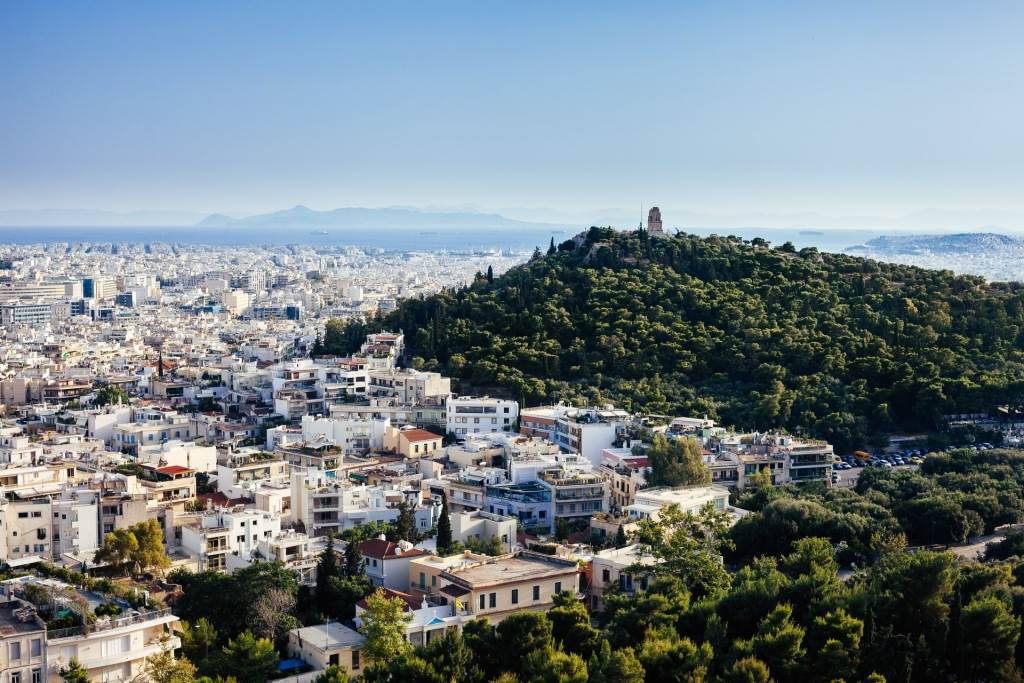 I walked past it and continued along Amalias avenue to enter the National Gardens. This marvelous park of 15.5 hectares once used to be the getaway of the first royal couple, Queen Amalia and King Otto. Today it is a cherished retreat for anyone seeking to relax and unwind. There is nothing more welcoming than the sight of Queen Amalia's Washingtonians, the impressive palm trees that you encounter as you enter the lush green garden. There are tons of beautiful corners to discover all around, from Queen Amalia's favourite bench and the statue of the British romantic poet Lord Byron to mosaic floors of ancient Roman villas and members of ancient colonnades.
Taking the Athens National Garden tour is a perfect way to enjoy a leisurely walk and listen to a whole host of stories on your phone as you stroll along the maze-like alleys of the park, passing by small ponds, sweet-smelling orchards, romantic flower pergolas and scattered ancient ruins.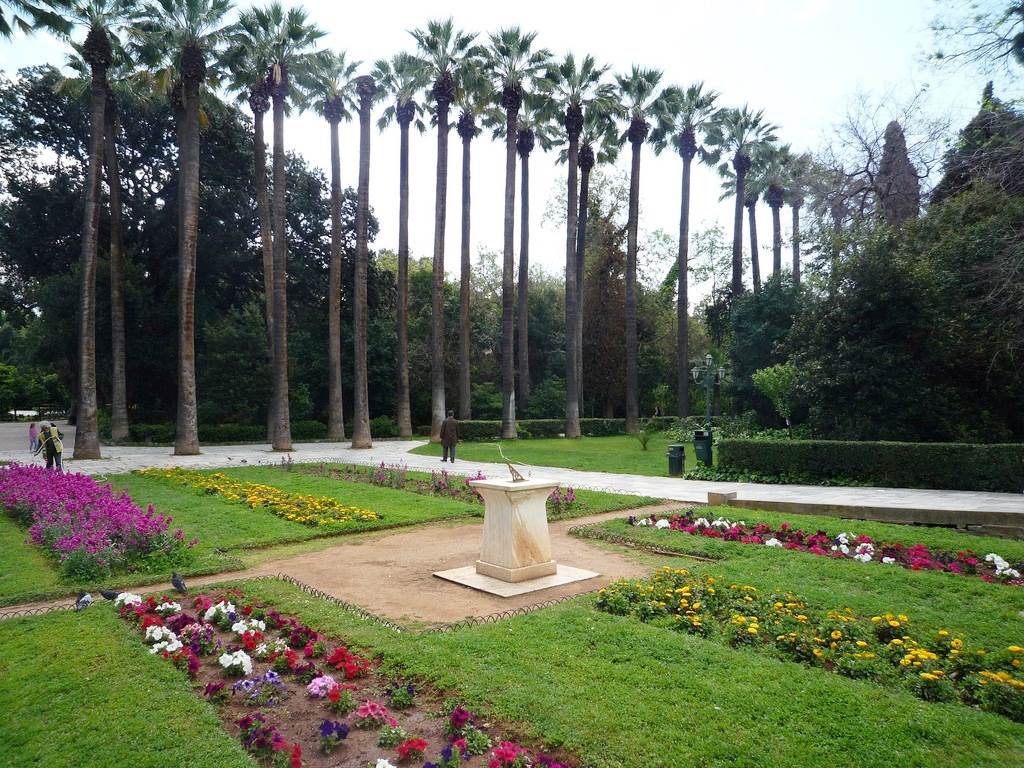 Longing for a warm cup of coffee, I left my small oasis of tranquility and headed to Panepistimiou street. My next stop lay hidden in the shadows of a magnificent mansion that was once designed by Ernst Ziller and used to be the residence of Heinrich Schliemann. Today it houses the Numismatic Museum of Athens and behind it you will find an endearing little cafe, tucked among colourful flowers, statues and rare old trees planted by Schliemann himself.
This passionate man, enamoured with Greek history and an ardent reader of Homer's verses, decided to leave behind him his life as a businessman in Germany and become an amateur archaeologist. He earned his fame when he discovered the relics of Troy in Turkey and excavated the archaeological sites of Mycenae and Tiryns in Greece.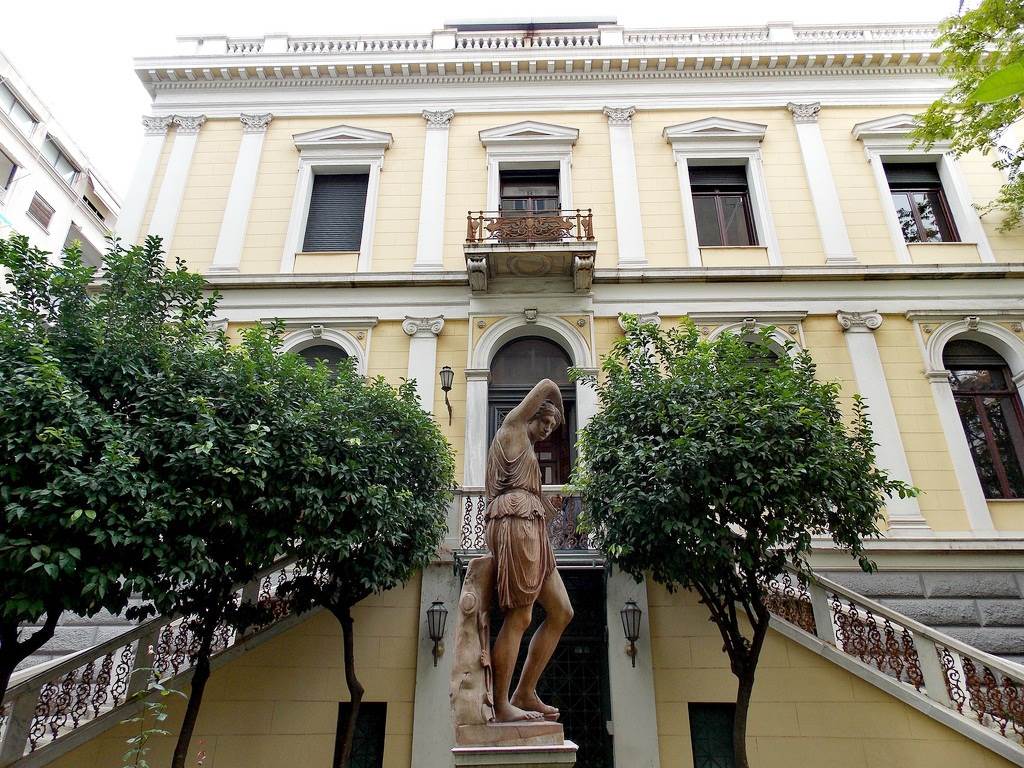 The day was bright and sunny, one of these days that we call in Greece "the Alkyonides", a small interlude of summer during winter. Therefore, it was the ideal occasion for a cup of coffee al fresco in the shadows of Schliemann's mansion Iliou Melathron, which means the Palace of Troy. I sat for a while in the beautiful yard reflecting on the etymology of the word amateur and remembered the root within the word – i.e. doing it for the love of it – and realized that this is an important driver for taking the time to make living truly become an art.
After my coffee break, I retreated in the backstreets behind Panepistimiou street and started walking up towards the area of Kolonaki, known to be the upscale and fancy part of the city. For architecture lovers it is a captivating mosaic; a pleasant blend of neoclassical buildings, eclectic architecture, Art Deco influences and iconic modernist structures from the interwar years. If you take a walk along Anagnostopoulou or Lykavittou street you will fall in love with the fragrant wisterias covering the buildings with their purple cascades. For the fashionably curious Kolonaki hosts some of the most high-end boutiques of Athens and walking around its hilly streets always offers a chance for window-shopping. To be honest, when it comes to window displays, I can't think of a lovelier sight than that of my favourite patisserie, Desire.
Operating since 1962, Desire still holds the charm of old Athens with a touch of French elegance and the most mouthwatering selection of traditional spoon sweets, pastes, truffles, tarts, fruit cakes, cookies, chocolate and more chocolate. The smell of fresh pastries invited me in, so I got myself a little treat of love, a fresh, warm croissant, and continued my morning stroll to the slopes of Lycabettus. If you are a foodie, like me, seeking to discover more delicious Athenian spots take the tour Flavours and memories of Athens to eat your way through the city!
Should you take the steep road along Iraklitou street, you will find one of the most mellow corners of Athens, Dexameni square, sitting at the top, surrounded by sweet-smelling orange trees. Its name means cistern as it used to be the water reservoir of Roman Athens, built by Emperor Hadrian in the 2nd century AD. Next to the old reservoir, there is a cute open-air cinema, cine Dexameni. It awaits the coming of spring to invite cinema lovers once again for a movie night under the stars, but for the moment it is closed and silent. On the other side of the square, under the shade of the trees, the bronze figure of Odysseus Elytis stands calmly contemplating the Athenian horizon. The verses of his erotic poems have been water to the lips of thousands of lovers. He is gazing out on a breathtaking view of the Acropolis imposing in the background.
I stood there for a while to take in the spellbinding view of the Parthenon popping out of the miscellaneous urban jungle. Athens is a low rise city, so if you walk up on a hill or sneak onto one of its rooftops, you can see it stretching before your eyes in all its irrational beauty.
It is at such moments that I realize all these little things that I am so fond of in this city; it's urban clamour, irrational streets, mosaic of flavours and inherent contradictions. How can I explain it? I guess it's this crazy little thing called love!