Description
Flavours and Memories of Athens is a gastronomic tour in downtown Athens. A self-guided audio walking journey to assist you in exploring the best local places in Athens that definitely worth visiting. Discover their stories and secrets written by top local professionals after extended research. Take your tour now and enjoy it instantly on your smartphone device.
The tour will allow you to discover special places where you can enjoy your coffee, dessert, or drink in a setting that is quintessentially Athenian.
There are many reasons to visit Athens and food is definitely one of the most memorable local experiences. Whether enjoying a traditional "lathera" dish in the shade of the Acropolis or brunch in a trendy downtown joint, this is a city that has something for everyone. Start your day with an invigorating cup of Greek coffee in Glykys, a coffeehouse that carries along all the sweetness of the old coffeehouses of Athens, and then try to decide what to have when faced with the most colourful wall of spirit, ouzo, and brandy bottles that adorn the walls of Brettos Bar, a true Athenian institution.
Forget Me Not ensures you can pick something tasty and unique to remind your palate of your days in Athens, while Mitropolitikon will transport you to the atmosphere of the Belle Époque pastry shops as you indulge yourself with their trademark Greek macarons. And if you really want to feel spoiled for choice, don't forget to cap the day with a stop at Oinoscent, whose cellar is equipped with hundreds of wine labels from all over the world.
Angeliki Partsinevelou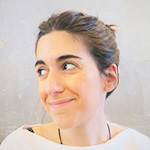 I was born in Athens in the late 80s, earning a little bit of the glory of this decade. I studied Museology, as I loved to tell stories. Since 2013, I participate in public space projects and guided tours.
Details
Address
Traditional coffee shop "The Sweet"
Finishing point
45-47 Voulis, Athina
Recommended visiting hours
Mon.- Fri. & Sat.: 11.00-15.00 & 17.00-20.00 , Sun: 16.00-19.00
Why take a self-guided tour?
This is a self-guided tour based on the award-winning storytelling concept developed by Clio Muse and the fascinating narratives prepared by our handpicked destination experts.
You can enjoy each multilingual tour by using your smartphone or tablet at your own pace even if you are offline. The interactive map on your screen will guide you step-by-step as you explore all points of interest along your route. Each stop comes with a selection of our signature stories allowing you to tailor the tour experience to your personal interests and schedule.
After downloading Clio Muse app, you can access this tour and activate it any moment you wish and also repeat it any time. To best enjoy our multimedia self-guided tour (comprising maps, video, audio and text) we recommend the use of headphones.