How Clio Muse Tours drives innovation for Museums and Culture Institutions
At Clio Muse Tours we always keep an eye on the future: we follow the latest trends on technologies and we pay close attention to the developments in the culture and creative industries. Our aim has always been to generate universal cultural awareness hand in hand with partners from all over the world. And every year we feel that have we have taken a step closer to our goal. Our vision is one of the things that make us stand out from other technological companies. The other is that we have a long experience in creating, promoting and selling our own cultural products. And that's why we can not only fully understand the needs and requirements of the Museums and Cultural Institutions but also to find suitable and innovative solutions and implement them swiftly and effectively.
We are the foremost experts in audio tours
Audio tours have transformed the way the audience interacts with museums' collections and undeniably have wide appeal to modern-day travelers. Clio Muse Audio Tours offer visitors a narrative to follow which will guide them through a museum's halls and exhibition rooms unraveling the stories that make each displayed object unique. After having successfully completed 250 audio tours for museums, landmarks and cultural institutions in over 5 countries, we decided to bring together the power of images and our award-winning audio narrations.
…and that's why our virtual tour experiences stand out
In our Virtual Tour experiences, we combine our award-winning narrations with 360° photos and we offer visitors the opportunity to discover landmarks and artworks from home while at the same time learn historical facts and information. Users can choose to stay on our designated tour path or follow their own virtual route based on their interests. We choose each point of interest carefully and unravel its fascinating past with intriguing stories. In this way, we make sure that by the end of the virtual tour experience, users will have an overall picture of the site's history.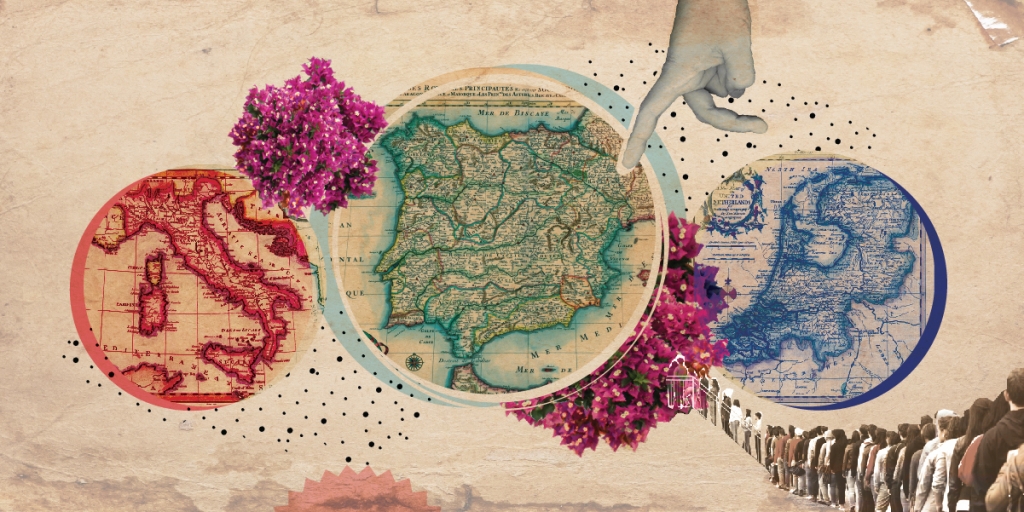 What we can do for your museum
We constantly follow the social and technological developments of our times to make sure our partners always get top-notch results. We create personalized web pages and smartphone apps for museums or independent exhibitions. Moreover, we have the ability and familiarity to help visitors get the most out of their visit by delivering on-site experiences either by utilizing our partner's installations or making new ones that will perfectly fit the place. We are experts in boosting your museum's appeal by creating immersive interactive screens that vividly present your exhibits. By the end of their visit, travelers will have a unique experience to remember and share with fellow culture enthusiasts. Our expertise and specialization in developing technologies for the promotion of cultural content guarantee an impeccable result tailored to your needs.
We offer you our authoring tool to create your own tour
Our authoring tool, Clio Muse Create, is like a magic wand in the hands of tour guides, historians, and exhibitions' curators. It offers them the ability to easily create, edit and update their audio and virtual tours in real-time whether they are designed to be displayed on the web or mobile apps, onsite interactive maps and screens. We have built our tool in a way that no technical skills are required. Users must simply follow the guidelines our platform provides and of course, we are always available for further assistance.
Statistics never lie and we know how to use them for your benefit
With user interaction statistics you can find out what captivated your visitors' interest during their digital tour and understand your audience better. We can provide you this service to enable you to further improve your tours and acquire valuable statistics for your sponsors. All gathered data are anonymous and GDPR compliant.
We can help you bring your project to life
If you are interested in providing audio and or virtual tours to your visitors and you lack the necessary funds, do not be discouraged. We are here for you! We have the knowledge to seek and secure different types of financial support from funding instruments, including national and international bodies like the EC and Europeana.
If you have an intriguing idea and you aspire to see it implemented, we can facilitate the whole process for you and apply for a research project. We know how to find the appropriated funding instrument, form the consortium, contribute in shaping your idea into a comprehensive plan and finally, submit a complete and detailed application for funding.
Take a look at our services here and feel free to contact us for further information