The COVID-19 pandemic found Clio Muse Tours in the midst of exciting upcoming collaborations and new beginnings. Unfortunately, due to the unprecedented pandemic, we were forced to slow down our plans for expansion to new destinations in order to protect our team and secure the company's future. This decision helped us stay united and to launch our new generation tours, a project in the pipeline since the beginning of 2020. Here is the Clio Muse Response to COVID-19.
2019 was a great year for us. We saw a 12 times growth in our revenue and the highest sales on our audio tours serving 50,000 travelers from all over the world. Therefore just before the COVID-19 outbreak hit, Clio Muse Tours was preparing to expand to more destinations, form strategic partnerships with major online travel agencies, grow its team and move to a new larger working space. Our relocation to a 270-square-meters office in Evripidou street in the area of Monastiraki was underway and we were already conducting interviews for hiring 4 new members to grow our Sales, IT and Digital Marketing departments. No one could have predicted what the future would bring and even though we acted promptly none of the decisions we made were without careful consideration.
We instantly adopted remote working
As soon as we realized that Greece had COVID-19 cases we decided to immediately adopt the remote work model in order to secure our employees' safety. A week before the Greek government announced the mandatory lockdown we were all working from home. Remote working wasn't a strange concept to us since as a company, we already had a one-day remote work policy. We take the life-work balance under serious consideration and we make sure to apply it to all of our employees. Our working strategy puts great emphasis on providing a friendly, fun and flexible work environment to our team. Our experience in being in different places yet working together proved to be extremely beneficial, during the coronavirus lockdown. We kept conducting daily meetings and we strived to preserve personal relationships by arranging common lunch hours during which we met virtually to discuss how each one of us copes with the lockdown.
As life slowly returned to normal, our office reopened again and in early July we unofficially inaugurated our new working space. Coming on a daily basis still isn't mandatory. We are well-aware that each person deals in a different way with the COVID-19 outbreak and for us first and foremost matters that all of our team members feel safe. But we have come to value even more those moments that our rooms brim with laughs and talks. And that's what fills us with hope for the future.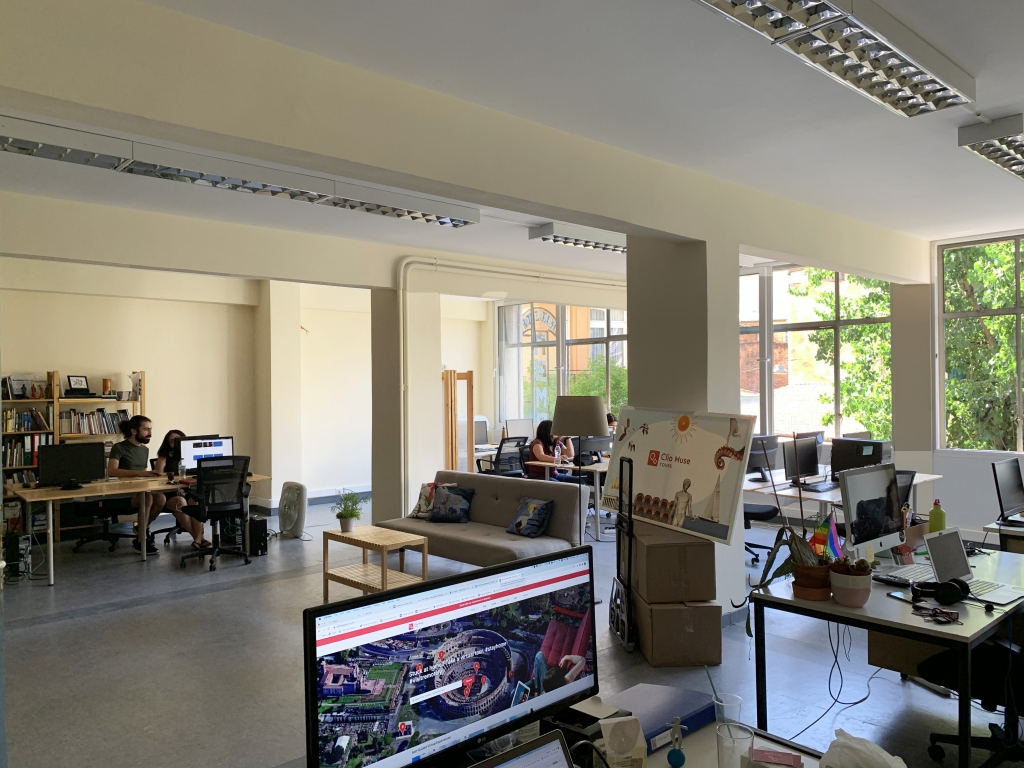 We launched 23 virtual tour experiences in two weeks
Clio Muse Tours launched its first 23 virtual tour experiences in the first two weeks of the COVID-19 lockdown in March 2020. I am proud to say that the Clio Muse team coped extremely well under the circumstances and delivered magnificent results. Our instant response to the COVID-19 pandemic put us in the spotlight and Clio Muse Tours gained the attention of important figures of the tourism industry in both a national and international level.
Our first step was to organize meetings to evaluate the situation and come up with the best solutions. No one knew the extension and the severity of the pandemic at the time but our decision to move forward with a project we had already worked on proved to be the right one. We chose our top-rated audio tours and transformed them into virtual tour experiences by combining 360° satellite and street views and our authors' captivating narrations guiding users along the way. By using all the knowledge we had acquired through our customers' comments and clients' feedback we managed to provide an equally worthy experience for those being obliged to stay at home. As the COVID-19 pandemic escalated, we kept adjusting our initial planning according to the circumstances.
We had to take unpleasant measures to secure the future of Clio Muse Tours
Being a start-up company operating in the culture and tourism industry, two sectors heavily affected by the COVID-19 outbreak, we were forced to immediately take strong and unpleasant measures to secure the future of Clio Muse Tours. We drafted a cost reduction plan to minimize our expenses. We strived to find a way to make profitable use of our newly-rented office and remain at the one we already had, we paused hiring, we cut all non-essential costs and cut down all three founders' salaries.
Our next step was to apply a temporary reduction of working hours and pay reductions to all of our employees but as the COVID-19 outbreak escalated instead of diminishing it soon proved this wouldn't be enough either. Unfortunately, under the guidance of our investors from Uni.Fund, we cut down our team by 30%.
We see the Clio Muse team as a family and thus losing valuable members was the most difficult moment for us. None of our employees would be laid off had we another option and we still believe that all of them are very skillful and a great asset to any company that is lucky to have them. Therefore all three founders used their personal and professional networks to help them make their next steps to their professional careers and we are happy to know that most of them have already done so. Still, I hope that we will be able to work all together again sometime in the future.
Our future steps
Although the last few months were a great challenge for all of us, our team managed to stand up to the circumstances and build a new generation of services for museums and attractions around the world.
The knowledge and expertise we have acquired after years of experience in both the tourism and the culture industry have provided us with a valuable skillset to foresee the needs and find solutions for issues arising in either of both sectors. It's not by chance that we are one of the very few IT-companies that gain a considerable profit by selling and promoting their products. Seeing that we managed to multiply our revenue by 12 times solely by selling our self-guided tours gave us confidence that Clio Muse Tours is in the right direction and we have all the means to overcome future challenges.