Welcome to a time travel adventure in which the past and present collide to create a unique encounter in the ancient land of Greece. The ancient theatre of Epidaurus is one of the most spectacular archaeological treasures nestled among lush landscapes and scenic hills.
This UNESCO World Heritage site urges visitors to walk back in time and indulge themselves in the enthralling world of Greek play with its awe-inspiring acoustics, majestic architecture, and historical significance. Join us as we go on an extraordinary journey to discover the eternal charm of Epidaurus.
A Glance Into History
Let's start with a trip back in time as we trace the history of Epidaurus back to its beginnings in the 4th century BCE. The location was initially used as a temple and healing facility to commemorate the Greek God of healing, Asclepius. On the other hand, the spectacular theatre steals the show, displaying the ancient Greeks' architectural prowess. The theatre, which has a seating capacity of over 14,000 people, is a tribute to its innovation and passion for the performing arts.
The Acoustic Wonder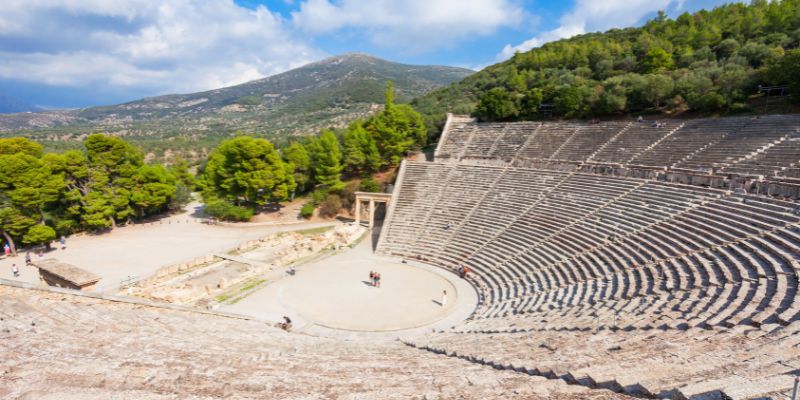 The first thing that hits you as you ascend the tiers of the theatre is its superb acoustics. A whisper on the stage below may be heard clearly, even from the uppermost rows. The acoustics are so precise that sound may be heard in every theatre corner without using contemporary equipment.
A Play Under the Stars
Witnessing a live performance in this old amphitheatre is one of the highlights. The Epidaurus Festival, held every summer, brings classical Greek tragedies and comedies to life, allowing visitors to rediscover the old theatrical experience under the brilliant night sky. As the players take to the stage, the air is electrifying, and their voices reverberate with the audience in magical unison. The enchantment of history, culture, and artistry leaves an unforgettable imprint on every soul.
Exploring the Sanctuary
The sanctuary of Asclepius awaits an exploration beyond the stage by following peaceful lanes lined with towering cypress trees to the temple ruins, where ancient rites and healing practices previously took place. The ruins serve as a reminder of the spiritual significance of this location for ancient Greeks seeking cures and paying homage to the god of healing.
Connecting with Nature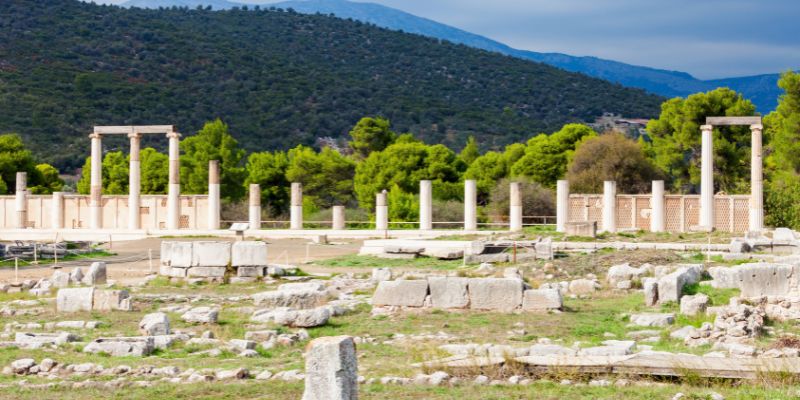 Epidaurus is a cultural treasure and a tribute to nature's splendour. The property, surrounded by beautiful olive orchards and bordered by the Peloponnese hills, offers breathtaking vistas that transport us to a time-unchanged world. After taking a minute to appreciate its natural beauty, you can feel a solid connection to the country and its history.
The historic theatre stands tall as a symbol of human inventiveness and passion for the arts, spanning the millennia-long divide between civilizations. This remarkable archaeological treasure stimulates artists, scholars, and travelers, piquing their interest in discovering more of Greece's eternal treasures.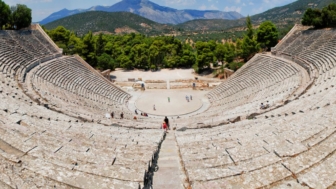 Duration:

2h 30min

Audio available in

1 language
per person