Since summer and you are in Crete, you have all the time you need to visit its magnificent beaches! Here are 5 beaches to visit in Crete while you're near Knossos and Herakleion to cool off the summer heat.
Gouves
Approximately 22 kilometers away from Knossos, you can easily find yourself laying on a sunbed at Kato Gouves. Kato Gouves is an ideal family destination as the area offers many swimming spots, where you can relax lazily or, if you are in a more active mood, do water sports. You need not worry about shopping and eating as the beach is surrounded by many shops and local tavernas. On your way back, take my suggestion and drive to Ano Gouves for a spectacular sunset view.
Gournes
Only a 9-minute drive from Gouves and 4 kilometers away from my next suggestion, Kokkini Hani, you can explore Gournes. The area is also home to Cretaquarium which should be on your bucket list when in Crete.
Kokkini Hani
Kokkini Hani is the perfect place to put some sunscreen and just relax. Whether the sun of Knossos made you dizzy or you feel like enjoying some local mezze, take advantage of the nearby restaurants to taste the traditional Apaki accompanied by Ntakos with Xynomyzithra. Simply yummy!
Mononaftis
A thirty-minute drive away from Knossos you can find the Mononaftis Beach, which is part of Agia Pelagia. Mononaftis translates in Greek one sailor, as the beach owes its popular name to a shipwreck that had occurred nearby, out of which only one sailor managed to survive. Meanwhile, Mononaftis is also the name of the large rock that stands a few meters from the shore. The crystal clear waters and the rich sea life make the beach irresistible and perfect for diving and snorkeling.
Psaromoura
If you choose Mononaftis and you are up for an adventure, you should definitely walk until you reach the beach of Psaromoura. In case you are not into walking, you can still drive there. Psaromoura beach is known for its breathtaking beauty. The name of the beach is quite funny, meaning fish-face in Greek. It is also believed that it means cape with many fish.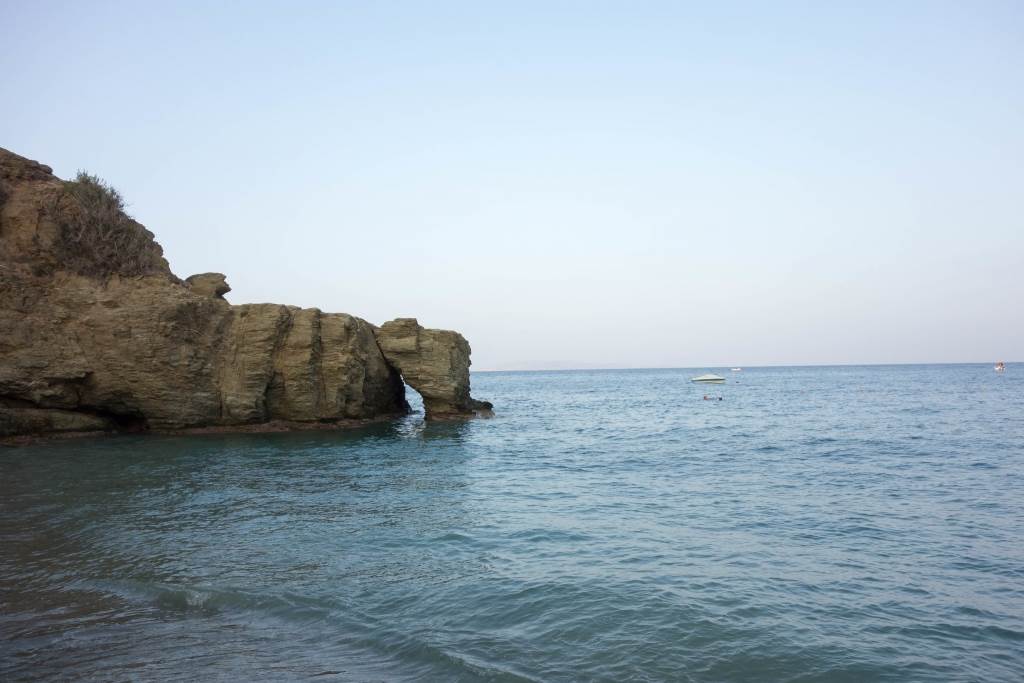 Planning your visit to Knossos? If so, do not forget your hat and your swim-suit!