Berlin is Germany's capital and largest city in terms of size and population and is well-known for its vivid views and cultural activities. Let's discover some helpful information before you visit this beautiful city!
When to go
Berlin is beautiful in the spring, and it's undoubtedly the best time to go because the mild weather allows travelers to stroll around and enjoy the city's lovely parks, gardens, and scenic streets and landmarks.
Tulips and daffodils brighten the center of Mitteleuropa as flowers bloom during the spring all across the city. Berlin will be in full bloom by May.
Where to go
Museums
If you are a museum lover, Berlin is the place to go, as there are over 170 museums to explore the city's exciting history, art, and culture.
It is worth visiting one of the city's most prominent UNESCO World Heritage Sites, Museum Island (Museumsinsel). For those who love to learn about Berlin's history, the Museum Ιsland is a paradise!
Also, the Pergamon Museum is a must-visit site, as it originally opened in 1930 to house a collection of ancient monumental buildings. Explore the three distinct museums which are housed under one roof, including the Antiquities Collection, the Middle East Museum, and the Museum of Islamic Art. The main attraction, of course, is the Pergamon Altar.
Berlin Wall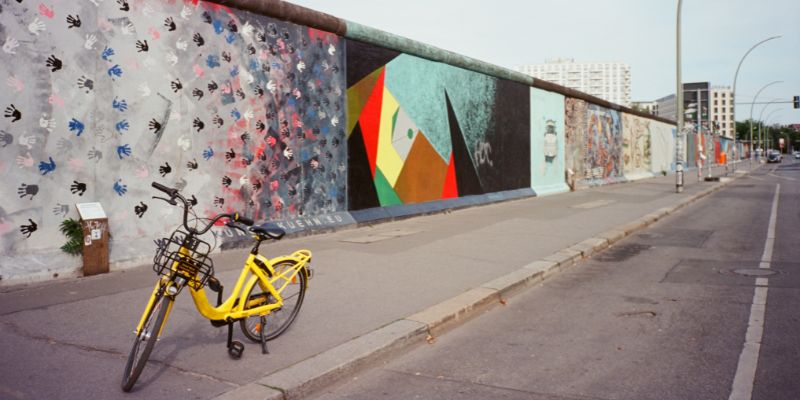 © Yc Liao on Unsplash
The Berlin Wall was built in 1961 when East Germany blocked off half of the city to prevent inhabitants from fleeing to West Germany, as the city was divided into two parts. The four-meter-high wall had a length of 155 kilometers, cut across 55 streets, and included 293 observation towers and 57 bunkers.
After it was destroyed in 1989, just a few parts of this graffiti-covered wall survive today, including a 1.4-kilometer piece maintained as part of the Berlin Wall Monument, which reminds the hatred that once separated Europe.
Berlin Television Tower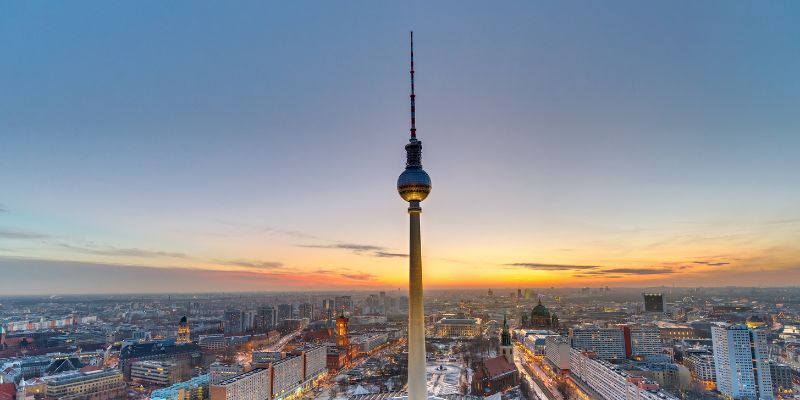 Berliner Fernsehturm, since its inception in 1970, is Europe's third-tallest freestanding tower, having gathered more than 60 million tourists, who are lured by the breathtaking views over Berlin.
Built initially to highlight communism's power (located in the old East Berlin neighborhood), the monument can be seen from almost every corner of the city, making it even more significant as a symbol of the city's reunification in 1989.
Gendarmenmarkt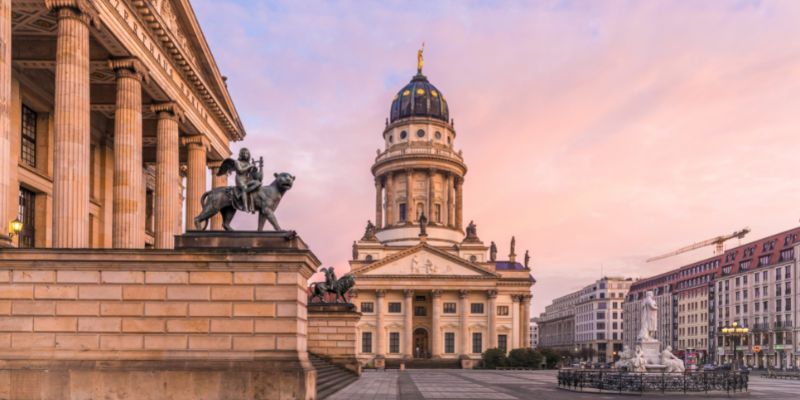 One of Berlin's major squares, the Gendarmenmarkt, comprises three heritage buildings: the Concert Hall (Konzerthaus), the French Cathedral (Französischer Dom), and the German Cathedral (Deutscher Dom).
Today, this charming 17th-century plaza is one of Berlin's most popular tourist destinations, hosting various public events throughout the year, including concerts and festivals in the Konzerthaus theater during summer.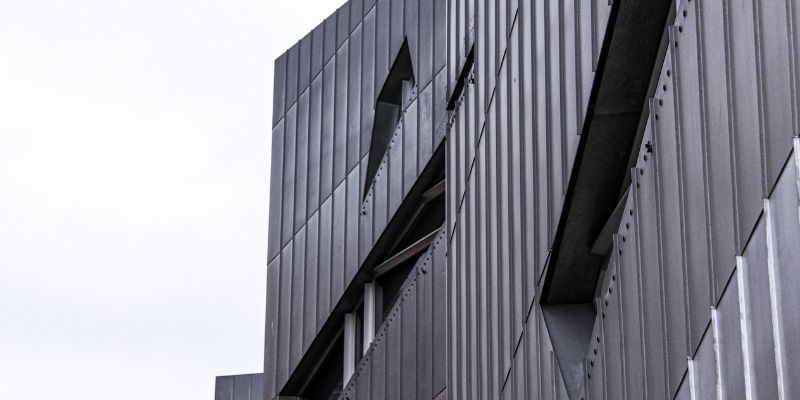 © Tanja Cotoaga on Unsplash
Jüdisches Museum Berlin, designed by the architect Daniel Libeskind, has a distinctive zinc-paneled exterior, making it one of Berlin's most remarkable sites.
Jewish Life in Germany: History and Present, the new core exhibition, debuted on August 23, 2020. It covers more than 3,500 square meters and presents a Jewish perspective on the history of Jews in Germany from their earliest days up until the present.
The Memory Void is particularly moving, with a work named "Shalekhet," or "Fallen Leaves," consisting of 10,000 iron faces stretched across the ground. To say the least, it is sad.
Berlin Zoological Garden
Zoologischer Garten Berlin is Germany's oldest zoo and one of the city's most popular attractions, with 3.5 million visitors annually.
The zoo, founded in 1844 and rebuilt after WWII, has developed a reputation for offering a safe environment for the animals. About 20,000 big and small animals, from Arctic wolves to zebras, have their home in the park.
Berlin's Nightlife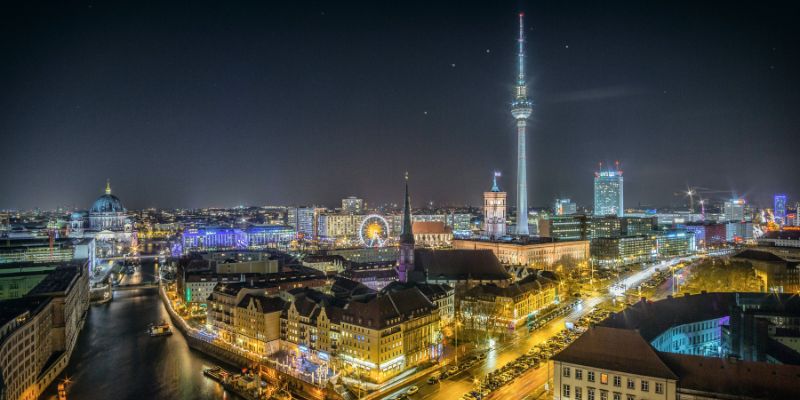 © Stefan Widua on Unsplash
If you're wondering if Berlin is a suitable place to party, consider a night out and see. Berlin is recognized for its fantastic nightlife, which includes a variety of bars, pubs, and events, as well as one of the top club scenes in the world.
Around Oranienburger Straße in the early 1990s, a nightlife district had already been established. Restaurants, cafés, bars, and pubs are placed in a row. Everything is a little bit classier, shinier, and glitzy on Oranienburger Straße.
The Hackesche Höfe's nightclubs, pubs, and restaurants attract a wide audience, as well as the court theater, movies, and art galleries. On the other hand, Hackescher Markt is a great choice for food lovers!
What to eat
Berlin's local dishes and delicacies are going to please your taste buds. Here are some of the must-try foods!
Currywurst
© Veganamente Rakel S.I. from Pixabay
Currywurst, a combination of pork sausage with curry powder, is one of the most delicious and easily accessible meals in Berlin. When British soldiers arrived in Germany in 1949, they took curry powder with them, and a chef named Herta Heuwer discovered it. Heuwer made the popular meal by combining curry powder with sausage and other spices. The dish is often served with fries.
Berliner Pfannkuche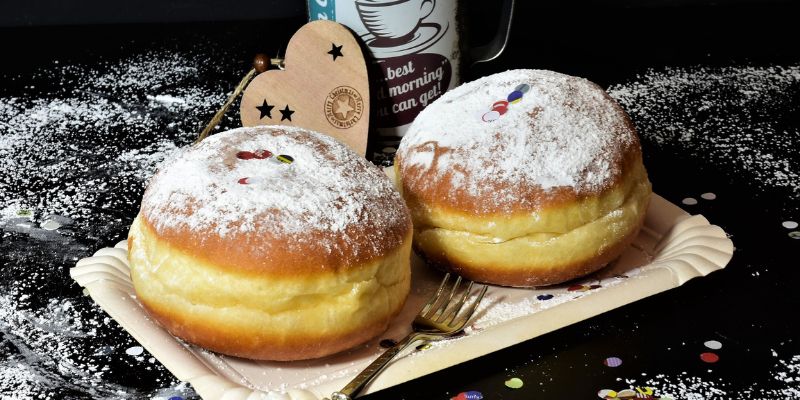 © -Rita-👩‍🍳 und 📷 mit ❤ from Pixabay
While Pfannkuche is the German name for pancake, the Berliner Pfannkuche is a delicious fried jelly doughnut (no hole in the center) topped with frosting and powdered sugar. The type of marmalade used in the doughnut can vary; there are even chocolate, pastry cream, and other alternatives.
Bretzels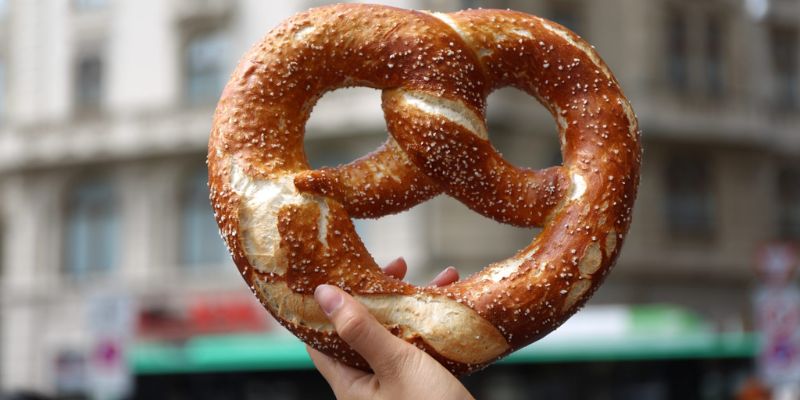 © Pierre Gui on Unsplash
Bretzels, or pretzels, are a must-try delicacy in Berlin, as these doughy sweets are a local favorite for a fast and delicious snack. Bretzels in Berlin are distinct from pretzels seen abroad; however, other types are available.
Explore Berlin with our self-guided audio tour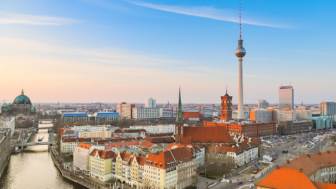 Duration:

2 hours

Audio available in

1 language
per person