The Thalis Awards was established in 2019 with a dedicated mission: to honor excellence, innovation, and significant contributions in the business world. Its fundamental objective is to pay homage to individuals and organizations that drive substantial transformations in the business landscape through their visionary accomplishments, all while underscoring a deep commitment to fostering meaningful change.
This year's 5th edition of the Thalis Awards focused on Innovation, and the award ceremony took place in Thessaloniki on Friday, September 15th. This prestigious event presented eleven awards and one honorable mention, recognizing companies and organizations' outstanding achievements. These prizes were reserved for those who demonstrated exceptional innovation across various sectors by implementing inventive solutions, applications, technologies, and services.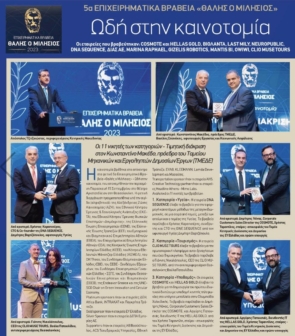 We are thrilled to announce that Clio Muse Tours has won the Tourism Innovation Award at the Thalis Awards 2023! This prestigious award is a testament to our dedication to providing our customers with the most innovative and cutting-edge tourism experiences.
Our CEO, Yiannis Nikolopoulos, proudly accepted the award on our behalf at the ceremony in Thessaloniki last week. It was an incredible night of celebration, and we are so grateful to the Thalis Awards and the Palladian Communication Specialists for recognizing our achievements and, of course, our valued customers and partners for their support on our journey of growth and learning.