The center of the Eternal City is the most quintessentially Italian place you might imagine. When one thinks of Italy, the first thing that springs to mind is the rolling green hills of Tuscany or some cobbled city streets drenched in golden sunlight. Get to know and spend unforgettable Roman holidays.
Rome's city center has been inhabited for millennia, and for all those millennia it has been a place of political, religious and civil power. It used to be the power of the Roman senators and then of the Roman emperors, whose works can still be seen around the city (like the marvelous Pantheon, one of the best-preserved Roman buildings and an incredible feat of engineering), and then the power of the popes, who ruled like kings over Rome and the surrounding regions during the Renaissance. After the country's unification, it was the Savoy kings who held that power, and after the brief, yet terrible, fascist Ventennio, the power passed onto the current political institutions.
All of Italy's highest institutions can be found nestled right in the center of the country's capital, like the seat of the Presidency of the Republic. There are also the seats of the two chambers of Parliament, the Chamber of Deputies and the Senate of the Republic, which are the most important political institutions of the Italian Republic.
But what makes Rome and its city center unique is that it isn't only a seat of power. It is a museum under the sky, a collection of masterpieces of art that are famous throughout the world and patch together a history of the people who lived in Rome and loved it enough to leave behind them beautiful decorations meant to embellish the city. Think of the famous fountains, for example, which feature on every traveler's bucket list; the Trevi Fountain and the Fountain of the Four Rivers in Piazza Navona are unique, not-to-be-missed artworks!
Listing all the wonders Rome has to offer would be impossible—the charm it exerts in pop culture grows bigger and bigger with all the iconic movies that have been filmed here! Who can forget the famous scene from La Dolce Vita with a gorgeous Anita Ekberg walking into Fontana di Trevi? Brimful of palazzos, gelato shops, marble fountains and memories from its long and eventful past, the cobbled streets of Rome are a maze of history, art, gastronomy, and cinematic nostalgia!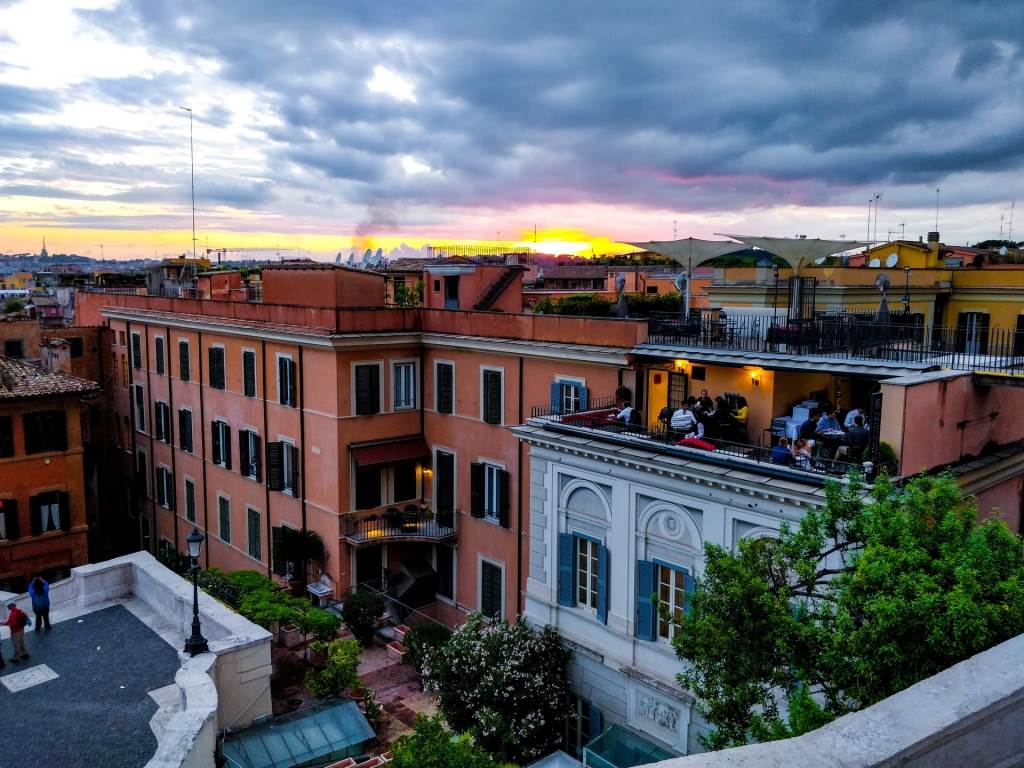 Stay tuned for our new audio tour for Rome's city center that will help you explore it at your own pace, listening to fascinating stories about the most famous landmarks.
Useful Information
-Altar of the Motherland / Piazza Venezia
Bus lines: 118, 190F, 781, 80, 91F, C3
Metro line: Linea B (stop "Colosseo")
-Gelateria "Giolitti"
Via Uffici del Vicario 40
Tel. 0039066991243
-Pantheon
Opening hours, 8.30 am – 7.30 pm (last admission 7.15 pm) Sundays, 9.00 am – 6.00 pm (last admission 5.45 pm)
Public holidays, 9.00 am – 1 pm (last admission 12.45 pm)
-"La Casa del Caffè Tazza d'Oro" bar
Via degli Orfani 84
Tel. 0039066789792
-St. Louis of the French
Opening hours, 9.30 – 12.45 & 14.30 – 18:30
Saturdays, 09.30 – 12.15 & 14.30 – 18.30
Sundays, 11.30 – 12.45 & 14.30 – 18.30