Tell us a bit about yourself!
Let us introduce you to Aroa! The talented author behind the narratives of the Lázaro Galdiano Museum and the Girona Museum! Get inspired by her life story and learn some of the tour secrets she shares with us!
From a young age, I developed a fascination with the history of humankind, and my dream of becoming an archaeologist started to take shape during my primary school years. However, as I progressed to college, my interests shifted toward the ideas and texts of late medieval and early modern Western Europe. This led me to pursue a master's degree explicitly focused on that period.
While my studies have significantly shaped my career path, there's more to me than just academia. Reading has always been a beloved hobby of mine, and although time constraints have limited my leisure reading, I still indulge in a good book whenever possible. Additionally, I enjoy activities such as watching films, experimenting with new recipes in the kitchen, hiking, and traveling. These experiences of exploring new places, both nearby and far-flung, have enriched my perspective on the world.
What I find particularly fulfilling about writing tours is the opportunity to view places and collections from a different standpoint. Instead of approaching them as a historian, I now also consider how to ignite a friend's curiosity about something they might have overlooked.
Do you have any insider tips or fun facts about the tour?
Absolutely! In all my tours, I strive to connect paintings and sculptures with literature, as it offers a deeper understanding of the historical period. Before embarking on a journey, I recommend delving into relevant literature about the destination. Whether it's the works of an author born in that place, stories set there, or narratives tied to the architecture or objects within the collection, this preparatory reading adds an exciting discovery layer to the trip. While it may require some effort, the anticipation it builds will make your journey even more rewarding.
What motivated you to write for this venue?
In the case of the Lázaro Galdiano Museum, Clio Muse Tours suggested it as a project, and coincidentally, I had already studied it to some extent while preparing for an exam to enter the Spanish National Museum Network, to which the museum belongs. The collection intrigued me, and I saw this as an exciting opportunity to explore its treasures further.
As for the Art Museum of Girona, it was also recommended by Clio Muse Tours. I discovered that the museum housed a comprehensive and captivating collection during my preliminary research on whether to take on the commission. This inspired me to explore its history and create an engaging tour. It required extensive research, but my thirst for knowledge and the chance to revisit familiar subjects drove me to accept the task.
In conclusion, writing tours allows me to combine my passion for history with the opportunity to share captivating stories and insights. It's a continuous learning and discovery journey, which fuels my desire to write each tour.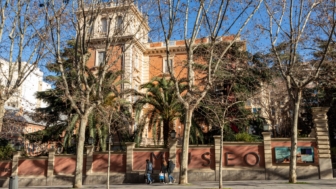 Duration:

1h 10min

Audio available in

1 language
per person
Duration:

2 hours

Audio available in

1 language
per person