Meet Wafaa, the mind behind the audio tour of the Citadel of Qaitbay. In her blog, she narrates a bit of her life story and offers insider travel tips for adventures off-the-beaten-path. Get some inspiration below!
Tell us a bit about yourself!
I majored in Tourist Guiding, where I studied ancient history and archaeology. And where I fell in love with Egyptology; for that reason, I'm currently preparing an M.A. thesis in ancient Egyptian art. What's my hobby? That's a question for which I need help finding an answer. I enjoy reading good books, listening to my customized playlists, and eating street food. Much better when all of the above are combined, of course. I also love movies, and as I got to binge-watch plenty of them while writing about the Citadel's representation in Egyptian cinema, that's my favorite part!
Can you give us a tip (off the beaten path) or a fun fact about the tour?
A fun fact that all locals know and some visitors might notice is that the Citadel of Qaitbay is a rendez-vous location for many young couples. What's a better spot to take your date to than a historical site, next to the sea with many restaurants and coffee shops around?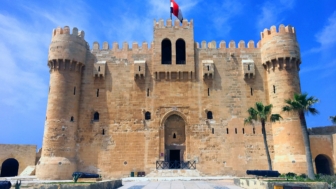 Duration:

1h 10min

Audio available in

1 language
per person
Tell us a bit about what made you write for this venue.
As an Alexandrian, I saw the Citadel almost every day. To me, it has always decorated the skyline of Alexandria with its minimalistic yet elegant architecture. Growing up, my mother made sure we – my siblings and me – visited the Citadel and the aquariums next to it. Despite the first assumption that a fortress has little to offer to children, the Citadel was at the top of our list of favorite places. Its open spaces, next to the sea, were playgrounds for us to run and fool around. And at the end of the day, we would get ice cream and buy a seashell souvenir that no one used afterward. My family albums are full of pictures of us in front of the Citadel of Qaitbay with the blue expanse of the Mediterranean in the background. There's no Alexandrian who doesn't have at least one beautiful memory with the Citadel.