Christmas season and the ringing bells of laughter are officially gone and, all of a sudden, the world seems a crueler place to live in… It's called post-holiday blues, the time when going back to work after the end of the Christmas season feels more stressful than Frodo's journey to Mordor. Discover the top skiing destinations in Greece and enjoy the wintertime.
Well, why not dry up those tears and start planning your next winter getaway? The mountains of Greece offer the perfect mix of snow action, town life, and this guide will help you decide where to start. Explore the top skiing destinations in Greece and get ready for an adventure!
Parnassos
When the weather gets frosty most Athenians flock to Parnassos, the most popular ski resort in Greece, located only a two-and-a-half-hour drive from the country's capital. With two chalets at Kelaria and Fterolakkas, 13 ski lifts and 18 slopes covering a length of nearly 34 kilometers, Parnassos is an ideal destination for both beginners and professional skiers.
Among the highlights of Mount Parnassos, is the picturesque village of Arachova, a must for those wishing to add to their winter holidays a cosmopolitan feel, while the sanctuary of Apollo in Delphi, one of the most illustrious ancient attractions of Greece, is also just a stone's throw away.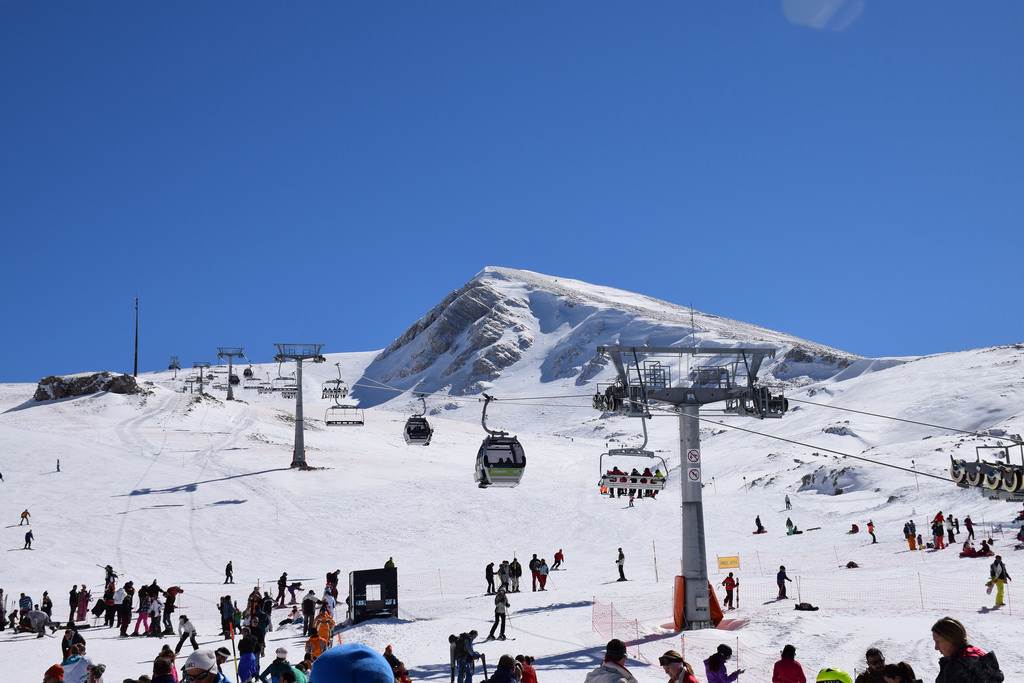 Vasilitsa
Located at the heart of Pindos mountains and only 45 km away from Grevena City, Vasilitsa is one of the top skiing destinations in Greece and a big attraction for the adventurous winter traveler. It offers 19 slopes of varying difficulty, 7 ski lifts, and off-piste points, where ski jumpers and snowboarders can practice and perform their snow stunts. All this is surrounded by the beautiful scenery of pine trees with a majestic view of Vasilitsa and the Gomara mountains.
There are plenty of other activities one can enjoy in the surrounding areas. The mountainous regions of Smolikas and Orliakas are suitable for rock climbing, hiking and trekking and a visit to the National Park of Pindos is highly recommended as it is home to the valley of Valia – Calda (Warm Valley), one of the most virgin forest regions of Greece.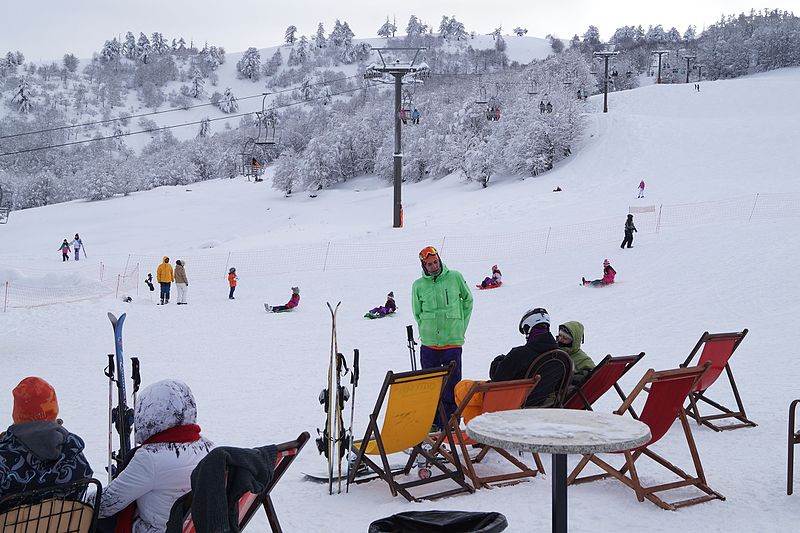 Kalavrita
Kalavrita is probably one of the best places to ski in the Peloponnese. The ski resort is located in a fiery alpine landscape at an altitude of 2,340 meters on mount Helmos. The area attracts a wide range of winter sports fans and boasts 12 ski runs of 20 km in length. Experienced skiers will be thrilled with the Styga runs, Ino & Nefeli, two of the most difficult runs in Greece.
There is also a surprise for those loving to gaze at the nocturnal, star-studded sky; the Helmos Observatory located at the top of the mountain, which is considered to be among the darkest spots in Greece and Europe, hosts the telescope "Aristarchos", the largest telescope in the country! Shall we count the stars?
Pelion
Pelion is an ideal winter destination as it grants a huge variation of stunning sceneries and of course the Agriolefkes ski center, located at an altitude of 1200m. It offers six slopes of varying difficulty, approved by the International Ski Federation (FIS), five lifts, a skiing school, and a traditional chalet where you can enjoy your hot beverage!
Once you want to take a break from skiing there are many other options around! Except for the picturesque villages, Volos is also a must-visit, especially during the Christmas period. At tsipouradika you can try some tsipouro, a traditional Greek drink, and delicious mezedes. Finally, from December 3rd, 2019 until January 7th, 2020 the Municipality of Volos organizes a fascinating exhibition, an adventurous exploration of the prehistoric dinosaur world. In this theme park, you will be able to experience and learn many interesting things through 12 spectacular exhibits!
Ski Resort Voras Mount Kaimaktsalan
Greece's highest-altitude ski resort has become a quite fashionable spot for skiers who choose to visit the north of the country earning its nickname as Mykonos of the mountains. It boasts eight slopes, 10 km in total length, six ski lifts and an artificial snow system.
Do you want to explore the mountain speeding up and down the slopes driven by the wind? Snowkiting is also available in Voras ski resort and you will have the opportunity to enjoy incredible vistas to Mount Olympos, the Thermaikos Gulf and the emerald waters of lake Vegoritida.
Mount Vermio
Vermio is home to two ski resorts and is a pole of attractions for thousands of Greek and foreign skiers every year. 3-5 Pigadia ski resort offers 10 ski runs accommodating all levels and hosts a great number of ski races, while there are also ideal locations to snowboard off-piste. Experienced skiers will love the Aristoteles and Filippos run, two of the most challenging in the country, and will enjoy the spellbinding scenery of the surrounding beech forest.
The National Ski Center of Seli has been operating since 1934 and for many years was the only ski resort in Greece. In fact, ski tradition in the country started at Seli and until today the resort is a popular spot with beginners and advanced level skiers. It offers 17 tracks of 14km of descent and several snowboard tracks. It goes without saying that a visit to Mount Vermio is incomplete without a stop to Vergina, one of the greatest archaeological sites in Greece, which is located only a few steps away.
So next time a friend says "Greece" you will know that there is more than sandy beaches and summery sunsets to experience here. Rugged by mountains of immense beauty, the country offers top-notch skiing facilities and plenty of exciting wintertime activities. Now you know – the only thing left is to have fun!