EYDAP in collaboration with Clio Muse Tours created the self-guided audio tour "Marathon dam: Life at the settlement." The captivating tour narrates the unknown story of the Marathon settlement where over 1000 workers lived with their families, from the beginning of the Marathon's Dam construction in 1926 until the early 70s.
Being the largest Greek company in the water supply and wastewater treatment EYDAP has a great history. Its rich Historical Archive includes among others, 2.530 photographs, negatives as well as 2.600 technical design documents and recordings of the construction from 1926 to 1931 that bear witness to its past.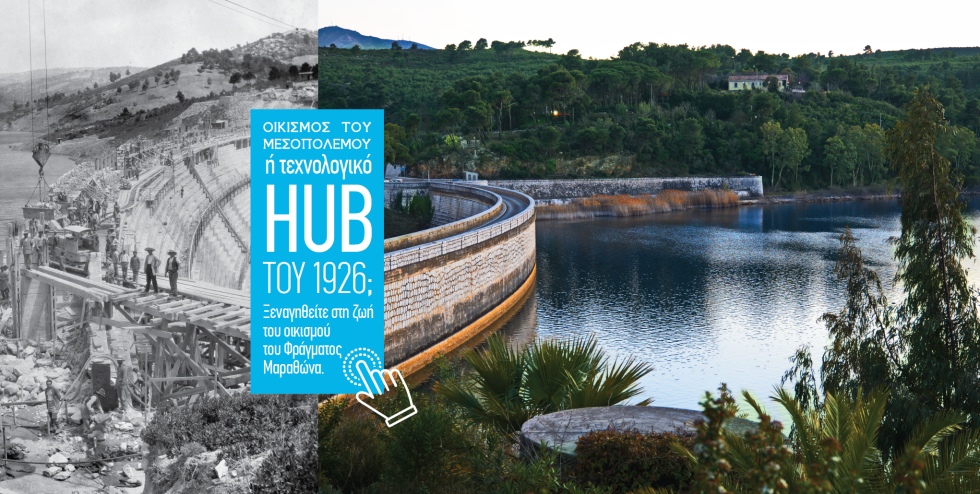 These preserved materials, the written sources of EYDAP's Historical Archive and also the testimonies of people who lived at the settlement, as were collected by the Oral History Team of the Employees of EYDAP, either from their descendants or from residents of a nearby village, were used for the development of 75 stories that guide visitors to the remaining houses of the historic community which became a small society commonly called 'Little Paris" by its inhabitants.
The tour also unravels information about the technical construction of this innovative water supply and sewerage system that solved the sanitation problem in the Greek capital.
As we dug into the remarkable Historical Αrchive of EYDAP we discovered intriguing visual and written content that is little known to the public. We are proud and delighted that Clio Muse Tours has contributed to the self-guided audio tour "Marathon dam: Life at the settlement" which puts together the bits and parts related to this large-scale technical work.
This self-guided audio tour is designed and developed for people of different ages and backgrounds and aims at providing educational and cultural benefits.