This October, Clio Muse Tours turns 7 and this year we have more reasons than ever before to celebrate. Like most companies, the year 2020-2021 was one of the most challenging we have ever experienced. We celebrate that we came out of this crisis stronger, with new products, fruitful partnerships, additional revenue streams, increased market share, several recognitions and an award by the United Nations World Tourism Organization. Here is why Clio Muse Tours' 7th birthday means so much to us.
2021 tourist season for Clio Muse Tours in numbers
This year's tourist season marked an unexpected increase in bookings in Clio Muse Tours' self-guided audio tours. The booking numbers reminded us of the ones of 2019 and in some cases moved even higher. The tourist season has been extended and even to this day, travelers are still visiting Greece and other countries.
Specifically, already by the second week of July, the sales in audio tours and "skip-the-line ticket and audio tour" packages had exceeded the bookings forecast for both June and July by 30%.
Moreover, during July and August, the booking numbers were similar to the ones we had seen in 2019. In fact, August's bookings for self-guided audio tours and combo packages for museums and archaeological sites in Greece increased by 26.6%compared to August 2019. Though visitors to the Acropolis Hill in Athens and the Knossos Palace in Crete declined, Clio Muse Tours increased its market share by 62% and 167% respectively.
Of course, the fact that we had automated our booking system during the lockdown played a significant role. 97% of our bookings were automatically registered and served without any effort from the distributor's side or further development or IT input from us.
We received honorary awards and recognitions from top organizations
In February 2021 we were selected out of 10,000 initial proposals from all regions across the globe as one of the 25 winners from 18 countries at the United Nations World Tourism Organization (UNWTO) SDGs Global Startup Competition for our widespread ability to contribute to "Decent work and economic growth" goal (SDG8). This wasn't the first time we were awarded for our sustainable practices but it was definitely one of the most honorable recognitions we have received so far.
We are also among the top 3 finalists at the Front Runners 2021 in the "Experiences Revolution" category. We were selected from 450 start-ups from around the world to pitch at the Front Runners 2021 Summit. This is an event organized by the World Travel Market London together with Travel Forward and World Tourism Forum Lucerne.
Finally, we are invited to pitch at Tech Tour South East Europe 2021 in October.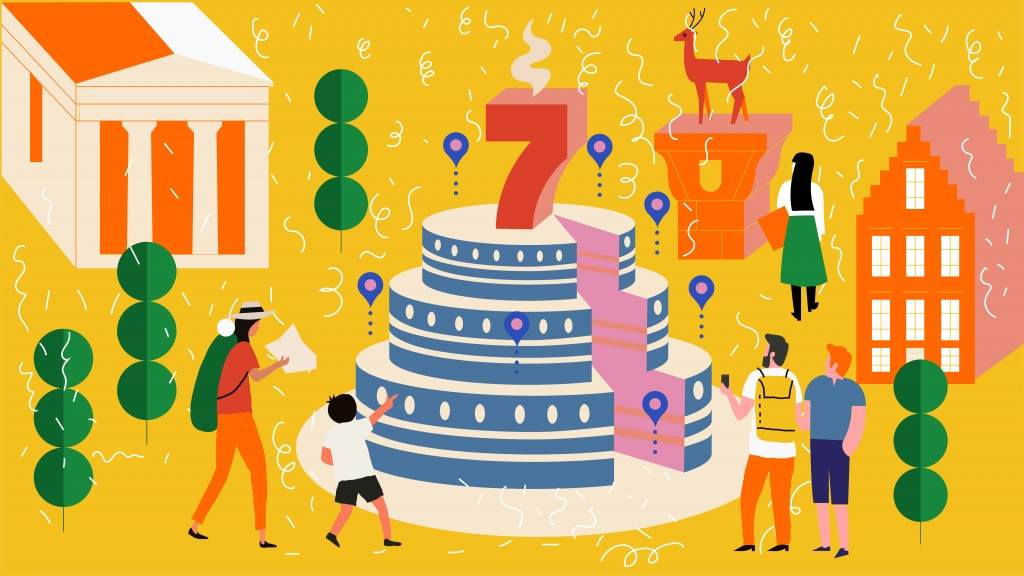 We expanded to new destinations
Over the past year, we created numerous new tours in several counties. By the end of 2021, we are planning to add an overall of 100 new destinations to 20 countries. We are also super excited that for the first time we covered intriguing destinations beyond Europe, such as New York, Hong Kong, Makao and others. We have also launched city walking tours for Athens, Barcelona, Istanbul and other major metropolitans aiming to promote alternative ways of traveling at the time of Covid-19.
We formed exciting new collaborations with cultural partners
Throughout the past year, we had the opportunity to collaborate with some major museums, cultural institutions and companies in Greece. We created digital tours for the permanent collections of The Museum of Cycladic Art, we created a digital tour for the Onassis Stegi festival "You and AI: Through the Algorithmic Lens," we worked with EYDAP to highlight the historic community of the Marathon Dam with an intriguing audio tour. On the occasion of the 200 years of the War of Independence, we collaborated with the National Historical Museum, the Royal Embassy of the Netherlands and The Consulate General of Greece in Munich.
Finally, we launched the digital interactive guide that brings together the 205 currently operating Greek archaeological museums which is an initiative of the Directorate of Archaeological Museums, Exhibitions and Educational Programmes (DAMEEP).
We built a more cohesive team
These are some of the projects and collaborations that we made happen over the past 12 months. Even though we are extremely proud of each one of them, there is much more to celebrate on the Clio Muse Tours' 7th birthday. The fact that we survived throughout the worst year in tourism history and managed to build a more cohesive and autonomous team working lean and agile. For all these reasons we are full of confidence and hope for the future.
We wouldn't have managed to do any of it without our amazing team and the support of our incredible partners.
Thank you all!