From a funerary monument to a fortified castle, from a dark and terrible prison to a splendid Renaissance residence, from a Risorgimento prison to a museum, Castel Sant'Angelo is an embodiment of the past and the present; from its thick impregnable walls and solemn funerary rooms to the lavishly frescoed halls, it reflects the long history of the Eternal City.
Castel Sant'Angelo, through a continuous series of developments and transformations, has been tied to the fate and history of Rome for almost two thousand years.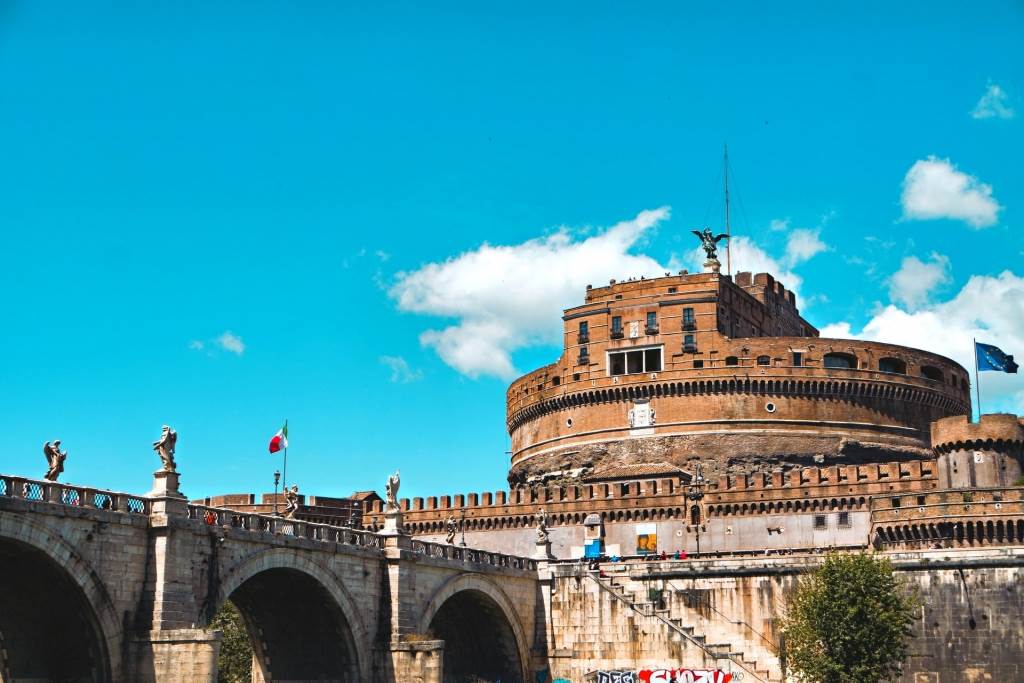 Visiting the monument, as well as being impressed by the mighty structure, you immediately have the feeling of entering a small medieval village. Surrounded by high stone walls, you feel catapulted into the past. You can walk across dark staircases and small rooms and follow the famous walkways that will lead you higher and higher to the top of the mighty castle.
The higher you climb, the more spectacular the view of Rome gets and you can always take a glimpse of it through a series of "guard posts" and large windows overlooking the city. The climax is, undeniably, the mesmerizing terrace! From there, among the various monuments that can be glimpsed, you can admire the fantastic "Regina Mundi" and the dome of St. Peter Basilica, one of Michelangelo's masterpieces and a true symbol of Rome.
What is striking about this monument is its multiple transformations through time. Built by Emperor Hadrian as a family mausoleum in 130 AD, the building became a military fortress and was incorporated into the Aurelian walls, the once defensive fortification circuit of the city. In the 6th century the castle became a prison, while, later, many noble Roman families struggled to take possession of it.
During the 14th century, the building became the property of the Church and was connected to the Basilica of Saint Peter thanks to the construction of the famous pathway "Passetto di Borgo". Shortly afterward, it became a papal residence and the castle turned into a sort of noble palace, where banquets, parties, and shows were held. After the unification of Italy, the structure was initially used as military barracks until it finally became one of the most important museums of Rome.
Useful Information:
– Where: Lungotevere Castello, 50, 00193, Rome, Italy

– When: every day 9-00 – 19.30

– Cost: full ticket € 14 / reduced ticket € 7 (EU citizens 18 – 25 years) / FREE every first Sunday of the month; always free for children under 18, for teachers and students from the Faculties of Architecture, Cultural Heritage, Literature, Educational Sciences, Academy of Fine Arts, ICOM members, tourist guides, disabled people with a companion

– Call center: +39 06 32810 (Mon – Fri: 9.00 am – 6.00 pm / Sat: 9.00 am – 1.00 pm)

– Transportation: Buses: 23, 34, 49, 64, 87, 280, 492, 926 and 990. Bus service 40 (express) from the main railway station. Metro – Lepanto (Line A)