Be it a single, double, or triple-day adventure in Lisbon, our thoughtfully curated suggestions guarantee an enriching visit. Designed for the spontaneous, the weary, and the time-strapped, we aim to kindle inspiration and equip you with the essentials to create lasting memories on your extraordinary journey.
Lisbon in 1 Day 
Should your time in Lisbon be confined to a single day, fret not – we've got a plan for you! Rise early and commence your day with a visit to the iconic Belém Tower, gracefully positioned along the Tagus River. A designated UNESCO World Heritage site, the tower treats you to splendid views of the river and its environs. Adjacent to this architectural wonder stands the renowned Jerónimos Monastery, distinguished by its intricate Manueline design that never fails to astound. As the morning draws close, indulge in a swift snack at the famed Pastéis de Belém bakery. Wrap up your initial explorations by boarding the renowned Tram 28, an enthralling route through Lisbon's captivating neighborhoods. Proceed to Alfama, a historic district, for a local lunch featuring quintessential Portuguese dishes like Bacalhau and grilled sardines. Following lunch, ascend to São Jorge Castle for panoramic vistas, exploring its towers, walls, and gardens that unveil Lisbon's narrative. Conclude your day with a stroll along Bairro Alto's charming streets, celebrated for nightlife, eateries, and Fado music. 
Lisbon in 2 Days 
If an extra day graces your Lisbon stay, mirror the initial day's itinerary. On the second day, dedicate your morning to relishing the diverse culinary offerings at Time Out Market Lisboa. Continue visiting LX Factory—an innovative space in a former industrial complex boasting distinctive boutiques, art galleries, and cafes. In the afternoon, delve into history at the Moorish Castle, immersing yourself in its walls, towers, and historical essence. Revel in the panoramic vistas from this hilltop fortress. Pause for lunch in the lively Baixa district, savoring local flavors at one of its restaurants. Concluding your trip on a high note, experience the captivating nocturnal panorama of the city at Miradouro de São Pedro de Alcântara.
Lisbon in 3 Days
If you extend your stay in Lisbon by another day, the initial two-day plan remains unchanged. The third day offers an artistic touch. Begin your morning at the National Tile Museum, where Portugal's artistic heritage shines through its ornate tiles. Transitioning to modernity, explore Parque das Nações, home to the futuristic Oceanário de Lisboa and the iconic Vasco da Gama Bridge. Returning to Alfama, further, explore its charm or revisit favorite spots. Enjoy a leisurely lunch at a viewpoint, taking in the city's beauty. Bid farewell to Lisbon with a sunset vista from a viewpoint, followed by a delightful dinner celebrating Portuguese flavors.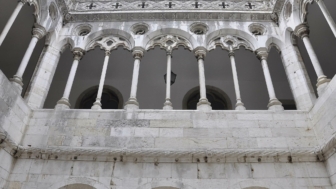 Duration:

1h 50min

Audio available in

1 language