Summer is all around us, and we can't stop daydreaming about our sunny getaways. This summer, sea or mountain, island or city, whatever you choose to wander in, explore it with a Clio Muse Tour!
Eleni Chaviatzi, Junior Software Engineer, describes herself as a curious traveler who enjoys exploring a destination like a local.
Let her talk!
When and where did you last travel?  
My last trip abroad was over 2 years ago. I went to Czech Republic to visit a friend of mine on their birthday. It was also my first solo trip and I had a fantastic time! I never imagined I would enjoy traveling on my own that much. Even though it was a short trip, I had the chance to meet many different people, both locals, and fellow travelers, and experience the country through their eyes.
How do you describe yourself as a traveler? 
I must admit I am a curious traveler. My usual travel company and I enjoy getting lost in the quieter part of a city, where we are bound to find its hidden gems, visit every museum and archaeological site we come across, or take long walks in nature without a specific destination in mind, where we discover the most impressive landscapes. Don't get us wrong, though, we do enjoy the nightlife as well, which usually ends with us being exhausted but extremely satisfied by the end of our vacation!
What are your 2022 travel goals? 
With summer approaching, I have started searching for places to spend a few days with my friends. Although I haven't decided yet, I will probably choose a place I can explore but also enjoy the sun and the sea. Maybe Crete would be a great place to visit… 
Which is your favorite Clio Muse Tour? 
My favorite tour from Clio Muse is probably the Vienna City Tour. The tour is filled with fun details about its various landmarks and offers plenty of interesting facts about its history in the most fascinating way possible! Austria, in general, is one destination I really look forward to visiting one day, and Vienna is one of its most famous and beautiful cities.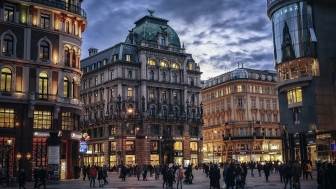 Duration:

3 hours

Audio available in

1 language
per person