When and where did you last travel?  
My last trip was a family trip to Paris one month ago. Although it was a 3-day trip, I was enthusiastic about it, so I tried to see as many sights as possible. I also tried to taste traditional dishes and meet people from Paris because I like the sophistication they "radiate."
As you can imagine, I visited the beautiful Arc of Triomphe, the Louvre museum with all these impressive statues and paintings, and of course, the imposing Eiffel Tower.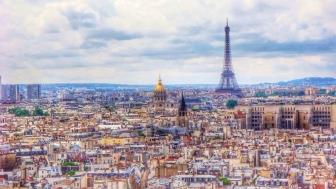 Duration: 2 hours
Audio available in 1 language
$ 10,69 per person
How do you describe yourself as a traveler? 
I am an adventurous traveler. I also love discovering new places, people, and cultures far from "my comfort zone" and my mentality to open my mind and learn deeply about other civilizations.
What are your 2023 travel goals?
The next station for this year is Budapest, a beautiful city with a lot of sightseeing and natural wealth. What I like the most is that it has kept its cultural identity.  
Which is your favorite Clio Muse Tour? 
My favorite Clio Muse Tour is "The Louvre."The reason is that I had the opportunity to listen to it in action (when I was in Paris), so I understand how useful and comfortable it is.
What does travel mean to you?
Traveling to me means freedom. It is an excellent opportunity to open our horizons, forget our problems and live in a fairytale. Every trip is a beautiful story to tell and an unrepeatable lesson to learn.
Which is your dream destination?
This question is tricky because there are many incredible places to choose from. But one of my dreams is to travel to Japan. The main reason is that I admire its civilization and evolution. Japan differs from my culture, so I would love to discover how and why.