Searching for a city that perfectly combines art, history, and culture? Then your next trip destination lies in the southwest corner of Spain. Home to historical landmarks, the Guadalquivir River, colorful neighborhoods, and serene parks, Seville captivates visitors from all over the world. From what to do and see to where to stay and eat, this ultimate guide to Seville will introduce you to the capital of Andalusia.
Landmarks to visit in Seville
When traveling to Seville, there are certain landmarks you must definitely add to your must-visit bucket list to get the full experience. One of these is the Real Alcazar. The impressive palace features a combination of different architectural designs and decor including the styles of the Mudejar and Renaissance. The fascinating story of Alcázar of Seville starts in 712 and spans up to the 19th century. Listen to the captivating stories and legends as you walk through its halls and tranquil gardens.
Another intriguing place you must visit is the Seville Cathedral. This is the world's largest Gothic Cathedral and one of the largest churches in Christendom. Here you can see the tomb of Christopher Columbus. Attached to the cathedral is the bell tower, La Giralda. Go on top to enjoy a breathtaking view of the city.
Finally, the Torre del Oro is a must-see. This building was originally covered in gold tiles and was a watchtower meant to protect the city. Nowadays, visitors can go on top of the tower which is by the Guadalquivir river and watch Seville from above.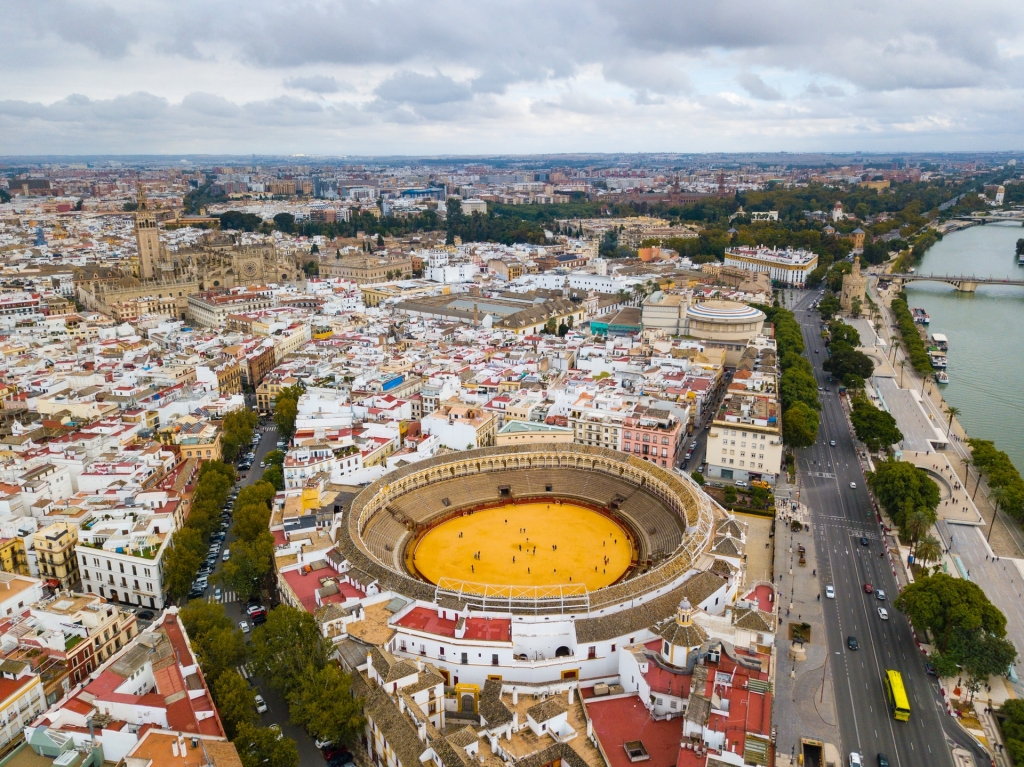 The best parks and squares
A local's guide to Seville absolutely includes some beautiful gardens and parks. Parque de Maria Luisa is an urban park that was originally designed for the Ibero-american Exhibition in 1929. The impressive square includes the worldwide famous Plaza de España, a square with Baroque, Renaissance, and Moorish Revival designs.
If you are more interested in a site with historical prevalence, the Alameda de Hercules Boulevard is for you. Alameda de Hercules is considered the oldest public garden in all of Europe. It's a hangout spot for locals of all ages. You'll find many cafes, bars and restaurants from early in the morning. Parks and squares throughout Seville really capture the city's essence and are a necessary addition to your visit.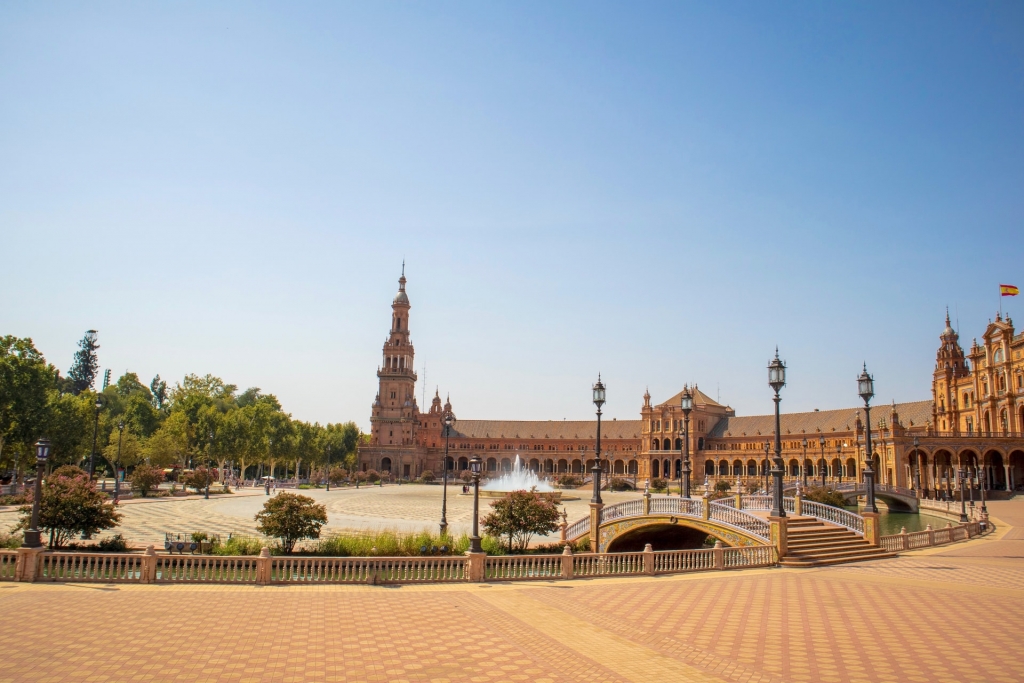 Walk Seville's scenic neighborhoods
Another activity to do in Seville is strolling around the city's scenic neighborhoods. Some of them are tourist areas while others have a more local vibe. Try to explore all of them. One of these is Barrio Santa Cruz. This formerly Jewish section of the city is filled with narrow alleys and cute little streets.
If you are looking for a more cosmopolitan area, you should visit El Arenal. This area is quite busy most of the time and has lots of historical value. One of the historical sites within this neighborhood is the Torre del Oro.
Finally, the streets Sierpes, Cuna, and Velazquez/Tetuan near the city center are known as Seville's shopping district. From souvenir stores with trinkets to clothing boutiques and beauty shops, here you'll find shops for all budgets and for all kinds of things.
Dishes to try in Seville
This wouldn't be an ultimate guide to Seville without covering the city's traditional cuisine. This most popular dish is Secreto Iberico. This meal's main claim to fame is the melt in your mouth pork that is served. This is a classic of Seville and truly a delicious one.
Looking for a more portable meal? No problem. Seville's signature sandwich is quite delectable. Serranito de Lomo consists of pork loin in a sandwich topped with Serrano ham and green pepper on the side.
If you are not a fan of meat per say, Espinacas con garbanzos is a perfect fit for you. This brilliant dish is a mixture of spinach and chickpeas. It illustrates the deep Moorish and Jewish history of Seville.
Finally, a seafood option is the Cazon de Adobo. This fried school shark dipped in Moorish marinade is full of flavor. There are many other choices for food while in Seville, but these are some of the most iconic meals for a true Seville experience.
Getting around Seville
When trying to explore Seville, many tourists wonder what is the best way to move around the city? Well, one of the most effective ways is simply by walking. Most of the attractions are within walking distance of each other.
However, if walking takes too long or you just want a faster way to get around, biking is another great mode of transportation. Seville has had a very successful bike share program for years called Sevici. The city also has numerous bike lanes and the city welcomes bike riders.
Finally, if you are searching for a mode of transportation where you can just sit back and relax, there are two main options in the city of Seville. First, the Tussam Bus service has stops in most neighborhoods and major parts of the city.
Additionally, taxis are easy to find in Seville and plentiful. With so many great choices for how to travel throughout the city, you cannot be disappointed.
Where to stay in Seville
There are numerous hotels available for people when they come to visit Seville. It's just a matter of what area you want and your budget. These first two hotels, though expensive, are truly mesmerizing. Hotel Alfonso XIII is a luxury collection hotel in Santa Cruz. This building has an outdoor swimming pool and gardens placed all throughout the hotel.
Hotel Casa 1800 Sevilla is a boutique luxury hotel and is located near the shopping district in Santa Cruz. It is also surrounded by excellent restaurants and incredible tapas bars.
The Silken Al-Andalus Palace Hotel is a less expensive choice that still has some great aspects. This four-star hotel is close to Maria Luisa Park and the Plaza de España.
Finally, Hostal Alcobia is the least expensive hotel mentioned in this article and is still right next to the Santa Cruz neighborhood. When staying here, you are walking distance to the Cathedral of Seville and La Giralda. Pick the neighborhood that fits your style best and you'll find an abundance of choices for your stay in Seville.