Amsterdam, the vibrant capital of the Netherlands, has long been celebrated as a haven for LGBTQ+ rights and acceptance. With its rich history, diverse community, and progressive attitudes, the city offers a unique and inspiring experience for LGBTQ+ travelers. Join us as we delve into the history and culture of Amsterdam, uncovering its iconic landmarks, buzzing nightlife, and embracing atmosphere.
A Progressive Past
Amsterdam's LGBTQ+ history dates back centuries. Discover the legacy of the world's first gay rights organization, COC Nederland, founded in Amsterdam in 1946. Explore the Homomonument, a symbolic tribute to LGBTQ+ individuals who have fought for equality, and learn about the historical struggles and milestones of the community.
Exploring LGBTQ+Friendly Neighbourhoods
Amsterdam boasts several LGBTQ+ friendly neighbourhoods that offer a vibrant and inclusive atmosphere. Stroll through the charming streets of the historic Jordaan district, known for its LGBTQ+ bars, shops, and cozy cafes. Experience the lively nightlife of the Reguliersdwarsstraat, lined with clubs and venues where you can dance the night away.
The Iconic Canal Parade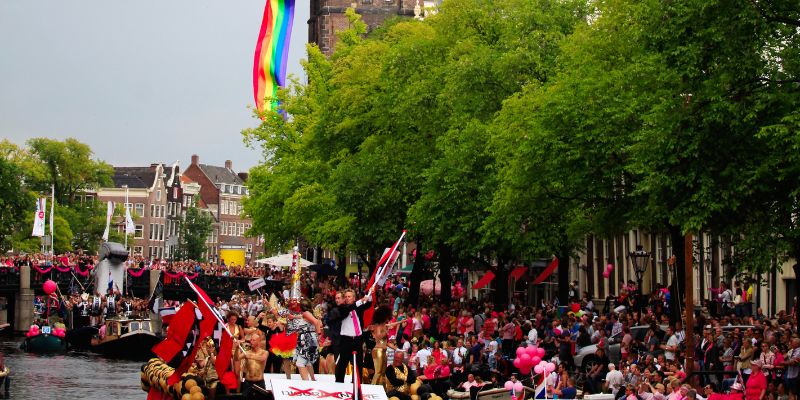 Take advantage of the highlight of Amsterdam, the annual Canal Parade, during the city's Pride. Witness the city's famous canals transform into a dazzling display of color, love, and celebration as boats adorned with Pride flags sail through the waterways, showcasing the diversity and inclusivity of the LGBTQ+ community.
The Anne Frank House
While not specifically LGBTQ+ related, a visit to the Anne Frank House provides a powerful reminder of the importance of acceptance and the consequences of intolerance. Learn about Anne Frank's life and the impact of her diary, which has become a symbol of hope and resilience for marginalized communities, including the LGBTQ+.
LGBTQ+ Focused Museums and Exhibitions
Indulge in Amsterdam's LGBTQ+ art and culture scene. Visit the Amsterdam Museum, which hosts exhibitions exploring the city's history and contributions to the movement for equality. The Pink Point information kiosk at the Homomonument is also an excellent resource for LGBTQ+ events, exhibitions, and support organizations.
Amsterdam shines as a beacon of LGBTQ+ inclusivity with its progressive attitudes, vibrant events, and rich history. Embrace the city's open-minded spirit as you explore its landmarks, neighbourhoods, and cultural offerings. From the historical struggles to the joyful celebrations, Amsterdam is a destination where LGBTQ+ travelers can feel embraced, inspired, and celebrated.
So, pack your bags and embark on an unforgettable journey to experience Amsterdam's history and culture. Discover a city that celebrates diversity and promotes equality, leaving you with cherished memories and a deeper appreciation for the LGBTQ+ community.