Welcome to Akrotiri, a hidden treasure on Greece's enchanting island of Santorini.
Santorini is a paradise that enchants visitors worldwide, renowned for its breathtaking beauty, towering cliffs, and magnificent sunsets. In this travel blog, we'll learn about the mysterious village of Akrotiri, where stunning scenery and old history coexist in perfect harmony.
A Snippet of Akrotiri's Profound Past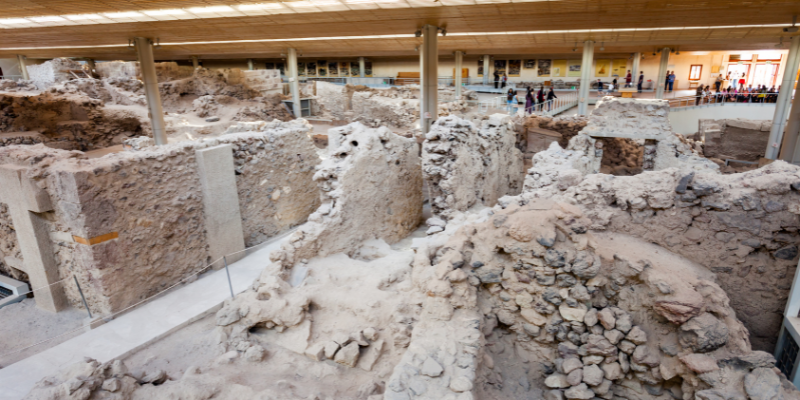 This historic Minoan settlement, known as the "Pompeii of the Aegean," was buried in volcanic ash for ages, preserving its impressive ruins. Investigate the beautifully preserved paintings, complex buildings, and complicated drainage systems hinting at a thriving civilization lost in time. Visitors are in awe of the Archaeological Site of Akrotiri, which serves as a witness to the village's thriving past.
Pristine Waters and Tranquil Beaches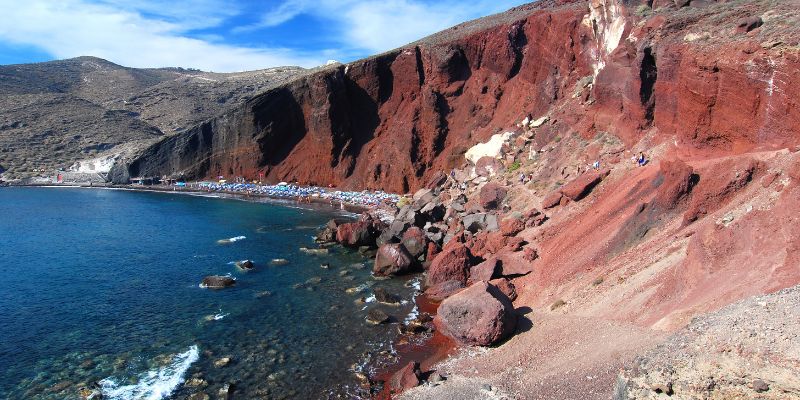 Akrotiri has tranquil beaches that draw sunbathers and water sports enthusiasts. The Red Beach is a natural beauty that provides a dramatic backdrop for snorkeling and sunbathing with its distinctive scarlet cliffs and azure waters. The White Beach, which can only be reached by boat, calls with its perfect pebbles and clear waters to those looking for a more sedate getaway. These beaches offer a relaxing refuge where you can unwind, enjoy the tranquillity of nature, and soak up the Mediterranean sun.
Caldera Views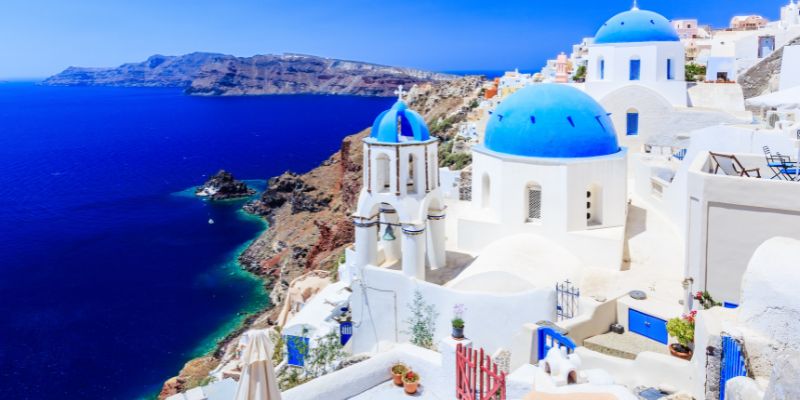 The only way to truly understand Santorini is to take in the breathtaking panoramas that it has to offer. You may find some of the most captivating vistas in Akrotiri, where the whitewashed buildings perilously cling to the cliffs and the deep blue Aegean Sea stretches out before you. Enjoy a stroll along the cliffside trails as you stop to take pictures at each new curve. And when the sun begins to set, take in the allure of a Santorini sunset, which will paint the sky with pink and gold colors and leave you speechless at the magnificence of nature.
Local Flavors and Gastronomic Delights
Akrotiri has a delicious gastronomic scene that tempts the taste buds. Try authentic Greek fare like moussaka, souvlaki, and fava at neighborhood tavernas tucked away in the village's tiny alleys. As you appreciate the island's culinary delights, savor Santorini's flavors.
Beyond its aesthetic and historical appeal, Akrotiri offers chances for thrilling outdoor excursions. Set sail on a sailing adventure around the caldera, taking time to discover secret coves and swim in remote bays. Adventurers can go snorkeling or scuba diving to explore the island's treasures. Hikers who complete the trek from Akrotiri to the historic lighthouse will be rewarded with breathtaking panoramic views.
With its alluring combination of ancient history, unspoiled natural beauty, and friendly Greek hospitality, Akrotiri offers an outstanding vacation experience. This lovely village in Santorini encourages you to immerse yourself in its timeless charms, whether you explore ancient ruins or indulge in delectable cuisine. Whether you want adventure among its stunning scenery or peace on its pristine beaches, Akrotiri guarantees memories that will stay in your heart long after you say goodbye to this magical region of Greece.