Quinta da Regaleira is a magnificent estate located in Sintra, Portugal. The villa, built in the early twentieth century, has a unique blend of Classical, Medieval, Renaissance, and Manueline architectural styles, making it a significant tourist destination and a must-see for all the people who visit the region.
This beautiful place has been a UNESCO World Heritage Site since 1995 and is one of Portugal's most exciting and well-preserved locations. It is a unique area with legends about hidden religious groups and is full of underground mazes. Which are the most beautiful stops in Quinta da Regaleira?
Regaleira Tower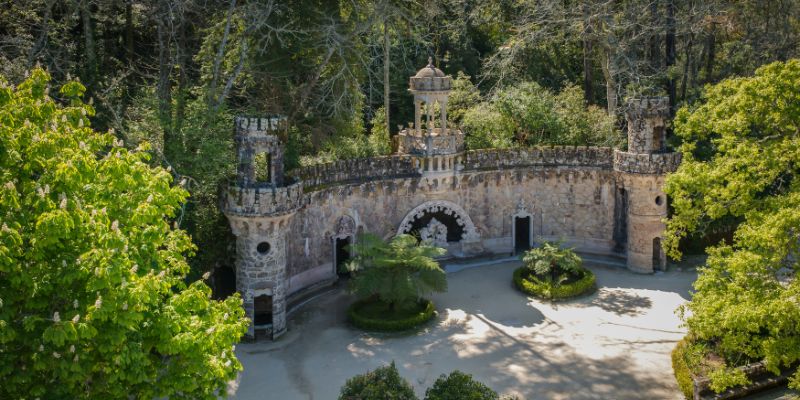 The name 'Regaleira' is inspired by the Portuguese word regalo, which means joy. One of Regaleira's best attributes is its magnificent views from above, as it's located on the route to Sintra's mountain, tucked in the center of a thick green landscape.
Quinta da Regaleira has several sights, but the tower is the most significant point of view in Sintra's majesty. The tower has a tiny stairway leading to a small court with panoramic scenery of the entire Sintra resort.
Initiation Well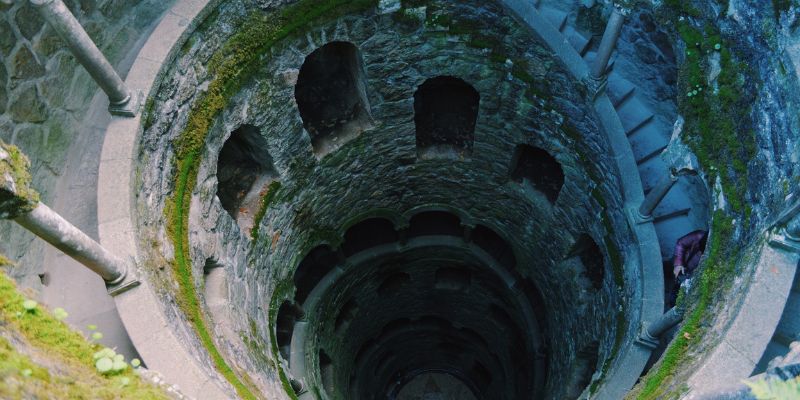 © Stefanie Konstanta from Pixabay
Don't be surprised if you notice that the Initiation Well is empty. The cylindrical construction is meant to be that way. Luigi Manini designed a 27-meter-deep inverted tower with a 15-spiral stairway.
Visitors can go down nine floors, finishing at the lowest level, which leads to a network of man-made tunnels. Although other monuments are rich in significance and history, the Well is undoubtedly the most emblematic.
The Waterfall Lake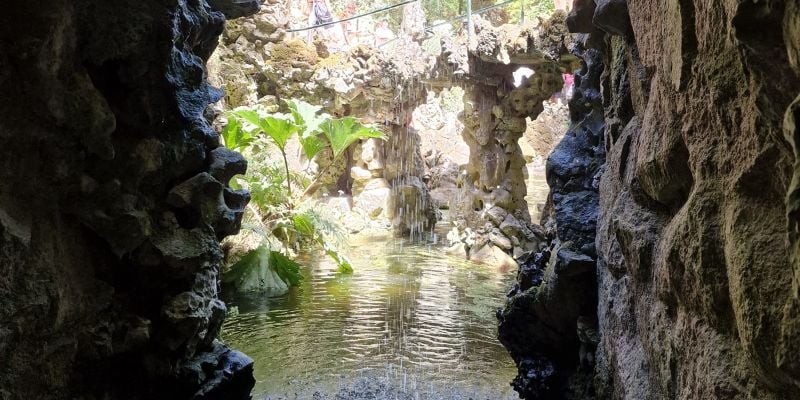 © Mia Silva
The Waterfall Lake is so named because it has a man-made cascade. Initially, the granite blocks in the lake were brought in from Peniche, a Portuguese city along the coast known as a granite center.
Visitors can hop on stepping stones around the lake to get to the other side. It marks the end of a long trip and the beginning of something new for those who have come from the Initiation Well; this is why it's an important location.
Terrace of the Celestial Worlds
The Terrace of the Celestial Worlds is a huge walled courtyard with two tall towers The tower on the right is known as Ziggurat, which gives a spectacular panoramic vista of Sintra. Five floors lead to an open-air roof, where tourists may capture breathtaking landscapes.
It was inspired by ancient buildings known as Ziggurats, structured like temples, dating back to the Sumerians and Babylonians. One of the best things you can do in this mysterious spot is to sit and observe the romantic scenery.
The Palace

They employed skilled sculptors, carpenters, woodworkers, and engineers for this one-of-a-kind project, which took seven years to complete. This ideal place for relaxation and leisure is built above an existing house. Its beautiful terraces and balconies, which face Sintra village, offer stunning countryside beauty.