Description
Experience the Temple of Olympian Zeus from the comfort of your home with an engaging self-guided virtual tour, narrated in English, from your PC or smartphone browser. It's so simple! You will receive an email with the tour link with instructions and, in a couple of minutes, you will travel back in time and enjoy a virtual journey from the comfort of your couch!
Through the power of storytelling combined with street and satellite views, you will learn not only about historical facts but also discover unknown stories and tales of ancient and modern times that will amaze your family and friends. The tour's content is the result of in-depth research, squeezed into brief intriguing stories that will make your virtual visit both engaging and informative. The tour is only available online and you can access it repeatedly and anytime.
This is an unmissable opportunity to gain valuable insights into the history and myths of Ancient Athens and immerse yourself in the surroundings in an entirely innovative way.
Preview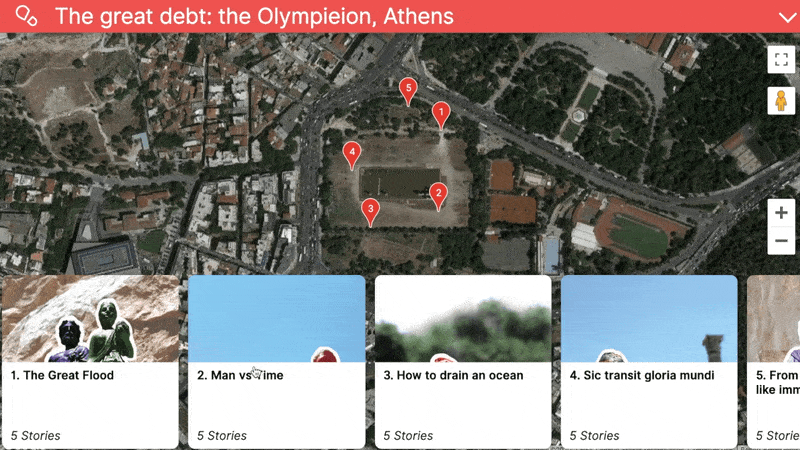 Audio Preview
The wrath of Zeus
Zeus called a council of the gods and informed them of his decision to cleanse the earth. There was widespread concern over the future, for if all mortals were dead, who could offer frankincense upon the altars? Zeus promised to people the earth with a miraculous new race. And then a practical problem arose: if he used his thunderbolts he might set the very air on fire and burn the axle of the universe. Far better to overwhelm the mortals beneath deep waves and storms. He shut all the winds that might dispel the clouds in a deep cave but allowed the south wind to bring drenching rain that descended from his wet beard and hoary locks.
Enjoy breathtaking street views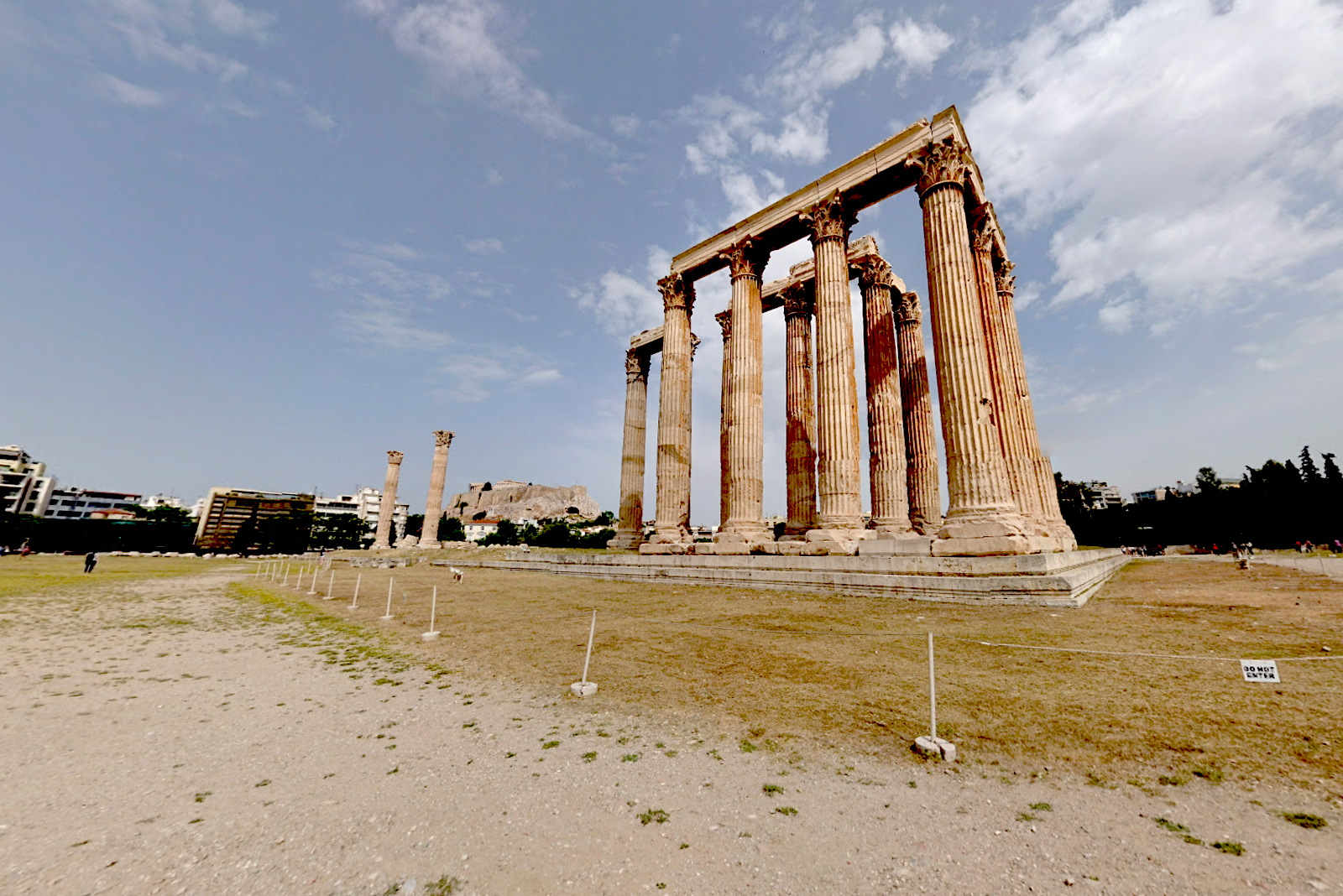 Enjoy magnificent satellite views
Details
Starting point
There is no meeting point. The virtual tour doesn't require a visit to the site and it is designed to start at the entrance of the Temple of Olympian Zeus.
Inclusions
Virtual Self-guided Tour for the Temple of Olympian Zeus with satellite & street views

Audio content with engaging & original stories in English
Know before you book
This is a virtual tour for the Temple of Olympian Zeus that you can take from the comfort of your home and feel like you were there

No live guide or meeting point required

You will receive an email with instructions on how to access your tour via a link. Check your spam folder as well

No special equipment is needed (i.e. special glasses). However, earphones or headphones are highly recommended to enjoy the experience.

This product can be accessed from any web browser and requires internet connection. The tour is available only online. The virtual tour doesn't require a visit to the site 
Cancellation Policy: This product cannot be refunded once activated.
Areas
Temple of Zeus: Set on a riotous journey back in time to learn about the turbulent 700-year history of the construction of the temple and its fate throughout the centuries. This is also a perfect chance to freshen up your Greek  Mythology and listen to the story of the Great Deluge, the divine wrath that fell upon humankind on a day when Zeus felt kind of stormy!
Temple of Apollo Delphinios: Observing the ruins of the temple of Apollo Delphinios, learn how god Apollo earned his nickname and became associated with dolphins in Greek mythology. The site is also home to many brutal stories, including a gory bloodbath upon which the city was founded by Theseus, one of the city's legendary kings.
Roman Bathhouse: At close proximity to Olympieion, you will end your virtual tour in front of the balaneion to discover the relics of an ancient bathhouse. You will learn about the rejuvenating benefits of public baths and how the Greeks and the Romans ritualized the act of bathing turning it into an integral part of their everyday life.
Mandatory Items
Desktop, Laptop or smartphone device, Internet connection
Only logged in customers who have purchased this product may leave a review.
Why take a self-guided tour?
Clio Muse Tours' self-guided virtual experience takes you on an informative and entertaining journey to the world's top destinations. If you're looking for the best way to sate your wanderlust while at home, gain insight into the world-class monuments or take a first taste from the sites you're planning to visit on your next trip, Clio Muse virtual experiences are bound to captivate your attention.
Based on the award-winning storytelling methodology developed by the Clio Muse team, each one of the self-guided virtual experiences is complemented with the fascinating narratives curated by handpicked authors, tour guides, destination experts and historians. The combination of real satellite and street view images and our exceptional audio content brings to life on your screen acclaimed sites and museums.
Purchase a virtual experience from your laptop, desktop, smart TV or smartphone and you will be redirected to a new browser window on your device to enjoy the tour online!