In the ever-evolving world of cultural tourism, staying up-to-date with the latest developments is essential. At Clio Muse Tours, we take pride in delivering captivating and informative experiences to our travelers.
Recently, our dedicated Tour Script Writer, Angelos, hopped on a journey to Santorini's Akrotiri archaeological site to ensure that our Akrotiri tour will continue to provide an up-to-date exploration of this ancient civilization.
Akrotiri: A Window into the Past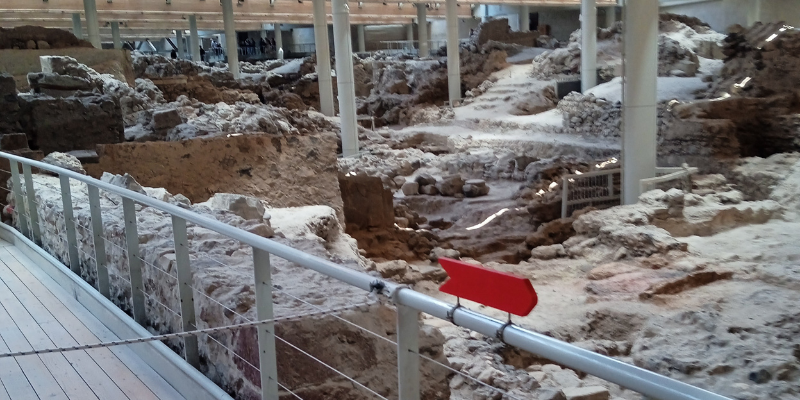 Akrotiri, located on the beautiful island of Santorini, holds a treasure trove of historical significance. This prehistoric city, buried under layers of volcanic ash for centuries, was remarkably preserved, offering a unique glimpse into the lives and culture of the ancient inhabitants. Our Akrotiri tour has been crafted to guide visitors through this archaeological site, unlocking its secrets and providing a rich past narrative.
Embracing Change for an Enhanced Experience
In an ever-changing world, it is essential to adapt and evolve. The spatial arrangement of the Akrotiri archaeological site recently changed, making the entrance to the prehistoric city inaccessible. To ensure that our visitors continue to receive a one-of-a-kind experience, Angelos traveled to Santorini.
His mission? To make the necessary adjustments to the tour, aligning it with the new exhibition format of the archaeological site.
The Role of Angelos: Crafting an Engaging Narrative
With his expertise and a passion for storytelling, Angelos revisited the Akrotiri tour script. He gained valuable insights into the changes by thoroughly exploring the newly arranged space and engaging with the site's curators and experts. His meticulous attention to detail ensured we provide visitors with an up-to-date narrative aligned with the new exhibition format.
Commitment to Excellence
At Clio Muse Tours, we are committed to providing the highest quality experiences to our customers. Our dedication to ensuring our tours remain accurate and engaging is vital to us. By embracing change and proactively adjusting our tours, we uphold our promise to deliver exceptional cultural experiences that leave a lasting impression.