Clio Muse co-founder Daphne Tsevreni and the company's Head of Content, Christina Ntaltagianni will be participating at the online event of the Het Griekse Huis in Rotterdam "Ελλάδα 2021: Παρελθόν+Παρόν=Μέλλον" on Saturday, March, 27.
"Ελλάδα 2021: Παρελθόν+Παρόν=Μέλλον" is organized in the Netherlands on the occasion of the bicentenary of the Greek Revolution (1821) by the Het Griekse Huis in Rotterdam in collaboration with the Greek Embassy in the Netherlands, the Dept. and M. Laskaridis Chair of Modern Greek Studies, UvA, the dance group "Kaneloriza" in Rotterdam, and the Amsterdam branch of Ahepa.
Mrs. Ntaltagianni will be attending the speaker's panel with the title "Ελλάδα & Ολλανδία: Πολιτιστική Διπλωματία στον απόηχο της Ελληνικής Επανάστασης." Her talk will focus on the Dutch philhellenic movement, and its beneficial role in the Greek war of independence until its decline in 1829 on behalf of the Royal Embassy of the Netherlands in Athens. She will showcase the rise and decline of the Dutch philhellenic movement using the respective Clio Muse digital tour. This project is an initiative of the Royal Embassy of the Netherlands in Athens and it is under the auspices of the Bicentennial Initiative 1821-2021 Committee.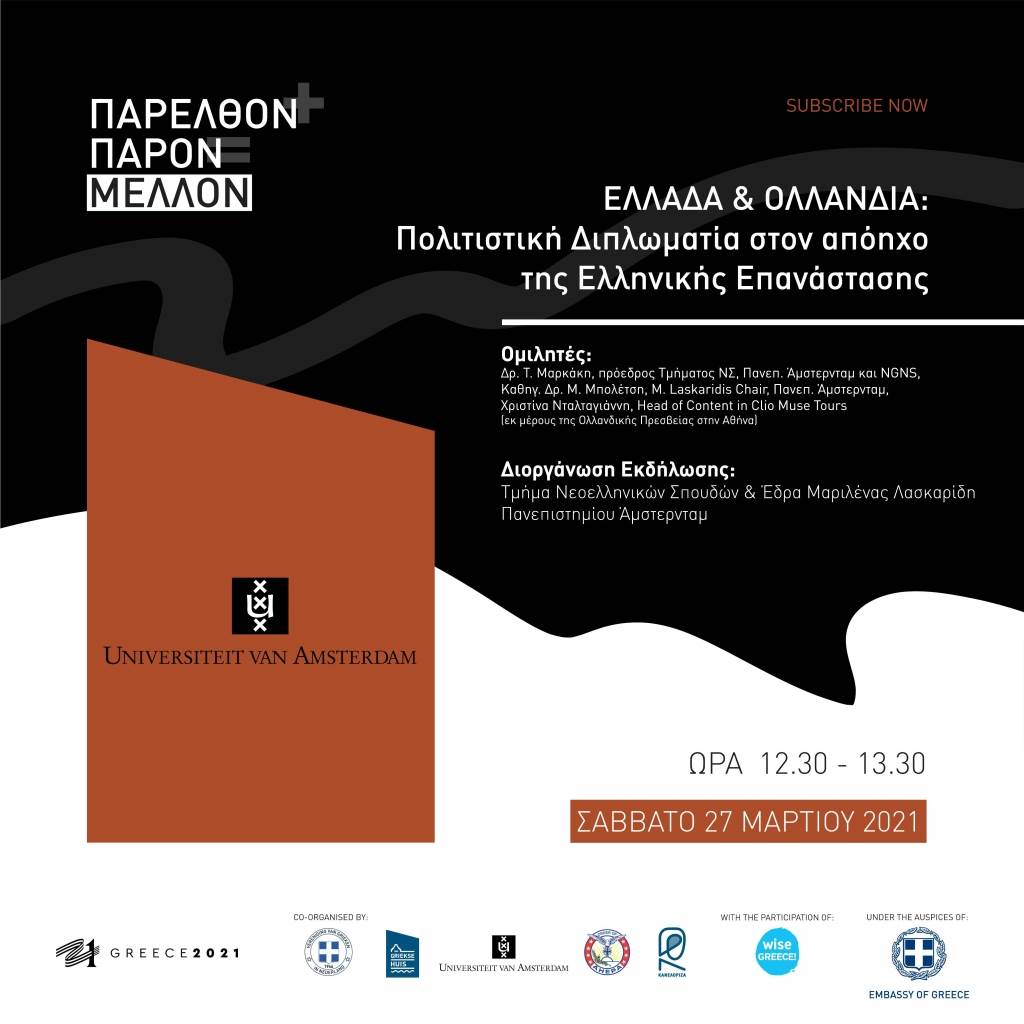 Dr. T. Markaki (Dept. Chair of Modern Greek Studies) and Prof. Dr. M. Boletsi (M. Laskaridis Chair, UvA) will be Mrs. Ntaltagianni's co-speakers at the panel's discussions. Specifically, they will present five examples of cultural diplomacy projects concerning aspects of the Greek Revolution, initiated or implemented by researchers affiliated with the Dept. of Modern Greek Studies and the M. Laskaridis Chair in close collaboration with several Dutch and Greek cultural en educational organizations.
Mrs. Tsevreni will be joining a discussion panel along with Yiannis Kanellopoulos, founder of Code4thought, Melina Tapranzti, Founder of WiseGreec, Prodromos Tsiavos, Head of Digital Policy and Development at Onassis Foundation and Heracles Papatheodorou, Digital & Innovation Coordinator at ONASSIS FOUNDATION.
"Ελλάδα 2021: Παρελθόν+Παρόν=Μέλλον" is a free event that will take place via the digital platform Zoom from 13:00 – 19:30 EET. The discussions will be held in Greek.
We are looking forward to seeing you there!