Clio Muse tours received the second prize of €10,000 at the Squeeze, a competition created by Orange Grove with the aim to support young entrepreneurs in Greece. According to acclaimed founders, investors and professionals, our business model has now the required solid foundation that we need to scale up in the near future.
A series of workshops followed by mentoring programs and educational meetings led by experts in the field prepared us for our 5-minute pitch at "The Squeeze." Using the feedback we had gotten three months ago, when we attended Orange Grove's competition for the first time, we presented an enhanced business model with an improved time-to-market. Our new platform, Clio Muse CREATE and the way we aim to offer it as an authoring tool to professionals of the tourism and culture sector such as tour operators and museums were greeted with positive reviews by the panel of judges.
We presented a specific methodology that guarantees to preserve the high-quality of Clio Muse Tours. Those using CREATE will be paid with a commission on a sale. These new additions to our business strategy were the vital elements that gained us the second place at the "The Squeeze."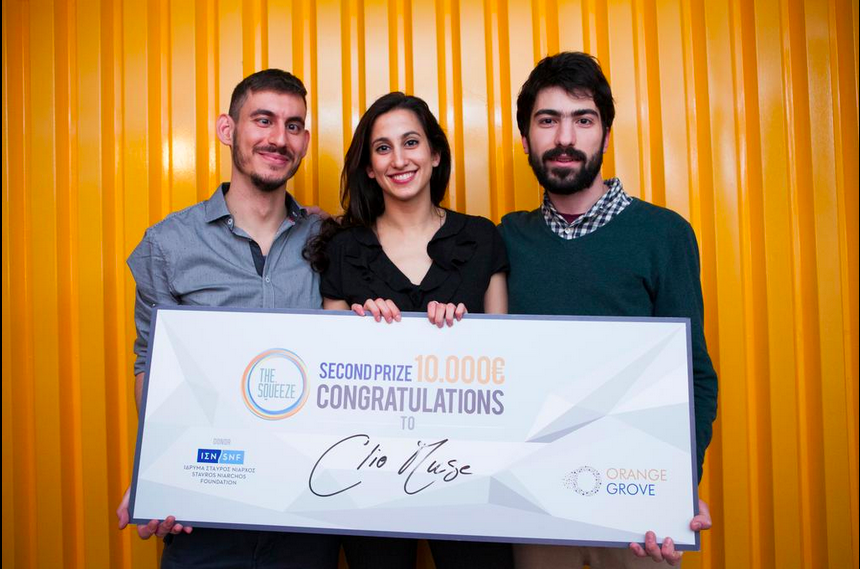 We feel more than grateful to be one of the 15 participants that were selected to participate in this event because we learned what actions we must take in order to turn our startup into a large-scale profitable business. The Squeeze competition introduced us to the importance of time-to-market and scalability, two critical components for the evolution of a startup. Moreover, we got the chance to present Clio Muse Tours' story, achievement and vision over 300 people including angel investors, VC's and business professionals.
We are going to use the monetary prize to hire professionals to improve and enrich with new languages the tours we have created for the city of Athens.
We'd like to thank the Stavros Niarchos Foundation for its generous funding and the Embassy of the Kingdom of the Netherlands in Athens for this initiative.