The Doge's Palace: The Most Serene Republic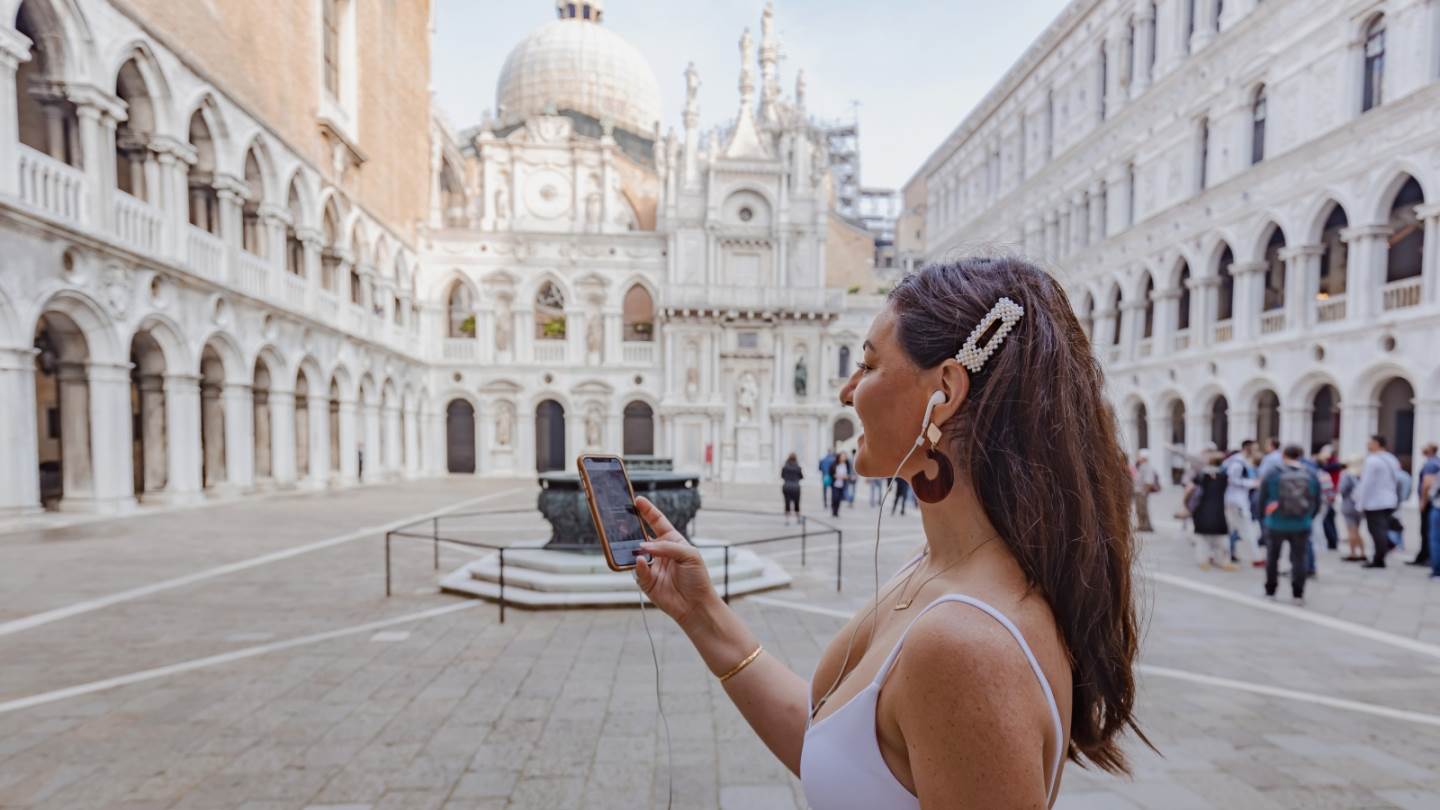 Self-guided audio tour

Follow the story at your own pace

English

For both audio and stories included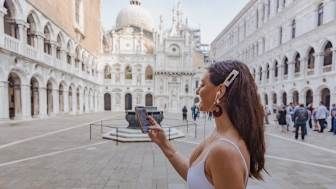 The Doge's Palace: The Most Serene Republic
Add to cart
Overview
2 hours

101

stories

0km

distance

38

stops
Travel back in time to follow in the footsteps of the Venetian Doges with a self-guided audio tour on your smartphone!
Entering the palace from Porta del Frumento, you will encounter the enormous interior courtyard. Your audio tour will shed light on the long history & transformations of the building. Before leaving, you will also experience the impressive Scala dei Giganti. Once home to the Doge's coronation, it has quite a few stories to tell! Time to climb up the highly ornate Scala d'Oro and step inside the institutional chambers of the palace. Ready to explore some stunning halls? They are all covered with the art of Tintoretto, Tiziano, Veronese and many more masters of the Venetian school!
Of course, you will have the opportunity to cross the Bridge of Sighs and visit the New Prisons of the Doge's Palace. Learn about the sinister reputation of the Venetian penal system listening to the stories of world-famous inmates. Among them, you will also find some stories about the legendary womanizer Giacomo Casanova! Your tour ends in front of the Porta della Carta, the once monumental entrance to the building. You'll admire the intricate decorations of the gate and learn about the fall of the once invincible maritime Empire.
This immersive audio tour is your key to explore the Doge's Palace and its riveting stories!
*Ticket/entrance fee to the Doge's Palace is not included.
Preview
Audio Preview
The Big Hungry City
Today visitors to the Doge's palace access the museum through the entrance called Porta del Frumento. This was not always the main entrance as in the past Palazzo Ducale was reached from the monumental Late Gothic gate situated on the Piazzetta side, which we shall see later. In fact, Porta del Frumento, accessed from the waterfront side of the Palace, means "Wheat Gate" and owes its name to the fodder office, the so-called Ufficio delle Biade that was located nearby and was responsible for monitoring the quantity, quality and prices of barley, rye, millet, and oats. Foodstuff was the bulk of the Venetian trade and regulating its supply and demand was indispensable, not only for the Republic's wealth but also its survival. By the 13th century, Europe was in the middle of a long boom and its population was growing rapidly. La Serenissima had 100000 inhabitants making it the 3rd largest city in Europe after Paris and Naples. For a landless state like Venice, famine was a constant threat!
Inclusions

and

Exclusions
Inclusions
An activation link to access your audio tour
Self-guided audio tour for your smartphone (Android & iOS) in English
Offline content with an offline interactive map to avoid roaming charges
An activation link to access your audio tour
Self-guided audio tour for your smartphone (Android & iOS) in English
Offline content with an offline interactive map to avoid roaming charges
Exclusions
Entrance fee/ ticket for the Doge's Palace
Live Guide
Smartphone or headphones
App not compatible with Windows phones
Internet access might be unavailable & mobile signal may be weak in public areas
Food and drinks
Transportation
Hotel pick-up and drop-off
Entrance fee/ ticket for the Doge's Palace
Live Guide
Smartphone or headphones
App not compatible with Windows phones
Internet access might be unavailable & mobile signal may be weak in public areas
Food and drinks
Transportation
Hotel pick-up and drop-off
Mandatory items
Charged smartphone, headphones
Charged smartphone, headphones
The
location
Address
Palazzo Ducale San Marco,1 30135 Venezia Entrance for the public: Porta del Frumento
Starting point
Porta della carta
Directions to starting point
VAPORETTI From Piazzale Roma: Line 1, Vallaresso or San Zaccaria stop; Line 2 Giardinetti stop; Line 5.1 or Line 4.1, San Zaccaria stop From Santa Lucia Railway Station: Line 1, Vallaresso or San Zaccaria stop; Line 2 Giardinetti stop; Line 5.1
Areas
Courtyard, scala dei giganti, Scala d'Oro, Senate hall, sala del magior consiglio, sala del collegio, armory, prisons, ponte dei sospiri, porta della carta
Important

information
Opening hours
From April 1st to October 31st: Sundays to Thursdays 8.30 am – 9 pm (last admission at 8.30 pm) Fridays and Saturdays 8.30 am – 11 pm (last admission at 10.30 pm) From November 1st to March 31st: 8.30 am – 7.00 pm (last admission at 6.30 pm)
Additional admission
Ticket full price: 25,00 euro
Know before you
book
This is a downloadable self-guided audio tour for your smartphone. No live guide will accompany you. No VR / AR is included
Please consider that admission fee for the Doge's Palace is not included
Please book per device to be used, not per participant
After booking, you will receive an email from Clio Muse Tours, with further instructions on how to access and download your audio tour. Please check your email spam folder as well
Please note that for the audio tour you must have an Android or iOS smartphone and make sure you have enough storage space on your phone (100-150 MB)

The audio tour is not compatible with Windows Phones, iPhone 5/5C or older, iPod Touch 5th generation or older, iPad 4th generation or older, iPad Mini 1st generation

Non refundable once activated
This is a downloadable self-guided audio tour for your smartphone. No live guide will accompany you. No VR / AR is included
Please consider that admission fee for the Doge's Palace is not included
Please book per device to be used, not per participant
After booking, you will receive an email from Clio Muse Tours, with further instructions on how to access and download your audio tour. Please check your email spam folder as well
Please note that for the audio tour you must have an Android or iOS smartphone and make sure you have enough storage space on your phone (100-150 MB)

The audio tour is not compatible with Windows Phones, iPhone 5/5C or older, iPod Touch 5th generation or older, iPad 4th generation or older, iPad Mini 1st generation

Non refundable once activated
Know before you
go
Check the email that you've received from Clio Muse Tours, and follow the instructions in order to access your tour. Please check your email spam folder as well
Please consider that internet access might be unavailable & mobile signal may be weak in public areas. So kindly, download the tour on your smartphone, prior to your visit, to access them offline and avoid roaming charges
The audio tour can be used repeatedly both online and offline. Use your headphones to best enjoy it
Prior to your visit, make sure that your smartphone is fully charged & that you bring on a pair of earphones/headphones
Check the email that you've received from Clio Muse Tours, and follow the instructions in order to access your tour. Please check your email spam folder as well
Please consider that internet access might be unavailable & mobile signal may be weak in public areas. So kindly, download the tour on your smartphone, prior to your visit, to access them offline and avoid roaming charges
The audio tour can be used repeatedly both online and offline. Use your headphones to best enjoy it
Prior to your visit, make sure that your smartphone is fully charged & that you bring on a pair of earphones/headphones
Contributors and Bibliography