Description
Waltz in the National Archaeological Museum of Athens with a self-guided audio tour on your phone!
Listen to the fascinating stories of the Ancient Greeks through an award-winning storytelling concept. Your audio tour begins at the Cycladic art gallery. There, you will be greeted by the largest Cycladic statuette of the Museum's impressive collection! You'll discover the origins of modern abstraction in the bizarre sculptures of a prehistoric civilization. Ready to set out on a riotous journey through the evolution of ancient Greek art?
In the collection of Mycenean antiquities, you'll discover the golden mask of the mythical king Agamemnon and the Linear B' clay tablets of Pylos. Later, as you explore the archaic art collection, you'll admire the smiling statues of the Kouros of Sounion and the graceful Kore Phrasikleia. They will cast their spell on you, but beware of the Sphinx, the notorious beast is lurking behind them! In the classical antiquity collection, you'll experience the flawless beauty of ancient Greek art in works of the finest craftsmanship. The Artemision Bronze is, of course, not to be missed! The antiquities of Thera are also among the museum highlights. Once covered in dust and ashes after a ferocious eruption, these artworks and objects offer a glimpse into a civilization that was forever lost. Finally, your audio tour culminates with some of the most impressive artworks of the Hellenistic and Roman periods.
This is an arresting encounter with some of the most famed artworks of ancient Greece through an award-winning storytelling concept!
* * Ticket/entrance fee to the National Archaeological Museum is not included.
Audio Preview
From the lover's hand
Agamemnon was the head of the Greeks in their campaign in Troy. The goddess Artemis, angry with Agamemnon because he had killed his holy deer, did not let a favorable wind blow, so that the Achaean ships would remain stuck in Avlida, in Evia. To please the goddess, Agamemnon was forced to sacrifice his daughter Iphigeneia, despite Clytemnestra's desperate pleadings, who vowed to avenge the death of her daughter. After the fall of Troy, Agamemnon returned to Mycenae and was spared by a spy, whom Aegisthus, his wife's lover, had laid. Aegisthus assisted by Clytemnestra killed Agamemnon while he was in the bath when he could not defend himself, hindered by the shirt that his wife had given him and whose sleeves were sewn.
Leonidas Argyros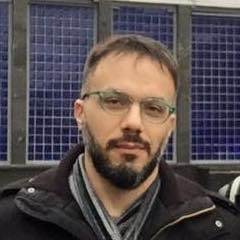 A grumpy man with a PhD. He is fascinated by words; when he sees them forming beautiful sentences he feels like an apprentice wizard who just produced fancy potions out of cauldrons full of frog legs and tears of bats. In his spare time he roams about town or watches anything produced and narrated by Sir David Attenborough, an inexhaustible source of similes. In Canada, he learned to love the cold, but he is much happier working in Athens.
Details
Address
National Archaeological Museum
Starting point
44 Patission Street, Athens
Inclusions
Self-guided audio tour in English for your smartphone (Android & iOS)

An activation link to access your audio tour

Offline content with an offline interactive map to avoid roaming charges
Exclusions
Entrance fee/ ticket for the National Archaeological Museum
Live Guide
Smartphone or headphones
App not compatible with Windows phones
Internet access might be unavailable & mobile signal may be weak in public areas
Food and drinks
Transportation
Hotel pick-up and drop-off
Know before you book
This is a downloadable self-guided audio tour for your smartphone. No live guide will accompany you. No VR / AR is included

Please consider that admission fees for the

National Archaeological Museum of Athens

are not included

Please book per device to be used, not per participant

After booking, you will receive an email from Clio Muse Tours, with further instructions on how to access and download your audio tour. Please check your email spam folder as well

Please note that for the audio tour you must have an Android or iOS smartphone. 

The audio tour is not compatible with Windows Phones, iPhone 5/5C or older, iPod Touch 5th generation or older, iPad 4th generation or older, iPad Mini 1st generation

Make sure you have enough storage space on your phone (100-150 MB)

Non refundable once activated
Know before you go
Please note that admission fees are not included in this product

Check the email that you've received from Clio Muse Tours, and follow the instructions in order to access your tour.

Please check your email spam folder as well

Please consider that internet access might be unavailable & mobile signal may be weak at the Museum. S

o kindly, download the tour on your smartphone, prior to your visit, to access them offline and avoid roaming charges

Also, prior to your visit, make sure that your smartphone is fully charged & that you bring on a pair of earphones/headphones

The audio tour can be used repeatedly both online and offline. Use your headphones to best enjoy it

The Museum has a separate entrance for people with disabilities on the side of Vas. Herakleiou Street, accessed either by a ramp from the main view of the Museum or directly from the pavement of Vas. Herakleiou
Opening hours
November 1st – April:
Tuesday: 13:00 – 20:00
From Wednesday until Monday: 08:00 – 17:00
From April until October 31st:
Tuesday: 13:00 – 20:00
From Wednesday until Monday: 08:00 – 20:00
The National Archaeological Museum is closed on 25 – 26 December, 1 January, 25 March, Orthodox Easter Sunday and 1 May.
Additional admission
12€ (From April 1st until October 31st)
6€ (From November 1st until March 31st)
Mandatory Items
Charged Android / iOS smartphone & headphones
Only logged in customers who have purchased this product may leave a review.
Why take a self-guided tour?
This is a self-guided tour based on the award-winning storytelling concept developed by Clio Muse and the fascinating narratives prepared by our handpicked destination experts.
You can enjoy each multilingual tour by using your smartphone or tablet at your own pace even if you are offline. The interactive map on your screen will guide you step-by-step as you explore all points of interest along your route. Each stop comes with a selection of our signature stories allowing you to tailor the tour experience to your personal interests and schedule.
After downloading Clio Muse app, you can access this tour and activate it any moment you wish and also repeat it any time. To best enjoy our multimedia self-guided tour (comprising maps, video, audio and text) we recommend the use of headphones.