Rome's city self-guided Virtual Experience: Politics and Roman holidays
Self-guided audio tour

Follow the story at your own pace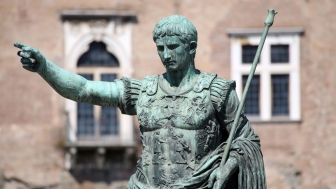 Rome's city self-guided Virtual Experience: Politics and Roman holidays
Add to cart
Overview
Experience the city of Rome from the comfort of your home with an engaging self-guided virtual tour, narrated in English, from your PC or smartphone browser. It's so simple! You will receive an email with the tour link with instructions and, in a couple of minutes, you will travel to Rome and enjoy a virtual journey from the comfort of your couch!
Through the power of storytelling combined with street and satellite views, you will learn not only about historical facts but also discover unknown stories and tales of ancient and modern times that will amaze your family and friends. The tour's content is the result of in-depth research, squeezed into brief intriguing stories that will make your virtual visit both engaging and informative. The tour is only available online and you can access it repeatedly and anytime.
This is an unmissable opportunity to gain valuable insights into Rome's most prominent piazzas and illustrious landmarks, to recall favorite Italian movies and immerse yourself in the surroundings in an entirely innovative way.
Preview
Audio Preview
Fantastic Beasts
The statues might be the focal point of the fountain, but there are several more details that make the composition so powerful and dynamic. There are, for example, seven different animals portrayed around the fountain, close to the statues of the rivers, lurking under the rocks. This was a very inventive innovation which allowed Bernini to evoke a remarkable level of theatricality, so typical of the Baroque Era. Close to the river Danube, we see a horse while a creature that looks like a crocodile or an armadillo is lurking next to the Rio de la Plata. A lion appears next to the Nile and a dragon seems to have coiled its body around the paddle of the river Ganges. A snake, a sea snake, and a dolphin are also present in the grandiose composition. Yet, we must never forget that this was a work commissioned by the Pope, whose holiness and dominion is praised with the dove, symbol of the Holy Spirit, flying atop the obelisk.
Inclusions

and

Exclusions
Inclusions
Virtual Self-guided Tour for Rome's City with satellite & street views

Audio content with engaging & original stories in English
Exclusions
Live Guide
Transportation
Equipment
Offline access
Mandatory items
Desktop, Laptop or smartphone device, Internet connection
Desktop, laptop or smartphone device
Internet connection
The
location
Areas
Altare della Patria: The virtual tour begins opposite the Altar of the Fatherland (Altare della Patria), which stands as a symbol of Italy's unification in the 19th century. Learn about the first king of modern Italy and pay your respects to the country's unknown soldier as you discover a most significant national monument. 
Trevi Fountain: There's no way to visit Rome without paying a visit, even a virtual one, to the city's most iconic fountain! Fontana di Trevi, the pearl of the Baroque era, is brimful of water and stories that come alive through a compelling storytelling concept.  Even though you cannot toss a coin in the fountain, you can always immerse yourself in the Roman Dolce Vita! 
Pantheon: The Pantheon of Rome is a stunning example of the excellence of ancient engineering! With its colossal dome and its continuous history spanning a period of almost more than two millennia, it is a must-see attraction in the heart of Rome. Follow your virtual audio guide inside the enormous temple and learn about some of its bizarre legends!
Piazza Navona: Piazza Navona is a picture-perfect Roman square, just a stone's throw away from Ponte Sant' Angelo. A charming ensemble of Baroque art, stunning fountains and bustling city life is there to be discovered. You'll also gain some fascinating insights about the erstwhile function of the piazza as a pool for the public during hot summer days!
Important

information
Know before you
book
This is a virtual walking tour for the city of Rome that you can take from the comfort of your home and feel like you were there

No live guide or meeting point required

You will receive an email with instructions on how to access your tour via a link. Check your spam folder as well

No special equipment is needed (i.e. special glasses). However, earphones or headphones are highly recommended to enjoy the experience.

This product can be accessed from any web browser and requires internet connection. The tour is available only online. The virtual tour doesn't require a visit to the site
Cancellation Policy: This product cannot be refunded once activated.