Rethymno Self Guided Virtual Experience: Between East and West
Description
Experience with an engaging virtual tour while enjoying the safety of your home. Add the link you'll receive via email to your desktop's or smartphone's browser, sign up and get ready for a journey back in time from the comfort of your sofa.
Access the tour easily, put on your headphones and visit Kara Musa Pasha Mosque a Venetian monastery dedicated to Saint Barbara but upon the city's conquest, the Ottomans replaced the roof with a dome and added a minaret, Valide Sultana Mosque named after the mother of the Conquer of Rethymno Sultan Ibrahim I , marvel Rimondi Fountain and admire the impressive Fortezza as if you were there through the power of storytelling and with street or satellite view. 
The virtual tour consists of audio narration, real images, satellite and street views of and its surroundings. In most points of interest you can move forward and backwards, turn towards any direction and see what you would really see as if you were there. In that sense, a virtual tour resembles a remote visit from wherever you are.
Learn important historical facts, discover unknown stories and listen to interesting tales of ancient times and amaze your family and friends. The tour's content is the result of in-depth research, squeezed into brief intriguing stories that will make your virtual visit both engaging and informative. The tour is only available online and you can access it repeatedly and anytime.
This is an unmissable opportunity to admire the architectural wonders of the through a remote visit.
Preview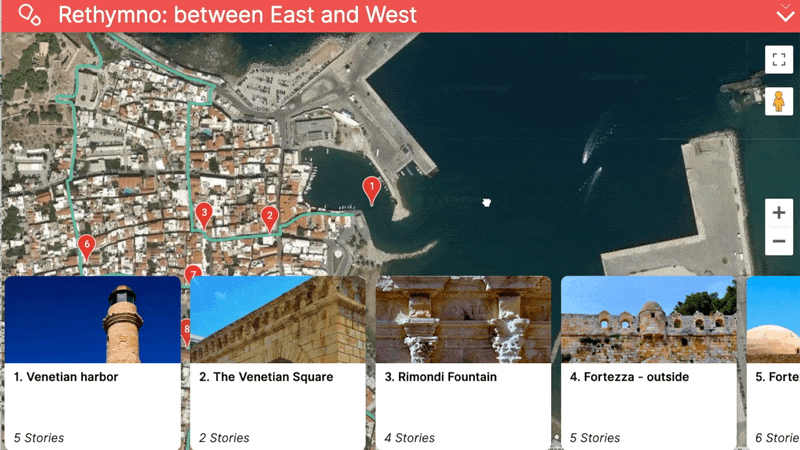 Details
Starting point
There is no meeting point. The virtual tour doesn't require a visit to the site and it is designed to start at the first point of interest Venetian Harbour
Inclusions
Virtual Tour to Rethymno City

Remote visit to the attraction

Audio narration

Real images 

Satellite and street views of the points of interest and the surroundings

Engaging original stories in English
Exclusions
Live Guide

Headphones

Offline access

Transportation
Know before you book
This is a virtual tour

to Rethymno City

that you can take from the safety of your home
To fully enjoy the tour you need a steady internet connection. The tour is available only online.
The virtual tour doesn't require a visit to the site.
No live guide or meeting point required
You will receive an email from Clio Muse Tours with instructions on how to access your tour via a link. Check your spam folder as well
No special equipment is needed (i.e. special glasses)
Access your virtual tour easily, online by clicking on the provided link
Subscribe and get full access on the tour through your browser
Ensure that you have your earphones/headphones on to enjoy the full experience
You can cancel any time and get a full refund (Non refundable once activated)
In case you need any assistance, please contact us at [email protected]
Mandatory Items
Desktop, Laptop or Smartphone device & Headphones
Only logged in customers who have purchased this product may leave a review.
Why take a self-guided tour?
Clio Muse Tours' self-guided virtual experience takes you on an informative and entertaining journey to the world's top destinations. If you're looking for the best way to sate your wanderlust while at home, gain insight into the world-class monuments or take a first taste from the sites you're planning to visit on your next trip, Clio Muse virtual experiences are bound to captivate your attention.
Based on the award-winning storytelling methodology developed by the Clio Muse team, each one of the self-guided virtual experiences is complemented with the fascinating narratives curated by handpicked authors, tour guides, destination experts and historians. The combination of real satellite and street view images and our exceptional audio content brings to life on your screen acclaimed sites and museums.
Purchase a virtual experience from your laptop, desktop, smart TV or smartphone and you will be redirected to a new browser window on your device to enjoy the tour online!