Knossos self-guided Virtual Experience: Daily life in the Minoan Era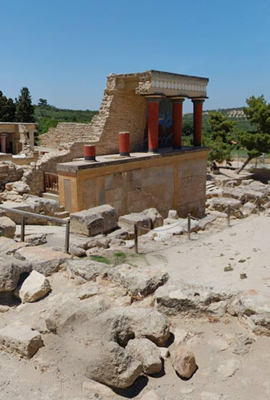 Self-guided audio tour

Follow the story at your own pace

English, Deutsch, Français

For both audio and stories included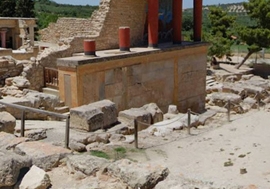 Knossos self-guided Virtual Experience: Daily life in the Minoan Era
Add to cart
Overview
1h 40min

83

stories

20

stops
Experience the archaeological site of Knossos from the comfort of your home with an engaging self-guided virtual tour, narrated in English, from your PC or smartphone browser. It's so simple! You will receive an email with the tour link with instructions and, in a couple of minutes, you will travel back in time and enjoy a virtual journey from the comfort of your couch!
Through the power of storytelling combined with street and satellite views, you will learn not only about historical facts but also discover unknown stories and tales of ancient and modern times that will amaze your family and friends. The tour's content is the result of in-depth research, squeezed into brief intriguing stories that will make your virtual visit both engaging and informative. The tour is only available online and you can access it repeatedly and anytime.
This is an unmissable opportunity to gain valuable insights into the daily life and culture of the Minoan Era and immerse yourself in the surroundings in an entirely innovative way.
Preview
Audio Preview
From kilts to shorts
The main cloth-making fibre was wool, which was produced in abundance. Linen and silk were rare and probably imported. Animal furs and skins were used to make garments for rituals. Men always wore a loincloth that gradually developed to become more like a kilt. Then it was turned into a pair of shorts. The final evolution was first adopted in Knossos; the kilt was bulkier with a hem that sloped down from back to front and reached the knees. There was also a decorative beaded tassel. Men often went hatless and unshod, especially indoors. Leather boots and sandals were the standard outdoor footwear.
Inclusions

and

Exclusions
Inclusions
Virtual Self-guided Tour for Knossos Palace with satellite & street views

Audio content with engaging & original stories in English
Exclusions
Live Guide
Transportation
Equipment
Offline access
Mandatory items
Desktop, Laptop or smartphone device, Internet connection
Desktop, laptop or smartphone device
Internet connection
The
location
Areas
Kouloures: The virtual tour starts with an unsolved mystery. Kouloures are three large cylindrical pits, named after a Cretan type of round bread. Till today we don't know what Kouloures were for. Listen to the stories and learn all about the potential theories.
Throne Room: One of the most visited areas in Knossos is the Throne Room where you can admire the replica of the Minoan throne and listen to the fascinating story of the woman who actually sat on the throne in order to discover if she was a queen or a priestess. After all, you will agree that the powerful king Minos was probably not the patron of the throne.  
Tripartite Shrine:  You are in front of the Tripartite shrine, the Knossos's main sanctuary where it was discovered, among others, the snake goddess who appears with exposed breasts that emphasized their femininity and sexuality and with costume ornamented with mythical beasts.
North lustral area:  One of the most photographed sites in Knossos. According to archaeologist Sir  Arthur Evans, anyone who arrived in Knossos by the north side had to purify himself during a ritual ceremony in order to enter the palatial complex.
Important

information
Know before you
book
This is a self-guided virtual experience for the Knossos Palace that you can take from the comfort of your home and feel like you were there

No live guide or meeting point required

You will receive an email with instructions on how to access your tour via a link. Check your spam folder as well

No special equipment is needed (i.e. special glasses)

This product can be accessed from any web browser and requires internet connection
Cancellation Policy: This product cannot be refunded once activated.