Acropolis Museum: E-Ticket with Audio Tour on Your Phone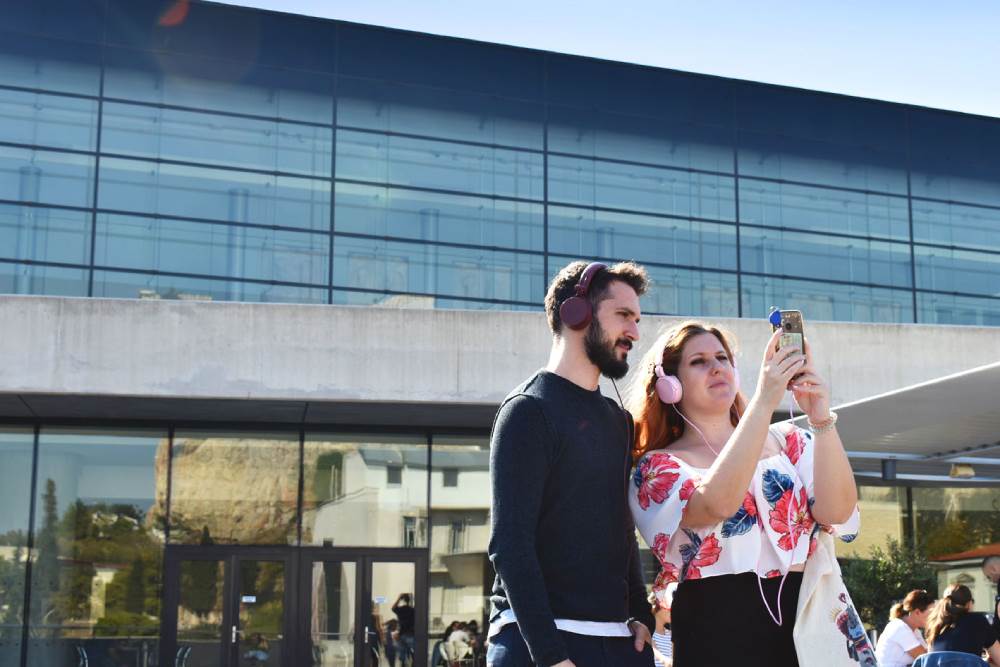 From: 22,40€ per person
Entrance e-ticket

Use your phone or print the voucher

Self-guided audio tour

Follow the story at your own pace

English, Ελληνικά, Deutsch, Español, Français, Italiano

For both audio and stories included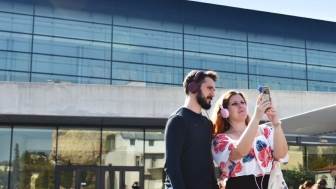 Acropolis Museum: E-Ticket with Audio Tour on Your Phone
From: 22,40€ per person
Book now
Overview
1h 50min

100

stories

0km

distance

37

stops
Enjoy at your own pace the dazzling Acropolis Museum with a pre-booked e-ticket combined with a self-guided audio tour on your smartphone. Download the digital self-guided audio tour on your smartphone and travel back in time to experience the glory of Classical Athens. Listening to a brilliantly tied narrative, you'll experience the architectural wonders of the Golden Age of Athens and admire some of the finest examples of ancient Greek art.
As you enter the museum, you'll admire the impressive glass floor showcasing ruins of an ancient settlement buried below and gear yourself up for the first gallery, where you'll get an insider's view of everyday life in ancient Athens. You'll discover bygone wedding customs and ancient surgery practices as you gradually ascend to the next floor, where the exhibits will guide you through the riveting journey of the city's transition to democracy. Weaving around monsters, heroes, gods and iconic representations of the human body, you'll follow the evolution of ancient art. Continuing to the third floor, you'll get straight into the heart of the Parthenon and see the narrative of the Panathenaic Procession, pieced together on the frieze of the temple. Engrossing tales from Greek Mythology depicted on the metopes and pediments of the temple, such as the birth of goddess Athena and the battle of the Centaurs, will fire up your imagination.
Finally, your tour ends with the culminating age of Greek style, the classical period, and some of the most famed artworks of Ancient Athens, including the iconic Caryatids, the curvaceous maidens who have witnessed the turbulent 2.500-year story of the Acropolis and are waiting to share it with you.

Audio Preview
An ambitious project
The first architectural competition for the new Acropolis Museum was staged in 1976, but it took three more contests before the Swiss-French architect Bernard Tschumi was officially declared the winner in late 2001. He created a museum whose interior is airy and light-filled. Large glass surfaces on the facade allow natural light to enter the building and "embrace" the sculptures. Tschumi envisaged the repatriation of the Parthenon Marbles from the British Museum and created the areas where they can be displayed. His design also took into consideration the preservation of the ancient residential quarter discovered below the museum. The glass floor allows visitors to explore classical Athens beneath their feet.
Inclusions

and

Exclusions
Inclusions
Entrance fee/ adult ticket for the Acropolis Museum
Pre-booked ticket service (e-ticket sent to your email)
Self-guided audio tour for your smartphone (Android & iOS) in English
Offline content with an offline interactive map to avoid roaming charges
Exclusions
Live Guide
Smartphone or headphones

App not compatible with Windows phones

Food and drinks
Hotel pick-up and drop-off
Mandatory items
Charged smartphone
Headphones
The
location
Address
The Acropolis Museum, Dionysiou Areopagitou 15, Athina
Areas
Gallery of the Slopes of the Acropolis, Archaic collection, Parthenon's frieze, Athena Nike's temple atrium, Caryatids of the Erechtheion, statues, and votive offerings from the Acropolis hill from the 5th century BC to the 3rd century AD
Important

information
Opening hours
Opening hours for Acropolis Museum
1 November - 31 March
Monday - Thursday: - (last admission: )
Friday: - (last admission: )
Saturday - Sunday: - (last admission: )
1 April - 31 October
Monday - Thursday: - (last admission: )
Tuesday - Thursday: - (last admission: )
Friday: - (last admission: )
Saturday - Sunday: - (last admission: )
Know before you
book
This is a combination of an e-ticket  & a downloadable self-guided audio tour for your smartphone

 No live guide will accompany you. No VR / AR is included

After booking, you will receive an email with further instructions for your tickets and the audio tour. Please check your email spam folder as well

Booking requests received between 17:00 p.m. – 8:59 a.m. will be served the next morning from 9:00 a.m.

An Android (version 5.0 and later) or iOS (version 15.0 and later) smartphone is required. The audio tour is not compatible with Windows Phones, iPhone 6/6 Plus or older, iPod Touch 6th generation or older, iPad 4th generation or older, iPad Air 1st generation, iPad Mini 3rd generation or older.

Please ensure you have enough storage space (100-150 MB) 

EU citizens aged 0-18 are entitled to have Free admission tickets. However, they have to wait in line to show ID card or passport.
Young persons under 18 years of age, from non-EU countries are eligible for reduced admission fee, but they will have to wait in line with current identification card to confirm age.
Greek Senior citizens and Senior citizens from EU countries, 65 years of age and over, are eligible for reduced admission with current identification card to confirm age. However they will have to wait in line.
Not all points of interest are wheelchair accessible
Know before you
go
Keep in mind that internet access might be unavailable & mobile signal may be weak. So please download the e-ticket and audio tour on your smartphone prior to your visit in order to enjoy it offline

Skip the line and proceed directly to the expedited line to get your ticket scanned. Tickets need to be either

printed or downloaded on your phone

The audio tour can be used anytime, online or offline. It is necessary to bring along your own headphones in order to enjoy the audio-tour

Please note that upon arrival, visitors go through a security check. To avoid delays, you are asked to avoid carrying large bags and luggage