Costas Varotsos: Sculpture 2008-2018 | Exhibition
Description
The exhibition includes remarkable pieces of Costas Varotsos' recent work, witnessing to his constant struggle with the fragility of glass, the gloss of iron and, of course, transparency and light.
Highlights
1. Globe, 2018

Iron and glass 174 x 84 cm each Collection of the artist

2. Narcissist, 2010

Mirror 232x100cm Collection of the artist

3. L' Approdo, 2012

Οpera all' Umanità Migrante Glass Otranto, Puglia, Italy
Featured stories
Older versions of the Globe

Globe, 2018

Varotsos here takes up an earlier theme, that of his Globe on display at Giorgio Persano 25 Art Gallery in 1995. The two austere geometric forms are shaped by 2 hemispheres of wire and irregular masses of glass. One is suspended, while the other is in touch with the floor, thus alluding to heaven and earth. He also produced another version of Globe, for Thessaloniki International Airport, using 2 hemispheres of different size this time and abandoning his favorite material, glass, in favor of building the curved masses in stone. Today's Globe furthers his sculptural transformations and advances his conceptual exploration of the vast universe.

The myth of Narcissus

Narcissist, 2010

According to Greek mythology, Narcissus was a handsome young man who rejected love. Many nymphs and young women fell in love with him; yet, he spurned them. Nemesis punished Narcissus by leading him to a pool, where he saw his reflection in the water and fell in love with it; unable to abandon his reflection, he died there. A beautiful flower grew on the spot; Narcissus. There are many different versions of this myth, and Varotsos fuses them, in an abstract mood.

Interview to Katerina Lymberopoulou

L' Approdo, 2012

'I was devastated when I found out about migrants' watery graves off Lampedusa. I essentially sought to make a tragedy come alive, to put it into a different perspective. I remember once, while working on the shipwreck, I saw a child wandering about. I approached him; he was Albanian; he spoke neither Italian nor Greek. He pointed at the ship and said, "Papa". His father had died there, when this child was a baby.. The issue is profoundly political, yet I approached it in artistic terms.. I strove to turn a tragedy into something positive; to build a bridge between the Italian and the Albanian people, who were traumatised.'
B. & M. Theocharakis Foundation for the Fine Arts and Music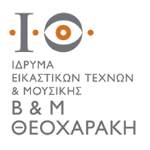 The B&M Theoharakis Foundation has as its basic interest the fine arts and music in Greece and worldwide, by focusing on the emergence and evolution of the modern in the 20th and 21st century.
Contributors and Bibliography
Contributors
Anna Georgiadou
Details
| | |
| --- | --- |
| Address | B. & M. Theocharakis Foundation for the Fine Arts and Music, 9 Vas. Sofias & 1 Merlin, Athens |
| Starting point | 9 Vas. Sofias & 1 Merlin, Athens |
| Finishing point | 9 Vas. Sofias & 1 Merlin, Athens |
| Areas | B. & M. Theocharakis Foundation |
| Opening hours | Open daily: 10:00 – 18:00, Thursday (October-May): 10:00 – 20:00. |
Why take a self-guided tour?
This is a self-guided tour based on the award-winning storytelling concept developed by Clio Muse and the fascinating narratives prepared by our handpicked destination experts.
You can enjoy each multilingual tour by using your smartphone or tablet at your own pace even if you are offline. The interactive map on your screen will guide you step-by-step as you explore all points of interest along your route. Each stop comes with a selection of our signature stories allowing you to tailor the tour experience to your personal interests and schedule.
After downloading Clio Muse app, you can access this tour and activate it any moment you wish and also repeat it any time. To best enjoy our multimedia self-guided tour (comprising maps, video, audio and text) we recommend the use of headphones.