Akrotiri: the Pompeii of the Aegean
Description
Santorini is famous for the sea-filled crater in the middle of the island, the awesome wonder of its sunsets, and the charming cliff-top villages. But it is also home to the archaeological site of Akrotiri, a prehistoric town buried in the ashes of a volcanic eruption that brought down a unique civilization and gave us the Pompeii of the Aegean Sea.
Listen to fascinating stories, based on an award-winning storytelling concept, and gain great insights into the most iconic landmark of Santorini. Start your tour from the sheltered site where you can listen to the stories about how Akrotiri was discovered, and then continue to explore its interior learning about the rise and the fall of one of the most important prehistoric settlements not only in the Aegean, but also in the world. This is an unmissable opportunity to experience at your own pace the Akrotiri with a captivating audio tour on your phone.
* * Ticket/entrance fee is not included.
Audio Preview
The adventure begins
Once upon a time, Santorini (also known as Thera) was a poor and desolate place. There was no electricity while the island possessed only two hotels and a single taxi, whose driver was known as "George the Red" on account of his red hair. Most villages were accessible only by donkey. This wind-swept island, though, kept a great secret. Spyridon Marinatos was an archaeologist who believed that the great Minoan civilization of Crete perished because of a massive volcanic eruption on the island of Thera. This natural disaster caused a tsunami that destroyed the magnificent palaces and towns of Crete. Marinatos was certain that the volcanic soil of Thera preserved proof of his theory. In 1967, he began systematic excavations at Akrotiri. A lost civilization was about to emerge from the ashes.
Leonidas Argyros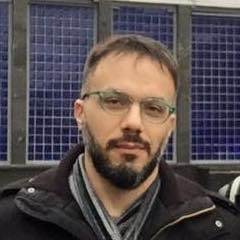 A grumpy man with a PhD. He is fascinated by words; when he sees them forming beautiful sentences he feels like an apprentice wizard who just produced fancy potions out of cauldrons full of frog legs and tears of bats. In his spare time he roams about town or watches anything produced and narrated by Sir David Attenborough, an inexhaustible source of similes. In Canada, he learned to love the cold, but he is much happier working in Athens.
Details
Address
Entrance of Akrotiri archaeological site
Finishing point
Exit of Akrotiri archaeological site
Inclusions
Self-guided audio tour for your smartphone (Android & iOS) in English 

Offline content (text, audio narration and maps)

Link to activate and access your audio tour
Exclusions
Entrance fee to the

Akrotiri

Live Guide

Smartphone or headphones

Food and drinks

Transportation
Know before you book
Please consider that admission fees for the

archaeological site of Akrotiri

are not included. 

This is a downloadable self-guided audio tour for your smartphone (accessible through our app)

No live guide or meeting point provided.

Book per device to be used, not per participant

An Android

(version 5.0 and later)

or iOS smartphone is required.

The audio tour is not compatible with Windows Phones, iPhone 5/5C or older, iPod Touch 5th generation or older, iPad 4th generation or older, iPad Mini 1st generation

You will need storage space on your phone (100-150 MB)
The archaeological site of Akrotiri  is wheelchair accessible
Know before you go
Ensure that your smartphone is fully charged & that you bring your earphones

Large backpacks and bulky bags/ luggage are not allowed in the archaeological site

Wear comfortable shoes
Areas
Xeste 4, 2 and 3
Square of the double horns
House of the Ladies
West House
Telchines Street
Building Complex Beta
Opening hours
The archaeological site is open as following: 
From Monday to Wednesday and  Friday to Sunday: 08:00 – 20:00
Tuesday: 08:00-15:30. 
Recommended visiting hours
Daily in the morning until noon and early in the afternoon ( but on Thursdays the site is closing at 15:30)
Additional admission
The entry ticket to the archaeological site is not included
Mandatory Items
Charged smartphone, headphones, (comfortable shoes, and sunscreen)
Directions to Starting Point
There is no meeting point. The self-guided audio tour is designed to start at the entrance of the archaeological site of Akrotiri which is located south of the modern village that bears the same name. The easiest way to get there is by car or by bus. Once you stop at the car park at the Akrotiri Red Beach, you get the road that takes you to the archaeological site.  The tour ends inside the archaeological site. 
Only logged in customers who have purchased this product may leave a review.
Why take a self-guided tour?
This is a self-guided tour based on the award-winning storytelling concept developed by Clio Muse and the fascinating narratives prepared by our handpicked destination experts.
You can enjoy each multilingual tour by using your smartphone or tablet at your own pace even if you are offline. The interactive map on your screen will guide you step-by-step as you explore all points of interest along your route. Each stop comes with a selection of our signature stories allowing you to tailor the tour experience to your personal interests and schedule.
After downloading Clio Muse app, you can access this tour and activate it any moment you wish and also repeat it any time. To best enjoy our multimedia self-guided tour (comprising maps, video, audio and text) we recommend the use of headphones.