Hagia Sophia self-guided Virtual Experience: The Highlights
Description
Experience the Hagia Sophia from the comfort of your home with an engaging self-guided virtual tour narrated in English, from your PC or smartphone browser. It's so simple! You will receive an email with the tour link and instructions, and in a couple of minutes, you will travel back in time and enjoy a virtual journey from the comfort of your couch!
Through the power of storytelling combined with street and satellite views, you will discover not only historical facts but also unknown stories and tales of ancient and modern times that will amaze your family and friends. The tour's content is the result of in-depth research, squeezed into brief intriguing stories that will make your virtual visit both engaging and informative. The tour is only available online and you can access it repeatedly anytime.
This is an unmissable opportunity to gain valuable insights into Hagia Sophia and immerse yourself in the surroundings/exhibits in an entirely innovative way.
Preview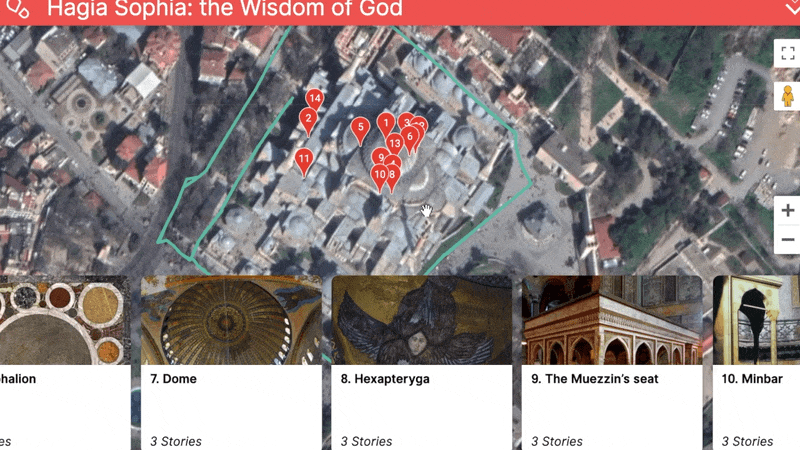 Audio Preview
The Roof, the Roof is on Fire
January 532 was a stormy month for the people of Constantinopolis. Especially for Emperor Justinian, who saw a tense and angry mob revolting against his rule during the most violent events that the city ever faced, the "Nika riots". The original basilica that Theodosius II had restored was wrapped in flames as hundreds of other buildings all across the city. When the dust settled and Justinian managed to take control again, he commissioned the construction of the colossal Basilica that we see today. It was destined to be a feat of architecture and the most majestic monument of the proto-byzantine period, an era that shaped the future of the Empire.
Details
Inclusions
Virtual Self-guided Tour for the Hagia Sophia with satellite & street views

Audio content with engaging & original stories in English
Know before you book
This is a virtual tour for the Hagia Sophia that you can take from the comfort of your home and feel like you were there

No live guide or meeting point required

You will receive an email with instructions on how to access your tour via a link. Check your spam folder as well

No special equipment is needed (i.e. special glasses)

This product can be accessed from any web browser and requires internet connection
Cancellation Policy: This product cannot be refunded once activated.
Areas
The Dome: The dome of Hagia Sophia is the most astonishing element in the entire building. Having a 32-meter diameter, the colossal dome's rim features 40 windows and historian Procopius has eloquently said, "It looks like a piece of heaven hanging above the ground."
Portrait of John II Komnenos and Irene: A pious princess who became a saint and an Emperor who acquired the epithet "good" was certainly a match made in heaven. This couple is portrayed in a mosaic dating back to the early 12th century. They are standing next to the Virgin Mary holding Jesus, an amazing mosaic you can admire in the Hagia Sophia church.
Donation Mosaic: What kind of gift could an emperor offer to the Virgin Mary? Well, nothing less than an entire city or a colossal basilica! The regal mosaic of Mary hovers over the entrance to the church in heavenly glory that depicts Emperors Constantine and Justinian offering gifts to the Mother and Child.
Mandatory Items
Desktop, Laptop or smartphone device, Internet connection
Only logged in customers who have purchased this product may leave a review.
Why take a self-guided tour?
Clio Muse Tours' self-guided virtual experience takes you on an informative and entertaining journey to the world's top destinations. If you're looking for the best way to sate your wanderlust while at home, gain insight into the world-class monuments or take a first taste from the sites you're planning to visit on your next trip, Clio Muse virtual experiences are bound to captivate your attention.
Based on the award-winning storytelling methodology developed by the Clio Muse team, each one of the self-guided virtual experiences is complemented with the fascinating narratives curated by handpicked authors, tour guides, destination experts and historians. The combination of real satellite and street view images and our exceptional audio content brings to life on your screen acclaimed sites and museums.
Purchase a virtual experience from your laptop, desktop, smart TV or smartphone and you will be redirected to a new browser window on your device to enjoy the tour online!