Operations Assistant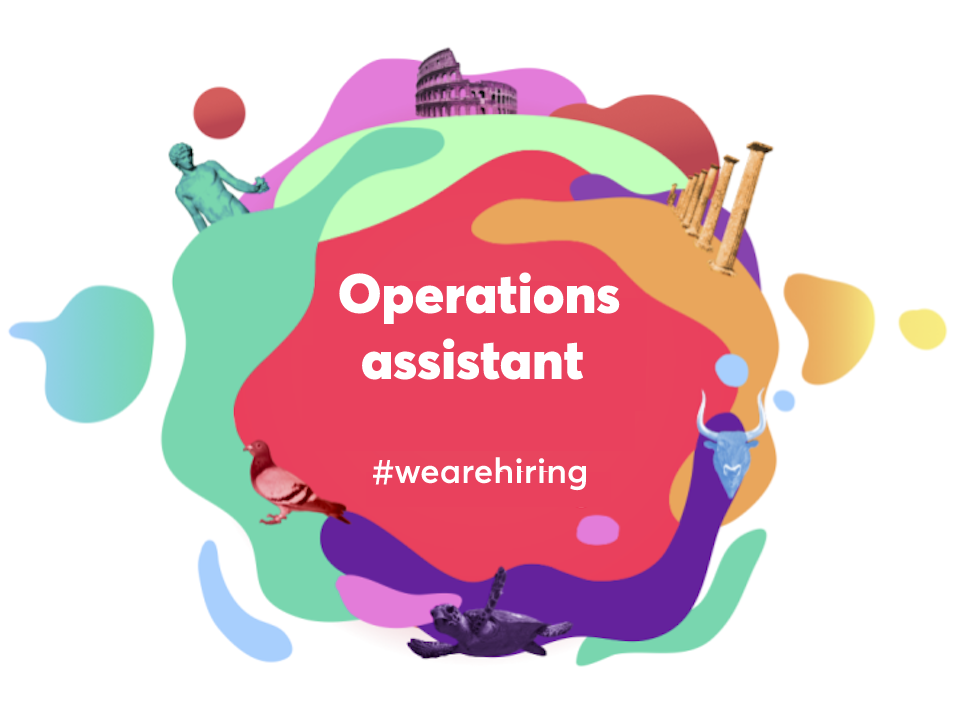 We are looking for an enthusiastic Operations Assistant with a passion for standardization and entrepreneurship to organize and maintain the smooth daily operation of Clio Muse Tours' scaling up.
Located in our office near Monastiraki, Athens, the Operations Assistant will be responsible for crucial daily procedures for running Clio Muse Tours. To this end, you need to have excellent organization and communication skills and the ability to be precise and meticulous.
An excellent level of writing skills in English is a prerequisite since this is the official working language of most of our partners. You must be proficient in GSuite (Google Docs, Google Sheets, and Google Slides), where most of our files are stored. A definite plus is a good knowledge of basic accounting operations or previous experience in similar positions.
Our growing up means there's room for you to grow as long as you are agile, resourceful, autonomous, and independent.
A few words about Clio Muse Tours
The idea of Clio Muse came to life when our three co-founders first met in 2012. Despite coming from different academic backgrounds, they all had a special place in their hearts for Culture. They founded the company in 2014. Since then, their hard work, complementary personalities, taste, and skills transformed the small start-up into a successful and growing business that employs 22 people. Each team member has been selected for their unique personality, creativity, and positive attitude. And apart from each position's requirements, these are the traits we are looking for in a colleague.
Core Responsibilities
Operations
Manage the smooth daily operation of Clio Muse Tours
Facilitate our team's requests and paperwork regarding banks, leaves, expenses, travels, etc.
Optimize operations using appropriate existing software tools (GSuite, HubSpot, Jira, Moosend, webmail/email clients, calendars, etc.)
Organize and maintain our records and office documents up-to-date
Make travel and accommodation arrangements
Manage and order office supplies
Accounting and Financials
Make payments
Keep records of invoices and contracts
Process and report on office expenses
Fill in our monthly financial report for our investors
Collaborate closely with our accounting office and lawyers when needed
Monitor the progress of projects and assist in their successful payouts
Research for data and collect metrics to draft reports, proposals, research documents, manuals, and startup lists when necessary
Provide numbers, KPIs, and ideas/conclusions to the Chief Revenue Officer and Chief Executive Officer when needed
Customers & product support
Manage and route phone calls and emails appropriately
Coordinate communication with customers, partners, suppliers, providers, etc
Contribute to the product listing tasks in times of high demand
Skills & Requirements
BSc/BA in business administration or relevant discipline
Excellent knowledge of the English language. Other foreign languages are considered a plus
Experience with CRM software (e.g., HubSpot) and G-suite
Excellent communication and problem-solving skills
Great analytical thinking & organisational skills
Team player, self-motivated, agile, flexible, and open to change
This is not a remote work position, but you may enjoy 1-day work-from-home if you can prove that there are no loose ends
Experience
3 years+ of experience in a relevant role or an accounting office is a definite plus so that you'll have a grip on the greek accounting sector and its way of working.
Why Apply?
You enjoy the flexibility of a growing company, where you can have high-impact
You are intrigued by the challenge of facilitating our growth and scaling up.
You love organising/optimising the procedures of our day-to-day operations
You're looking for a solid career path with us.
We need motivated people that will turn our start-up into a global success.
**Reports to CEO