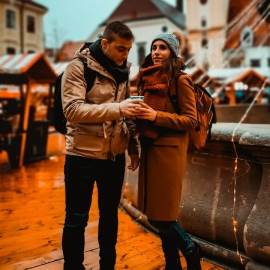 Greek Nomads
Travel Bloggers
We are Marianna and Chris or in other words – Greek Nomads! A Greek couple hungry for tasting new flavors, intrigued by hearing new stories from locals and fascinated by getting lost in secret streets and magical little neighborhoods all over the world!  We are passionate for travelling and thus, we embrace everyday life along with our favorite accessory – our camera but also our unhidden big smile!
Those are our weapons to discover in the best way every single place in this planet – whether this is a tower, a park or a little square! Anything expresses culture authenticity in our eyes is captured and showcased! Our 'Nomad' way of life, a way that makes us change places very often and therefore, not having a permanent basis, arouse from our irresistible desire to experience every single spot the same way that a local would.
We travel for the tastes, we travel for the experiences and of course, we travel for the new feelings created! We travel for the most uncharted alley of a village in Tzoumerka, North Greece, the most magnificent little streets in big cities as well as the most hidden treasures of the charming city of Athens!  We are addicted travelers who can't resist on that sweet temptation called travelling.