Description
Great paintings, drawings, engravings, objects from clay, bronze and glass by our great painter Alecos Fassianos, as well as manuscripts, letters, unpublished photos and first publications of Vaggelis Chronis reveal their 30 years common route of continuous and unabated creative action.
B. & M. Theocharakis Foundation for the Fine Arts and Music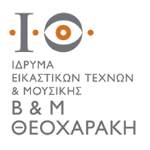 The B&M Theoharakis Foundation has as its basic interest the fine arts and music in Greece and worldwide, by focusing on the emergence and evolution of the modern in the 20th and 21st century.
Contributors and Bibliography
Contributors
Anna Georgiadou
Details
Address
Vas. Sofias 9 & Merlin 1, Str.
Starting point
B. & M. Theoocharakis Foundation for the Fine Arts and Music
Areas
B. & M. Theoocharakis Foundation for the Fine Arts and Music