Description
Naxos tour: The medieval castle town is a remarkably detailed tour of the old town of Naxos, the largest island of the Cyclades. Discover credible and original stories about this gifted island written by top local professionals after extended research. Take your tour now and enjoy it instantly on your smartphone device.
In the aftermath of the Fourth Crusade (1204) the Venetian Marco Sanudo conquered the Cyclades and established his seat in Naxos, from where he ruled his tiny empire. As a result, the old town is a rich mosaic of Venetian  mansions, churches, monasteries, and defence structures, standing alongside ancient Greek and Byzantine monuments.
The tour begins at the impressive and unforgettably picturesque Portara, the entrance to Apollo's temple that seems to rise from the sea on a rocky promontory. When you have had your fill with the amazing view, follow the mole back towards the town of Naxos and allow yourself to be transported back in time, as you wander the labyrinthine alleys of the Venetian suburbs and castle. As you enter and exit the castle doors, you will learn all about the island's Venetian and Ottoman past, encounter picturesque churches, the Archaeological Museum and the Capuchin convent with the marble coat of arms depicting the monastery founder praying before the Holy Cross, the Jewish quarter with its many stories of the difficult relationship between the Jews and Christians of Naxos, as well as the Sanudo tower that once served as the keep of the Duchal palace. The tour eventually brings you back to the harbour and the charming whitewashed chapel of Panagia Myrtidiotissa, standing proudly on an islet in the middle of the harbour.
Athanasios Kotsakis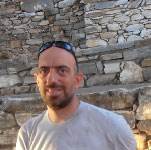 Athanasios Kotsakis was born in Naxos. He has a PhD in the History of Civilization and many years of research experience in the medieval and modern history of the island of Naxos and its monuments.
Details
Know before you book
Non refundable once activated.
Only logged in customers who have purchased this product may leave a review.
Why take a self-guided tour?
This is a self-guided tour based on the award-winning storytelling concept developed by Clio Muse and the fascinating narratives prepared by our handpicked destination experts.
You can enjoy each multilingual tour by using your smartphone or tablet at your own pace even if you are offline. The interactive map on your screen will guide you step-by-step as you explore all points of interest along your route. Each stop comes with a selection of our signature stories allowing you to tailor the tour experience to your personal interests and schedule.
After downloading Clio Muse app, you can access this tour and activate it any moment you wish and also repeat it any time. To best enjoy our multimedia self-guided tour (comprising maps, video, audio and text) we recommend the use of headphones.