Syros tour: The actress Kyveli "improvises tonight"
Description
An artistic self-guided audio walking tour in Syros with the actress Kyveli Adrianou showcasing original & credible stories. Take your tour now & enjoy it instantly on your smartphone device.
Kyveli Adrianou, a leading actress of the greek theater (1888-1978), appeared triumphantly on the stage of the Apollo Theater. Her imprint and her memories are housed at the "Kyveli Institute". Your tour guide of Ermoupolis: the ghost of memory.
Highlights
1. Karnagio

A poor fisherman once said to me as I was strolling on the waterfront with my umbrella: "If I could be a fever to make you swoon..."

2. The Kyveli Institute

Your walk in Ermoupolis will bring you to the stairs of Spartiaton Street. You will see me through the foliage, painted with the people I loved, on the garden-wall fresco.

3. Saint Nikolaos

Before each performance, a pilgrimage to Saint Nikolaos fills me with faith in life. And the late night mass with the congregation becomes almost theatrical.
Featured stories
A youthful looking old urban mansion

The Kyveli Institute

Why are the souvenirs of my life being kept in an old mansion dating to 1860 in Ermoupolis? Was I from Syros? No. as an infant I was left outside the house of a poor shoemaker in Athens, in an old neighborhood of Larissa Station, in 1888. Ermoupolis however, was the world. Good taste and color. Italian and French influences but also a deep love for everything Greek. Two Christian doctrines but good trade relations with Egypt and Turkey. An open society is an example of cosmopolitanism.

Sunday Liturgy

Saint Nikolaos

Saint Nikolaos, has such a majestic interior, however, it also surrounds you with such a sweet energy. The colors of light in the interior create a dazzling phantasmagoria. The temple also has a church organ on the upper floor above the entrance. The ancient hydraulic pipe organ, an instrument of extreme precision and refinement, was very popular in the Byzantine era. Its mechanism used water as the power source.

Lazaretta

Karnagio

I look across from the harbor to the stunning "balcony" of Syros. The idiots! Such a dreamy view point, is now filled with oil tanks and is the site of the industrial water treatment plant! I remember the philosopher Theodoros Kairis, who was convicted as a heretic, was buried there. That's where the Lazaretta (quarantine station) was for the lepers. That is where they raised the quarantine as is stated by Dimitris Vikelas in his autobiography. Passengers stayed on the ship until a check was carried out for infectious diseases, and then the yellow flag was taken down.
Valentini Potamianou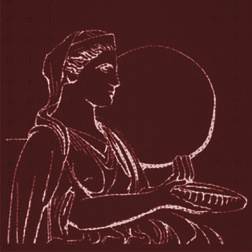 Valentini Potamianou is the author of the guided-tour. Being the great-granddaughter of Kyveli and Mitsos Myrat her passion for theater and the arts was passed down at a cellular level. Professionally she was a tour-guide.
Details
| | |
| --- | --- |
| Address | Skasi, Ermoupoli, Siros |
| Starting point | Church of the Anastasis tou Christou |
Why take a self-guided tour?
This is a self-guided tour based on the award-winning storytelling concept developed by Clio Muse and the fascinating narratives prepared by our handpicked destination experts.
You can enjoy each multilingual tour by using your smartphone or tablet at your own pace even if you are offline. The interactive map on your screen will guide you step-by-step as you explore all points of interest along your route. Each stop comes with a selection of our signature stories allowing you to tailor the tour experience to your personal interests and schedule.
After downloading Clio Muse app, you can access this tour and activate it any moment you wish and also repeat it any time. To best enjoy our multimedia self-guided tour (comprising maps, video, audio and text) we recommend the use of headphones.