Description
Tea with Proust in Athens is a self-guided audio walking gastronomic tour in Kolonaki area following the steps of  Marcel Proust.
Discover credible and original stories written by top local professionals after extended research. Take your gastronomy tour now and enjoy it instantly on your smartphone device.
The tour explores the culinary treasures of prestigious Kolonaki. Take some time off exploring downtown Athens and relax in the swank atmosphere of bars and coffee shops frequented by Greece's notable intellectuals and celebrities. This is an intimate walk through Athens' most exclusive neighborhood in the company of the French novelist Marcel Proust.
As you sip your Greek coffee in Dexameni, the coffee shop frequented once upon a time by Greece's most exquisite writer (Alexandros Papadiamantis), allow the rhythms of life in Kolonaki to transport you to a different life defined by the coziness of good company, the beauty of nature and spiritual stimuli. And if you treasure love and pampering more than admiration, head to "Yoleni's", where 2500 traditional Greek products along with a dedicated wine and beer cellar await you.
At "Desire" everyone can repeat Proust's madeleine cake experiment with flavors which are truly connected to their childhood memories. But since you are in Greece, try it with a genuine Greek braided bread with almonds (tsoureki).
The end of this philosophical-cum-culinary walk finds you at the garden of the Numismatic Museum, resting in the shade of trees planted by Heinrich Schliemann, the archaeologist who discovered Troy and proved that the epics of Homer were far more than simple myths.
Angeliki Partsinevelou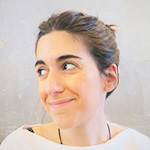 I was born in Athens in the late 80s, earning a little bit of the glory of this decade. I studied Museology, as I loved to tell stories. Since 2013, I participate in public space projects and guided tours.
Details
Address
Traditional coffee shop "Dexameni Cine", Dexameni Square
Finishing point
12 El. Venizelou, Athina
Recommended visiting hours